Shinty cups up for grabs and buckets to be avoided

By Gary Innes
Fort William shinty wing centre
Last updated on .From the section Scotland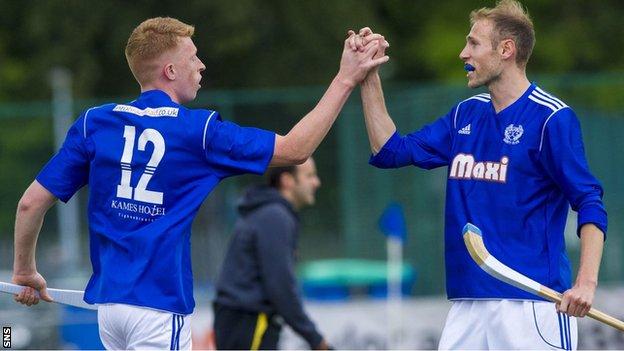 Glenurquhart and Kingussie will battle out this year's Scottish Hydro Camanachd Cup final at Bught Park in Inverness on 13 September.
Glenurquhart progressed as 3-1 winners against Skye Camanachd to their first Camanachd final since 1988, where they lost 4-2 to Kingussie at the very same venue.
Deja vu?
Glenurquhart will be hoping not, as they look to make their mark on history by being the first Drumnadrochit team to take the Camanachd Cup home to the village.
Kingussie last lifted the Camanachd Cup in 2006 against Fort William at Dunoon with a 5-1 victory.
I still get nightmares thinking about that game!
Looking ahead to this weekend's action, the Artemis Macaulay Cup final takes centre stage at Oban's Mossfield Stadium.
Last year's south winners, Kyles Athletic, look to defend their title against north's Newtonmore, who also have the chance to do the double on Saturday if Lovat don't win their last league game of the season against More's rivals Kingussie.
If Lovat were to lose or draw with Camanachd finalists Kingussie, Newtonmore would clinch the Orion Group Premiership title with a game in hand.
Lovat need to beat Kingussie by five or more goals with Newtonmore losing their last game of the season for the Kiltarlity club to seal their first ever Premiership title.
You'd have to say its fairly unlikely at this stage, but it's been another fantastic league campaign for the Lovat youngsters who are continuing to grow stronger and build confidence within the Premiership.
You can tune in and keep up to speed with all the action live from the Artemis Macaulay Cup final, from 14:10 BST on BBC Two Scotland this Saturday.
Fort William have their chance to go back top of the Marine Harvest National Division when they clash with Oban Camanachd at An Aird.
Oban sit top, one point ahead of Fort, however Fort William have a game in hand.
This is the first time the two clubs have met this season and with only four games remaining, it couldn't be tighter. Both teams will be aware that whoever wins this clash will stand the greater chance of lifting the title and being reinstated back into the Premiership.
Lastly, thank you to Glasgow Accies scrum half Fergus Matheson who nominated me to do the ALS ice bucket challenge this week.
It's a fantastic cause and to raise awareness and money for any illness, disease or disability is always very worthwhile.
This week, however, Fort William Shinty Club lost another young man to depression, an illness that many of us know little about or can even begin to understand as we go about our day-to-day living.
I am 33 years old and this is the fourth time a player or ex-player of the club has fallen victim to depression. Every club in shinty, I'm sure, has their own stories and friends struggling with this condition.
It's fantastic being able to put money into a pot and feeling part of something larger like these fun crazes like the ice bucket challenge, but let's also not forget our family, friends, neighbours and colleagues who we sometimes see struggling yet often choose to ignore as we don't understand their illness.