John Nelms adopts steady strategy to bring stability to Dundee

By Richard Wilson
BBC Scotland
Last updated on .From the section Scotland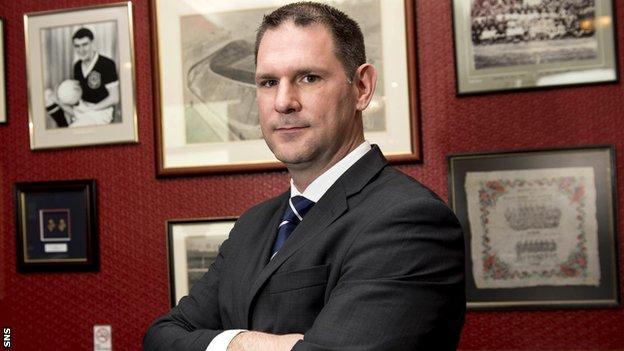 On a recent car journey home from watching a game between the Dundee and Dundee United under-20 sides, John Nelms asked his eldest son how he felt about life in the city.
"It feels like home now," the boy replied, which is a measure of how the Americans have settled in.
The same might also be said about Nelms' time as director of football operations at Dens Park.
It is 15 months since the consortium led by the Texan and his business partner, Tim Keyes, took over ownership of Dundee and, some difficult moments aside, they can consider it a period of progress.
John Brown was dispensed with as manager,Scot Gardiner left his role as chief executive, and some members of the Dundee Supporters Society, which previously owned 51% of the club, remained wary of another spell of rash and uncontested ambition.
Yet Dundee are now fifth in the Premiership, and unbeaten in six league games, including a 1-1 draw with Celtic at Dens Park.
The club has suffered a series of financial collapses caused by misjudgements or flights of fancy.
Caution, or even scepticism, was a justified initial reaction from fans, but Nelms and his colleagues - including former members of the Dundee board - chose patience over rhetoric in trying to win them over.

They have stated aims, but the approach has been to establish a gradual, long-term strategy.
Fourteen players have arrived at the club since Paul Hartley's side won the Championship last May, but the wage budget is sustainable and the overarching focus is on building the youth development set-up so that Dundee develop more of their own players.
For Nelms, who was the executive director of Dynamo Juniors, a club that runs teams for more than 700 children in Austin, Texas, that philosophy is fundamental.
"We're acutely aware of the financial difficulties the club had over several years," Nelms said. "Our whole plan from the beginning was if we put some business acumen into the business side of the club that we could run it and make it sustainable for years to come.
"It's a hard line to walk because football is unique in that it's a very emotional business, and trying to keep a lid on that emotion is key for us to run the club and make it stable. Ultimately, we want people to come back to the ground and think of Dundee Football Club as a source of happiness in their lives, not something to worry about.
"Paul has put together a good mix of young players and veterans who have gelled together quite well. It was quite a busy off-season, and we put some players into our youth ranks as well that we think have an opportunity to move into the first-team. The youth side of things and building that pathway is a long-term project, but we'll always keep the first-team solid until the two merge.
"We've never promised anything, we've just said 'watch what we do, and judge us on what we accomplish'. It appears the fan base and business community is responding. For example, the derby match sold out in two days, so the fans are back, we have more sponsors than we've ever had. It feels that we have a good feeling around the club and the city."
The prospect of two meetings with Dundee United in the space of four days, beginning with Sunday's league game at Dens Park before a League Cup third round tie at Tannadice on Wednesday, prompts Nelms to mutter, "It's crazy, isn't it".
He means in terms of the excitement that it generates rather than as a criticism.
Nelms and Keyes Capital, which invests the Keyes family money, bought into Dundee to embark upon a project rather than for profit. As well as his work in youth football in America, Nelms and his family lived in Chester for a spell while he shadowed the technical director of the Liverpool FC Academy.
Nelms grew up engrossed in the game. Some weeks, his father would allow him to skip church on a Sunday to watch 'Soccer Made In Germany', a weekly round-up of the Bundesliga.
He played the game from the age of four, apart from a two-year spell in Scotland when his father was posted to Faslane naval base and Nelms was told he was too young, at seven, to play organised football.
He has approached Dundee with the enthusiasm of a fan but the rationality of a businessman.
"The difficulty people have is trying to stay focused as a business," he said. "We set parameters before we kick a ball, and we stay within those parameters. So if the ball goes one side of the post or the other, we're not hindered by that.
"At the beginning of the season we have a plan, we execute it, if good things happen and we can expand our plans."
Buy why? If there is a question that confronts every individual who invests money in Scottish football - it is about their motivation.
Nelms lived for a short spell in Scotland, and travelled back again to trial for East Fife while he was a university student in Chicago, but Dundee were chosen for their circumstances.

"We looked at several clubs in several countries," Nelms said. "We were looking for a club that we could fill the holes, one that has a large yet somewhat dormant fan base, and if we put in a little business acumen, what can we build?
"Could we take a club that is technically worth £1m and turn it into a club that's worth £10m, not that there's any value in that because nobody's going to buy the club from us most likely, but it is a long-term project that we can build, sustain and grow a club to having a long-term future.
"That's the motivation behind it. So many people have tried and failed at it, can we do it? We truly believe that it is and that's the plan that we put in place."
Nelms was speaking before Hartley was linked with and rejected the managerial vacancy at Cardiff City, but it is clear that his work at Dens Park is meeting with approval. Hartley, too, has bought into the vision that the Americans have brought to the club.
Dundee United are rivals, but also a reassurance, since their youth system has developed a number of exciting talents in recent years, including Ryan Gauld, John Souttar, Stuart Armstrong, and Johnny Russell.
"I'm not exactly sure what they do or how they do it - we have our own plans - but it shows that the raw material is definitely here and that given the right opportunities and the right education, the players can go on to a higher level," Nelms said.
"Obviously we had issues with administration and the like and we lost a lot of players. Some of those who have come through [at United] were at Dundee but went away.
"They've done a great job over there and it shows us that the players are here. We have to go and find them. We have put into place methods to do that, hopefully before they do."