Shinty: Fort William and Oban chase glory

By Gary Innes
Fort William shinty wing centre
Last updated on .From the section Scotland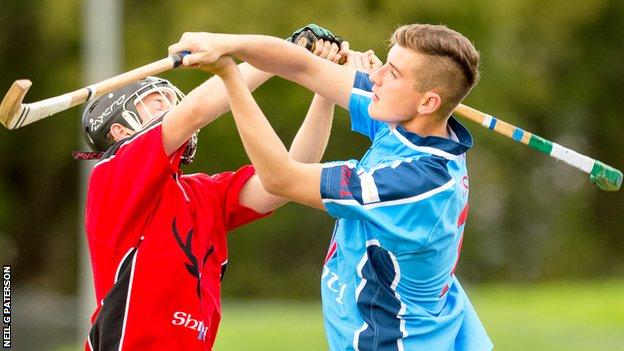 The Marine Harvest National Division Championship could not be closer at the top and it will be decided in the last 90 minutes of the season who will be crowned champions and promoted back into the Premiership.
Fort William travel to Mossfield Stadium, Oban, having not lost a single league game all season.
Oban Camanachd, however, have only lost one game all year and, while Fort have dropped two points on draws, Oban have dropped one, leaving us with a winner-takes-all scenario.
As Fort William sit a point ahead of Oban in the league table, a draw would be enough to secure promotion for the An Aird club.
Fort will start as favourites with the best defensive and scoring record in the league with +26 goal advantage over their nearest opponents, but this will mean absolutely nothing come 14.30 BST on Saturday.
The one and only time the two clubs met this season was last month, when Oban travelled to Fort William for league action and the game finished 1-1.
It really couldn't be closer!
At the start of this season, there was a fair bit of scepticism around the Camanachd Association's league reconstruction decision to make an eight-team Premiership instead of the previous 10 while re-introducing the National Division.
With Newtonmore winning the Premiership on their last game of the season over Lovat, and the National league going down to the wire this weekend, I think the CA will be feeling this has been a fairly successful pilot season for both leagues.
Rumour has it, however, that the Camanachd Association is back to discussing making the Premiership a 10-team league next year. Which, if true, would mean this weekend's result would have no bearing on next year's Premiership promotion for Oban and Fort William as both would be reintroduced to Shinty's top flight.
This, though, will have absolutely no bearing on the players come this weekend, as both Oban and Fort minds will all be focused on getting their hands on the league trophy and securing guaranteed promotion.
If there was to be a back-door entrance back into the Premiership, we'll leave chat for Sunday morning's bacon roll and cuppa, pending on the result.
If you're at a loss on Saturday and have never visited Oban or Argyll then here is your chance to visit a stunning part of the country and witness a great game of shinty.
I ask you, what could possibly better?
PS The photos are from the North Under-21s against South Under-21s match from which the Scotland team will be selected to play Ireland in October.