Title decider bites the dust after referee comes a cropper

By Gary Innes
Fort William shinty wing centre
Last updated on .From the section Scotland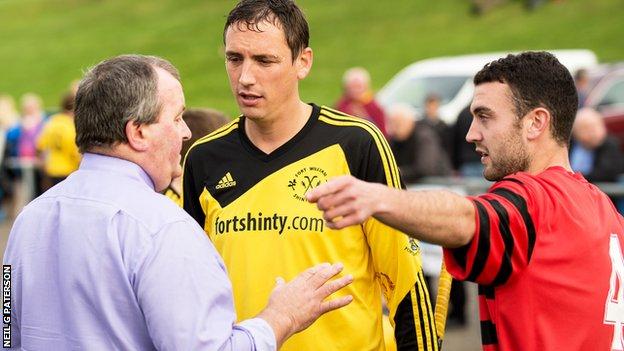 There was a shinty day like no other on Saturday when Fort William travelled to Mossfield to face Oban Camanachd in a winner-takes-all league decider.
Under glorious sunshine a huge crowd had gathered from all over the shinty communities to watch the clash of the two top National Division challengers.
Oban Camanachd started by far the stronger and appeared to want it more than the visitors.
This proved evident when they took the lead on 25 minutes through Aidan Macintyre.
Fort William's defence stood strong for the remainder of the first half despite spells of heavy pressure from the Oban forwards.
At half-time Fort managers Victor Smith and Adi Robertson made a few changes, which in the opening six minutes of the second half looked like paying off, as for the first time in the match their side started to put some pressure on the Oban defence.
Then came the decisive moment in 51 minutes as Oban midfielder Scott MacMillan's clearance travelled only a few metres and at around 100mph, hit referee Robert Baxter square in the mince and tatties.
A dull thud like I'd never heard before rang out around Mossfield Stadium, instantly met with a roar of laughter, clapping and cheering as Baxter collapsed like a chopped down tree.
As players ran over from both clubs to assist him, the reality and severity of this incident quickly became apparent.
The referee would not continue, in fact he had to be aided to the hospital for further treatment, leaving the players and supports around Mossfield in limbo.
Calls were flying around to the Camanachd Association as rulebooks were read and quoted.
Both sets of players were still on the park and keen to get the game back underway as soon as possible.
Watching on were around five official Camanachd Association-approved grade one referees, but by the time Billy Wotherspoon had been asked and agreed to take the game on, more than half an hour had passed and Fort William were advised to postpone the match.
This brought to light the rule that only in a final does the Camanachd Association appoint a second referee in case of such a mishap, and therefore if another referee was to finish the game it would be liable for appeal.
The decision was met with huge disappointment from the players, and with both teams having booked holidays, players' weddings and with the internationals later this month, the game is looking likely to go ahead some time in November.
A hassle I'm sure the Camanachd and players alike could do without, especially on the same week as the Ballachulish v Skye debacle, however that's another story.

Thankfully Robert will make a full recovery and I am quite sure shinty referees around the country are now grabbing their credit cards to buy guards, ensuring they're not left grabbing something else in the future.
Finally, I was over the moon this week to receive my letter from new Scotland boss Ronald Ross confirming my selection for this year's internationals against Ireland on 18 October in Inverness, and in Belfast on 25 October.
I had to step away from the Shinty/Hurling set-up after the 2011 series due to musical commitments, however I'm delighted to once more be part of the Scotland squad which is in search of its first win since Croke Park in 2010.
Congratulations to all the other players selected and a special mention to Steven Morrison of Skye, Lorne Mackay of Lovat and Calum Miller of Kyles Athletic who will all receive their first cap.
Good luck also to Kenny Ross who will now join the voice of shinty Hugh Dan MacLennan in the BBC commentary box for the home leg in Inverness.
A wee bit of advice for you Kenny.
If you want a chocolate biscuit with your tea - be quick!