Scotland secure shinty-hurling win against Ireland
By Charles Bannerman
BBC Scotland
Last updated on .From the section Scotland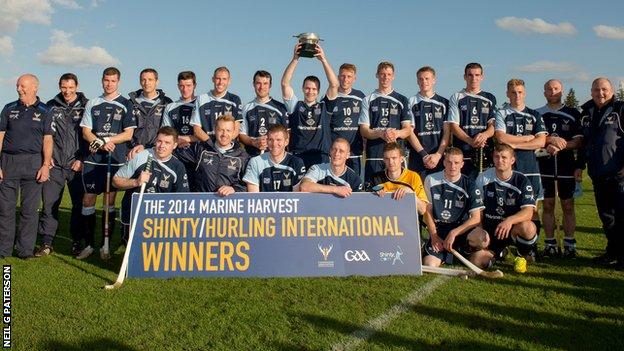 Scotland beat Ireland 23-14 in Inverness in the opening shinty-hurling fixture of 2014 to seal their first international win for four years.
The result sets the shinty players up to try to clinch the series in the return match across the Irish Sea on 25 October.
Lovat's Kevin Bartlett, with a contribution of 16 points including a three point goal, was man of the match while Scotland's other two goals came from Kyles Athletic's Roddy MacDonald on his return to the international side.
Scotland got off to a dream start when Bartlett scored a two-pointer over the bar after just 40 seconds and soon added another.
MacDonald then pounced on defensive uncertainty for his first goal to make it 7-0 before Bartlett extended the lead to nine.
Earlier, MacDonald had missed another goal and soon after Ireland's Patrick Maher hit the post.
Ireland stormed back with three first half single pointers and a wonderfully taken goal by Conor Lehane, who took full advantage of the wide bladed hurly to carry the ball goalward.
Half time arrived at 13-6 and the second 40 minutes had hardly begun when MacDonald responded to an Irish single pointer with his second goal from beyond the right post.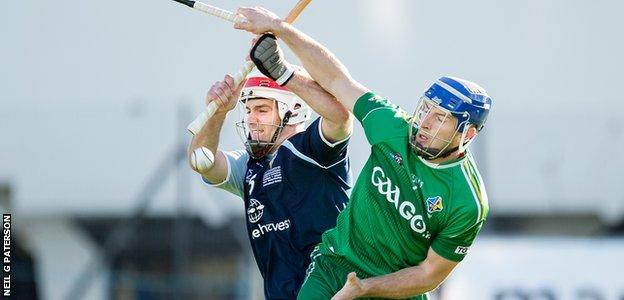 This guaranteed a bonus series point but that was soon neutralised by Patrick Maher, again carrying the ball on his stick to gain Ireland's bonus.
Meanwhile, Bartlett, following two over the bar, found the net under it to complete his contribution, but only after two great late saves from Stuart MacDonald were Scotland finally home and dry to the great delight of shinty legend Ronald Ross.
Scorer of over 1000 club goals for Kingussie, Ross was making his debut as international manager.
"It doesn't get much better than this," said Ross.
"It's great to win, especially at home. It was fantastic also to see Roddy MacDonald get a couple of goals which got us our bonus point.
"It was a great team performance and they all worked their socks off.
"It's good to see someone like Roddy back and we lost Gary Innes early because he wasn't well, but all in all it was a great team performance and I couldn't ask for any more."
And it has emerged that a move to restore shinty's Orion Premiership to ten sides after one season at eight will be announced next week.
The game's top ten sides look set to make the proposal, which also involves retaining an eight team Marine Harvest National Division.
This is understood to have board approval so would just need a 50% vote at next month's AGM to become operational for the 2015 season.