Autumn Tests put spotlight on Scotland head coach Vern Cotter

By Tom English
BBC Scotland
Last updated on .From the section Scotland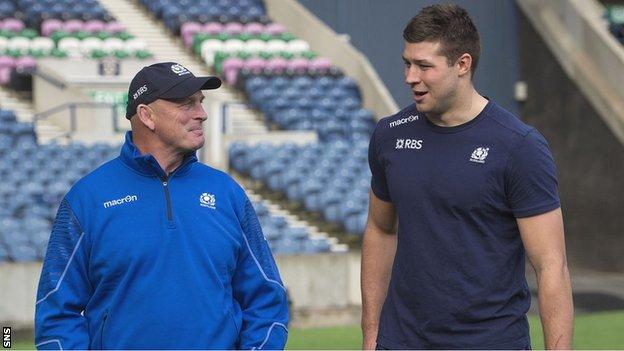 The new European Champions Cup is of such condensed quality that it was difficult to know where to look last weekend when the thing began with an almighty clatter.
So many intoxicating clashes and so many brilliant finales. So much to savour and look forward to in the weeks and months ahead. A different competition, for sure, but in many ways, the same as it ever was.
The heart-rate had just about returned to normal by the time for the November internationals against Argentina, New Zealand and Tonga. This is a time of year when Scotland rugby fans shed their baggage and travel lightly into the series in the hope that some progress will be made at last.
It's a journey of hope over expectation. A well-travelled road that usually leads nowhere.
This year's optimism - a veritable rugby life-raft - comes in the shape of the wonderful advances made by Gregor Townsend's Glasgow - the youthful daring of some of Townsend's backs and the toughness and dynamism of some of his forwards.
The feeling of a new beginning is everywhere. There's a new coach in Vern Cotter and a new captain in Grant Gilchrist, the admirable 24-year-old Edinburgh lock.
Had you predicted in the summer of 2013, when the Lions were roaring in Australia, that a second-row forward would captain Scotland just over a year later then you'd have presumed that Richie Gray would have been the man.
The fact that it's Gilchrist is a huge tribute to the former Stirling County player but it also begs questions about Gray and the high hopes we had for him back then. We yearned for him to back up his vast ability with improved leadership, but it hasn't really worked out as yet.
Tom English on Richie Gray
"Does he drive on for greatness or recede into the ranks of the supporting cast?"
Warren Gatland, the Lions coach, made no secret of his admiration for Gray during, and after, that Lions tour. He said that he had nearly everything he needed to become a great player on the world stage, but he needed more dog in him. He needed to come out of himself and be a presence in a physical, and vocal, sense.
At 25, he's still got bundles of time, but he remains something of a work in progress, a player who hasn't quite kicked on in the way we thought he would.
He's a year older than Gilchrist but has fallen behind him in the second-row pecking order. He's five years older than his own brother, Jonny, and he's feeling the heat from him, too.
After the squad was announced on Monday much of the reaction centred around the question of the international future of and that's understandable.
But you could add 'Whither, Richie?' to the list of imponderables. This is a huge period in his Test career. Does he drive on for greatness or recede into the ranks of the supporting cast?
Cotter has made some interesting calls for his autumn squad. In the opening round of the Champions Cup, Brown played blindside in Saracens' win over Clermont. It was a meeting of two of Europe's most powerful sides and the Scot was excellent. He was joint-leading tackler with 13 and made two turnovers, more than anybody else on the field.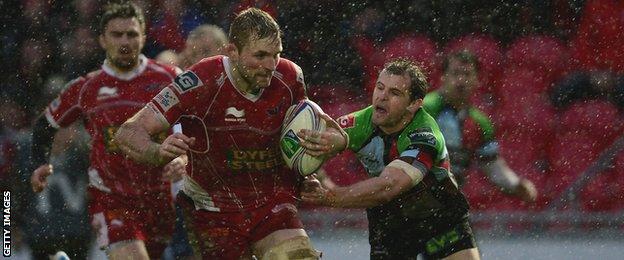 You couldn't look at Brown's performance in a match of monstrous physicality and not believe him worthy of a place in a Scotland squad that contains seven back-row forwards.
Equally, Barclay. He's been reborn with the Scarlets. His team might have lost to back-to-back European champions Toulon, but they were far from disgraced. Barclay stood up terrifically as part of a Scarlets back-row that had to contain the explosive brilliance of Juan Smith, Juan Martin Fernandez Lobbe and Steffon Armitage.
Again, you couldn't imagine that Barclay was going to miss out on selection for Scotland, but he has.
Cotter is a much-respected coach and has earned his reputation on the back of making tough decisions. He wants his team to play a high-tempo game and reckons that the likes of Blair Cowan and Kieran Low, the London Irish flankers, are better suited to his vision. If that puts noses out of joint then Cotter couldn't care less. He's that type of character.
Cowan is a talent, no question. A ball-carrier and an effective openside who might develop into a fine Test player. Low? It's a puzzler how he's deemed a better six than Brown. Perhaps the autumn will show us the evidence.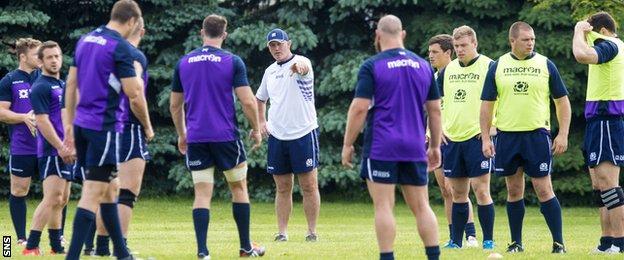 You look at the Scottish backline and you see hope, you see pace and ingenuity and reasons to get excited. Fly-half remains a challenge but behind the 10 there is much to get enthused about, most notably the fast-emerging Mark Bennett, a player to quicken the pulse.
You look again, at the forwards this time, and you see problems. The front-row remains an area of concern. At loosehead, Ryan Grant is still absent, though Gordon Reid has been excellent for Glasgow. Ross Ford and Scott Lawson are unconvincing at lineout-time. Fraser Brown is in as the third man in that position despite having only played twice for Glasgow this season.
At tighthead there is Euan Murray and Geoff Cross. Murray is fine so long as he stays fit. Cross has started only once for London Irish this season and cannot be Test-match sharp. The cupboard is pretty bare beyond those two. Murray's back-up at Glasgow last weekend was Rossouw de Klerk.
At Edinburgh, the two chief tightheads on show during their fine victory over Begles were William Nel of South Africa and John Andress of Ireland.
These are issues that Cotter is going to have to navigate his way through. The summer tour was just a chance for him to lift the bonnet and look at the condition of his squad. Now he's got to get it motoring.
First up, Argentina, who have improved these past few months. Next, New Zealand who usually take about 20 minutes to put the game beyond Scotland's reach.
After that, Tonga, a name that conjures up all of sorts of cringe-making memories of Andy Robinson's last day in charge of the Scotland team.
Now it's Cotter time.