Shinty: Scotland victory just the remedy for ill Gary Innes

By Gary Innes
Fort William shinty wing centre
Last updated on .From the section Scotland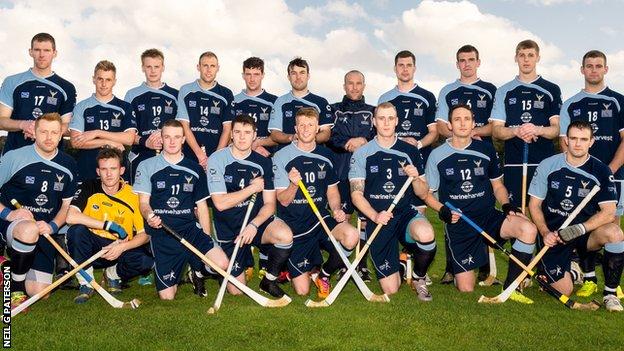 Scotland turned in a textbook performance to win the first leg of the international shinty-hurling series against Ireland.
Lovat hit man Kevin Bartlett racked up a sensational 16 points in a 23-14 victory at Bught Parks in Inverness on Saturday and deservedly collected the man-of-the-match award.
Kyles Athletic's Roddy MacDonald was also on sizzling form and bagged two goals, worth six points, while Newtonmore's Paul MacArthur was the only Scottish player to get a single over the bar during normal play.
It was Scotland's first win in the series since Croke Park in 2010 and new manager Ronald Ross was delighted with the effort.
However, I was gutted to say the least not to have managed to play a bigger part due to a bout of food poisoning.
Of course, I can't be sure where I picked it up, but I have my suspicions and I'm fairly convinced a prawn voulevant was the culprit on Friday evening.
The first I knew of it was around 2.30am when I woke abruptly and had to sprint to the bathroom to let loose. It was very clear from early on things weren't good after fairly impressively hitting the door from a seated position from around six feet away with a rainbow of colour.
There no pot of gold, or Irish luck for me at the end of this rainbow and, unfortunately, I could only last 10 minutes after starting the match.
I was upset to think this was my last ever home international but there was nothing I could do about it.
The rest of my team-mates worked tirelessly together and secured a well-earned result which sets up this weekend's return fixture at Páirc Esler in Newry.
Scotland lead 3-1 after securing two points for a win and a bonus point for scoring two goals. Ireland also scored two goals which gained them their point.
So it's still all to play for and you can tune in and catch all the action live from the away leg on BBC ALBA from 17:00 BST.
And to finish up. It was the annual Marine Harvest Shinty Awards dinner dance last Friday evening, with an array of awards being awarded to clubs and individuals across the country.
Congratulations to all who were awarded silverware. You can check out the list of winners on shinty.com.