Shinty: Gary Innes hangs up his caman for Scotland

By Gary Innes
Fort William shinty wing centre
Last updated on .From the section Scotland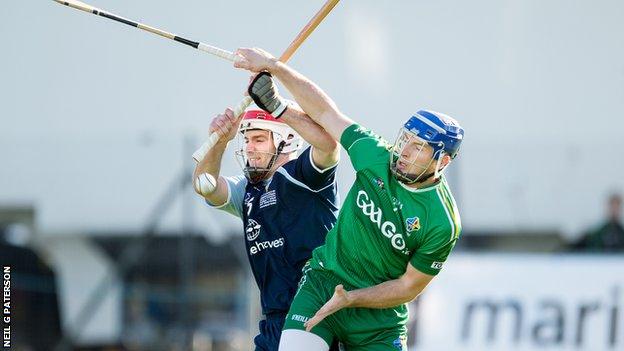 It has been an honour and privilege to have been involved once more in this year's Scotland squad for my farewell international appearances.
Since taking a bow with the Under-21s back in 2000, I have nothing but fond memories of the shinty-hurling match-ups with Ireland over the years.
The last couple of weeks have been great - despite the final score - but I now feel that it is now the right time to hang my international cap up on the peg.
Scotland arrived in Northern Ireland on Friday with high hopes and expectations after only a few days earlier putting in what had been regarded our best performance to date over the Irish in Inverness to take a 23-14 point lead.
Ireland, however, had done their homework and, with their nine new caps wiser for the first leg experience, quickly set about redeeming themselves.
These included hitting 'frees' (a free-hit from fouls or corners) off the ground for two points instead of flicking and hitting for one which they have traditionally done.
There was also more frequent soloing with the ball on the end of the hurl - which as a shinty player is the most difficult aspect of the game to defend.
The whole Irish team had stepped up a level and with their lightning pace and speed, Scotland found the going increasingly tough.
The hosts retained the Marine Harvest trophy with a 24-8 victory, making the aggregate score 38-31.
Scotland last win was back in 2008 and since the introduction of the home and away double-header in 2010, Ireland have been unbeaten.
Having watched the radical change in Saturday's Irish performance, I can't help but reiterate the point that I made last year; I simply don't think Scotland can win the series over two legs.
Ireland's hurlers, whether we like to admit it or not, are faster and fitter than most shinty players as they train usually five nights a week.
An average shinty player will be training on two nights, plus the game on a Saturday.

Over one game, Scotland can use their longer sticks and ground skills to adapt quicker to the 80-minute fixture.
The Irish take a while to come to terms with the compromised rules, often instinctively giving frees by kicking, catching, or being overzealous in tackles - all attributes accustomed and legal within their own sport.
After a seven-day break and a chance to reflect, I feel Ireland will always have the advantage in the second leg, as they start inapprehensive of the longer Scottish caman and have more an understanding about not to giving away silly fouls.
This, topped up by relentlessly full-pelt running with the ball on the hurl, which Scotland find near-impossible to defend against, makes life very tough for Scotland.
It wasn't all doom and gloom from Scotland on the Emerald Isle, as wins for the Under 21s and our women's team gave us something to cheer about.
A huge congratulations goes out to Scotland's young guns who created their own piece of shinty history, recording their first ever win in Ireland with an impressive 21-7 scoreline, while the Scotland women retained their trophy with a 14-9 victory over County Down.
A huge part of the compromised rules series after the game is the social aspect between both countries and sister sports, and to be sure, it didn't disappoint.
The hospitality and friendship received over the years from the GAA and Ireland in general has been exceptional and hopefully they also feel the same about their pals across the water.
I wish the Scotland squad all the very best for next year's international fixtures and I would like to thank the fantastic management team of Ronald Ross, Ali Ferguson, Jimmy Gow and Neil Bowman.
It's been a total blast. Thanks again lads.