Boxer Scott Harrison's biggest fight is with himself

By Tom English
BBC Scotland
Last updated on .From the section Scotland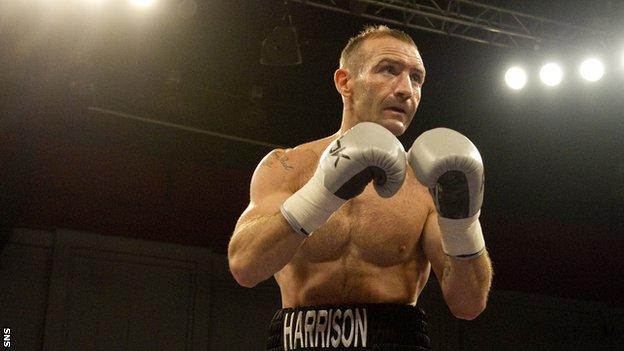 Scott Harrison bears no resemblance to a fairytale figure, but he continues to push his Cinderella story on the public, the kind of comeback tale that only the terminally gullible would believe in.
Given his status as a one-man drama, it's no surprise that the former featherweight champion of the world drew a crowd at a press conference on Tuesday to announce his supposed return to the ring.
Once again, he sold the line that he's in great shape, that his career is back on track and that a world championship bout is in his gift.
That is despite the fact that the only fights he has won in the past nine years have come against the human punchbag, Gyorgy Mizsei Jnr, who has already lost 10 times at the age of 20, and Joe Elfidh, the so-called Moroccan Machine, whose only resemblance to an appliance is his habit of breaking down. He's lost his last four contests.
Three fights in nine years - the most recent being a loss in a WBO European lightweight title bout against the Englishman Liam Walsh 19 months ago - and Harrison is talking about coming back like the champion of old - "if not even better".

These are the words of a desperate man and, in that, you have sympathy for him. Boxing is what he knows. Or what he knew. There's always something sad about a former champion raging against the dying of the light.
The fact that he trumpeted his return to the ring while facing the threat of extradition to Spain to serve a four-year term after being convicted of an assault that dates back to 2007 makes his statement of imminent relevance in the ring even more grim. That and the lingering issue of an alleged assault on a woman in Glasgow in August of this year.
Harrison cannot escape his demons. They're in the air around him. Everyone else can see them, bar him. For the media present at the 37-year-old's pronouncement on Tuesday it might have felt like the journalistic equivalent of rubbernecking.
Tom English on Scott Harrison
"Too many have been suckered in the past by Harrison's talk about a bright new dawn in his boxing life. What you hope for is progress in his life outside the ring."
Most people love a renaissance story. We admire the spirit of people coming back from a sporting wilderness and making themselves great again.
In the beginning, Harrison was given that latitude. He was given chance after chance and blew every one of them.
The assaults, the mealy-mouthed excuses, the convictions, the jail time. Little by little, the understanding for a guy who was struggling with the demon drink evaporated and, on the back of sustained reports of trouble, a harsher verdict took hold.
His extraordinary inability to learn lessons along the way means that very few would have the stomach to buy into the fantasy of his dream comeback.
Last year he was asked if he had learned anything from his spells in prison. The answer was an unequivocal no. "Jail never does anybody any good," he said. "It's just a waste of time. A pure waste of time."
The hope that some would have had for him in his cell - that he would use the time to think about the destructiveness of his drinking and the devastating impact it was having on his life - crashed and burned. He tested the patience of the public far too often. And, in forgiveness terms, he's been knocked out.
There is still self-pity in him. "There have been so many hurdles through the years and how I got through them I'll never know," he said.
First of all, he has some considerable hurdles staring him in the face, but of the most recent conviction for assault he will say only this: "I am not here to talk about the stuff in Spain."

The stuff? He makes it sound like a minor misdemeanour. Another misunderstanding. An unfair verdict on a wronged man. He talks about hurdles like somebody else walked out on to the running track of his life and placed them there.
Harrison's biggest fight isn't with an as-yet unnamed opponent at the Lagoon Centre in Paisley on 12 December. Whoever that rival may be, the overwhelming feeling is that he will not possess anything like the capacity to inflict harm on Harrison as Harrison can inflict upon himself.
Too many have been suckered in the past by Harrison's talk about a bright new dawn in his boxing life. What you hope for is progress in his life outside the ring. Stability. Security. A future.
That's far more important than some self-deluded pursuit of past glories.
Harrison's greatest fight is with his alter-ego. It's a bout that's lasted nine years and he's well behind on points.