Gary Innes: Fort William star bids farewell to shinty

By Gary Innes
Fort William shinty wing centre
Last updated on .From the section Scotland1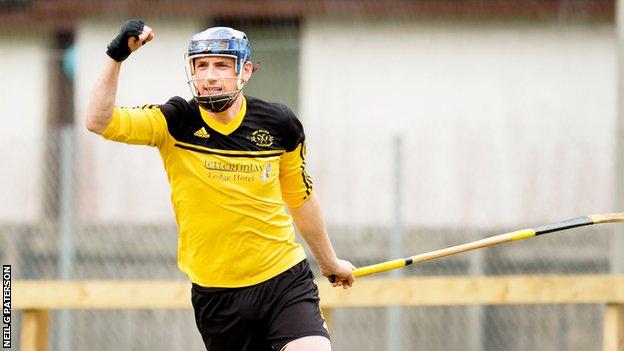 The wonderful and ancient sport of shinty has been a massive part of my life for as long as I can remember.
At times a friend, at times a foe, but I can honestly say I have felt nothing but privileged and honoured to have been involved with such a unique and special sporting family.
I first started in shinty at Spean Bridge's Kilmonivaig Primary in the late 1980s before moving up a few years later to play Under-14 with our local team Lochaber.
This didn't last long as the team disbanded when I was 13, so I joined Fort William Shinty Club, who I have played for ever since.
I am very proud to be from the village of Spean Bridge, however I am extremely grateful to have been taken in by Fort William.
The club has given me everything I ever wanted from the sport and more, including the realisation of my childhood dreams of Camanachd Cup success.
We reached eight finals in a row and I was captain in two - we won five and I picked up two 'Albert Smith' memorial medals for Man-of-the-Match performances.

We won every senior medal in shinty, which helped give me a platform to be noticed.
This was key to me being selected for representative matches, which led on to captaining the North of Scotland and Scotland teams.
On Saturday, Fort William beat Oban Camanachd 2-0 to lift the Marine Harvest National Division title unbeaten, securing promotion back up to shinty's top flight.
It was after this iconic and crucial win that I decided to announce my retirement.
At 33 my love for the sport is just as strong as it was 20 years ago but, with musical commitments taking me away for the first nine games of next season, it's the right time for me to bow out.
It has not been an easy decision. I was contemplating hanging up my boots at the end of the last campaign. However, after Fort William were relegated from the Premiership, I felt it would not be fair to leave the club when they needed me most.
Gary Innes
The sport has been incredibly good to me and I have made lifelong friends throughout many of the shinty communities.
And my career highlights?
I would struggle to see past lifting the Camanachd Cup as captain in 2005 against Kilmallie, scoring a goal and winning the Albert Smith all on the same day.
Scoring a record 10 goals in one game, but credited for nine against Glasgow Mid Argyll, will always be up there and of course scoring the winning goal with 15 seconds left on the clock in the 2010 Camanachd Cup final to beat Kingussie 3-2.
The sport has been incredibly good to me and I have made lifelong friends throughout many of the shinty communities.
For that alone I will be eternally grateful.
Incredibly, I have been writing this BBC column for four years!
This, however, will be my last one as I feel it would not be appropriate to continue writing about the sport when I will not be so involved any more.
Over those four years these articles have been written during sound-checks, side of stage, on the toilet, on buses, trains and planes.
I'd like to take this opportunity to thank the BBC Sport Scotland team for offering me this opportunity and for giving our sport that extra bit of attention.

It would be impossible to name everyone I'd like to thank for making my shinty career so special.
However a few key people who invested so much time in me as a youngster were Ally Ferguson, Betty Maclachlan, Donnie Maclean, David Dignan, Pat Cassidy, Neil Clark, Sandy Slater, Peter MacIntyre, David Stafford, Drew MacNeil and Richard Gall.
I would like to thank everyone past and present at Fort William Shinty Club and to all at the Camanachd Association for your continued support over the years.
And lastly, thank you the reader.
I have had some lovely comments, calls and conversations regarding my writings over the years and it has been an honour to have had this opportunity to share my love, passion and views on Scotland's oldest sport with you.
It is with a heavy heart and bleary eyes I say goodbye. Thank you. xx