Rhona Auckland surprised with European gold
Last updated on .From the section Scotland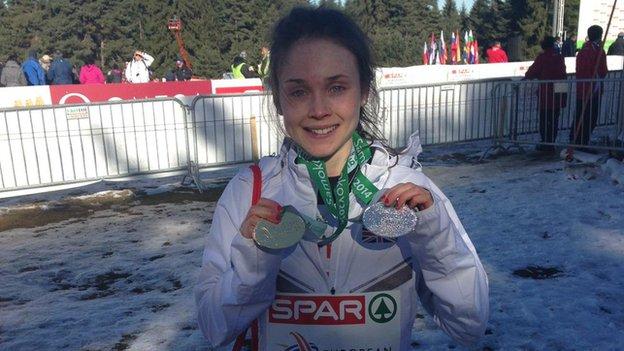 Rhona Auckland surpassed her own expectations by becoming European under-23 cross country champion.
The 21-year-old Scot took gold, two seconds ahead of home runner Militsa Mircheva, with Russia's Gulshat Fazlitdinova third in Bulgaria.
"I didn't think I would come here and challenge for the gold," admitted Auckland, who was seventh in Britain's European trials.
"I was hoping to be better than last year, which was seventh."
Auckland's performance also helped Great Britain and Northern Ireland to a team silver, and she was quick to pay tribute to team-mate Emelia Gorecka, who finished 12th.
Rhona Auckland
"It was really inspiring on the start line as we heard the junior girls on the podium to the national anthem, so it was great to keep that going."
"I'm absolutely delighted - I knew my strength was in the endurance side of things as I haven't got the fastest start," she said.
"The course was challenging enough to hold back and work my way through, and I'm glad I did that.
"I knew Emelia would be strong. I just tried to stick with her and run a race like she does - I was pleased to be able to do that."
Britain's Jessica Judd and Lydia Turner had already won silver and bronze respectively in the junior race.
"It was really inspiring on the start line as we heard the junior girls on the podium to the national anthem, so it was great to keep that going," added the Scot.
Auckland's gold was one of three top-10 finishes for Scots in Samokov, with Callum Hawkins and Steph Twell being in the hunt for medals until late in their races.
Twell finished seventh in the senior women's race, which was won by Gemma Steel ahead of Kate Avery as the British won team gold.
The Scot was content to have achieved her highest finish at the European championships, and honoured to captain the team.

Hawkins, who beat fellow Scot Andrew Butchart to win the British senior trial, led the under-23 men's race for a significant spell before finishing fifth as Russia took the top three positions, with Jonny Hay finishing the top Briton in fourth.
The Scot, who helped the Britain take team silver, said: "I'm disappointed - I was going for a medal.
"I didn't have a hamstring injury, but I suffered hamstring problems in the last week, which probably affected me a little bit at the end.
"I tried to make it as hard as possible by trying to take the kick out of people and unfortunately it didn't quite work.
"But I went for it and that is all you can do. I didn't want to hit the front as early as I did, but the guys at the front were slowing it down and no one was taking it on, so I thought I'd try and make it hard.
"I was just trying to put in the same performance as I did in Liverpool.
"I didn't feel any pressure from winning there. At the end of the day, I did my best and that is all you can do."
Butchart was 35th in the senior men's race, with Luke Caldwell, who finished fourth in the British trial, five places further down the field as their team missed out on medals.
Fellow Scotsman Jonny Glen was 46th in the junior men's race.