Paisley's Gallacher aims to win world amateur Muay Thai belt

By Keir Murray
BBC Scotland
Last updated on .From the section Scotland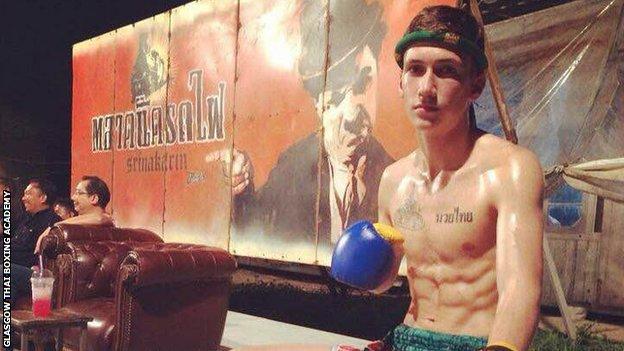 "The world title is what I've aspired to, it's the end goal," says Paisley's John Paul Gallacher.
He's an assured 18-year-old, determined to seize his chance to become a Muay Thai amateur world champion.
Gallacher is in Arizona to fight the reigning Siam Fight Productions champion at 135lb, John Bruer.
With two British junior titles, two Scottish junior titles and a Celtic Nations junior champion's belt, he has worked his way into this position.
On Friday evening, with James Brown's Living in America being blasted around the auditorium, he will enter the Tempe Center for the Arts, an 800-seat arena, to fight for the title.
It is Bruer's last defence before he hangs up his glitzy shorts for a career in the US Army.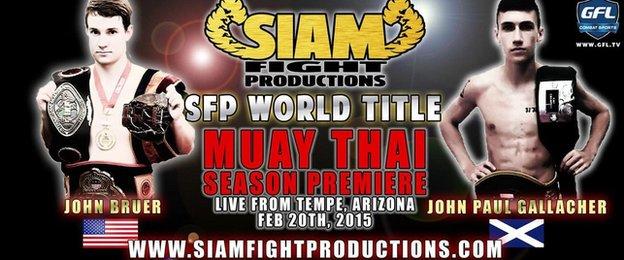 "He'll want to go out with a bang but I'm not going to let him," insists the Scot.
Mark Hendrie, who owns the Glasgow Thai Boxing Academy where Gallacher trains, is convinced those are not the words of an over-confident teenager.
"If he doesn't stop Bruer, I want to know why," he says.
"He's trained his backside off. We've brought all sorts of training partners in for him."
Gallacher took up Thai boxing when he was 11. He went along to a club in Renfrewshire with his pals and when they drifted away from the sport he kept going, surprising his father, who dedicates himself to developing his son's career.
He paid for John Paul to train in Thailand last summer but when the chance of a world title shot arrived, there were others prepared to dig deep.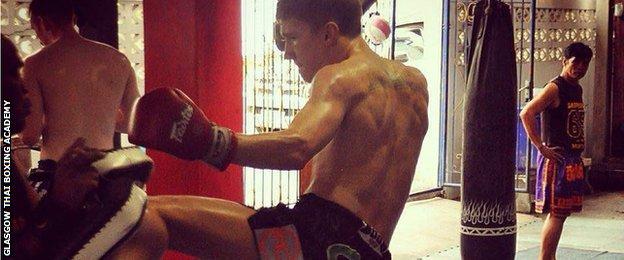 Hendrie set up an online page to accept donations. Thanks to sponsors, contributions from gym members and a fundraising night at a local bowling club, enough money was gathered to pay for Gallacher's trip Stateside.
"Within a day we had just under £1,000," says Hendrie. "He's such a popular lad, John Paul. Everybody wants to see him do well. He is an absolutely great guy.
"He has only been training with us for a couple of years. As a junior he was a bit of a superstar. When he asked if he could join my gym, I was absolutely ecstatic."
Gallacher is in Tempe, a city east of Phoenix, with coach Craig Floan. The pair are staying with a friend there, local Muay Thai gym owner Vinn Xyaveth, and, as you'd expect, are making the most of the training facilities.
If the Scot wins, he can call himself an amateur world champion but, as in boxing, there are many other sanctioning bodies.
The bout is organised by promoter Thiago Azeredo of Siam Fight Productions.
His mission is to bring awareness of Muay Thai to the American public and to establish the sport as mainstream entertainment.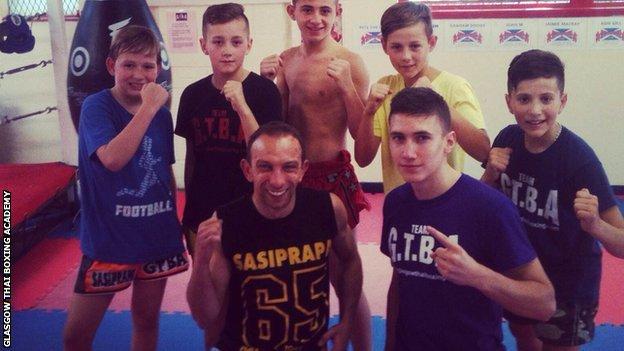 "We have created a venue where promising amateur and junior athletes can develop their skills by competing against athletes from all corners of the globe," says Azeredo.
"We are very excited about having John Paul on our card. Not only is he a great talent, but he's a great personality too. We are always searching for the best fighters to compete at our events.
"John Paul has fought all over the world and it shows in the ring. He has a very clean Thai style and the crowd will be in for a treat.
"His opponent and him are virtually equals in experience, nationally and internationally."
The popularity of mixed martial arts has grown swiftly in recent years but the promoter is convinced Muay Thai has "10 times the entertainment value".
Gallacher will enter the ring with three pieces of protective equipment - a groin guard, a mouth guard and, because the fight is in America, elbow pads.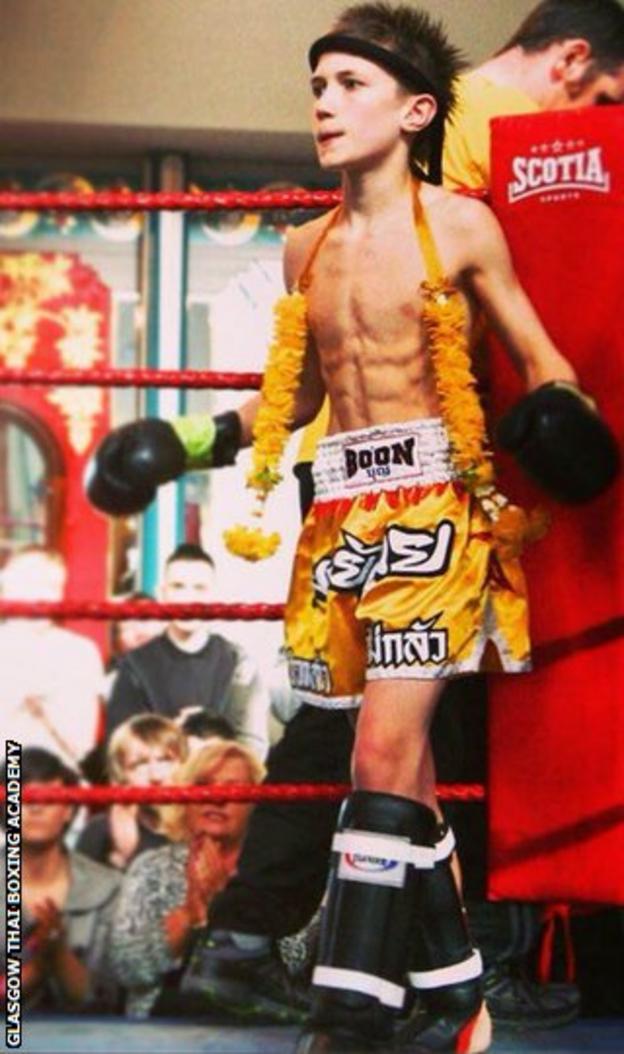 He and Bruer will be permitted to use fists, elbows, knees and feet to deliver blows.
It is a sport that demands speed, technique, bravery and incredible fitness levels.
"You only get what you put in," adds Gallacher, who, despite his 6ft frame, weighs 9st 9lb.
"I just keep my body right. I train smart.
"Bruer is shorter and stockier than me but height sometimes doesn't really matter. You just fight how you see it. There are so many weapons you can use."
Gallacher has been working on his strength and conditioning with Alex Whelan, a prize-winning bodybuilder, in his Pro-Life gym in Paisley.
"I train seven days a week. In the mornings I'm at Pro-Life, then I run 10k and do seven three-minute rounds on the heavy bag," he says.
"After that, I go home, rest and then my dad drives me to Mark's gym in Clydebank where I train for another three hours.
"If I win on Friday I'll turn pro and go to a different weight."
He admits to a penchant for flashy shorts but his goal is plain - he wants that title.