Tom English's weekend column: Gambling, Deila & Russian doping

By Tom English
BBC Scotland
Last updated on .From the section Scotland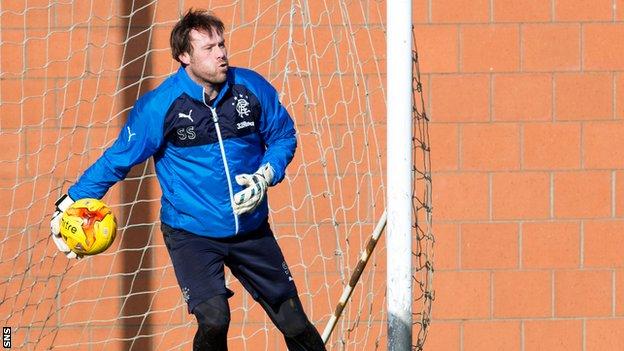 If you're illustrating how the standards at Ibrox have fallen off a cliff in recent years then you wouldn't begin with Ian Black's gambling case, or the Steve Simonsen case that followed it, but in their own way they're instructive none the less.
Back in 2013, Ally McCoist went on the offensive in his support of Black - despite the player having bet on Rangers not winning a game in which he was playing.
Remarkably, the then Rangers manager deemed that Black had no case to answer, even though the midfielder placed a wager, as part of an accumulator, on Rangers drawing a match with East Stirlingshire, a team the Ibrox club had already battered three times that season.
Black went on to score in the East Stirlingshire match and, thereby, helped bust his own coupon.
In that regard he was a bookmaker's dream - a punter who placed a bet and then helped make sure that the bet failed.
It was odd behaviour, though, and the passage of time has made it no less odd.
You wondered then, as you wonder now, what the big Rangers managers of the past would have made of Black's behaviour. How long would he have lasted? Ten minutes? Five?

And now Kenny McDowall has done something similar to McCoist, opting to question the Scottish Football Association on the appeal of Steve Simonsen's two-match ban (one of them suspended) for betting on 55 matches between January 2014 and January 2015. Unlike Black, the goalkeeper did not bet on matches involving his own team.
The rule can scarcely be simpler. Players in Scotland are not allowed to bet on football. Not one bet on one match in one league - anywhere in the world.
The SFA believe that Simonsen's ban is too lenient. McDowall believes it's "unbelievable" that the SFA is appealing.
"It's the first time they (the SFA) have done this (lodged an appeal) but should we be surprised?" asked the Rangers caretaker manager, a rhetorical question that smacked of victimhood.
Well, no, we shouldn't be surprised. The SFA have never had the ability to appeal in the past. All of that changed in the wake of the Black case.
This is where the problem has arisen. Black served only a three-game suspension, a terribly light punishment given what he was found guilty of. The SFA got that wrong. What they're trying to do now is challenge the Black verdict's right to be considered a precedent for future cases.

McDowall feels angry at the SFA for refusing to let this slide. The people he should save his wrath for, however, are the players who landed the club in this hole to begin with - the lesser-spotted Black and the guy who is supposed to be a safe pair of hands.
NO TIME TO JUDGE DEILA YET
It seems like Ronny Deila was only in the door at Celtic for five minutes when cast-iron verdicts were being formed about him.
Many of them, in the beginning, were unflattering. The travails in Europe were followed by unconvincing performances domestically and, in their wake, came some stinging criticism from former Celtic players. Chris Sutton and John Hartson have been veritable Rottweilers at times.
In the business of Celtic (and, in full health, Rangers, too), there exists the phenomenon of the snap judgement.
I'm sure it exists elsewhere in sport, but there is a rush to deliver the final analysis that is done at near breakneck speed.
A manager, or a player, is deemed a dud or a triumph in the relative blink of an eye. He is either written-off or acclaimed in double-quick time. It's not always right, or wrong, but it's a reality. You've got to call it. Now!

And Deila? Already the cries of 'Get off the fence' begin to echo but the honest answer is 'I don't know yet'.
His team looks to be progressing, but that view is open to challenge. He looks to be building something but until we see more of the structure then how do we know what it looks like?
'Let's wait and see' is a line that doesn't usually cut it when appraising this team. But, at the moment, it's the best we can do.
WHISTLEBLOWERS DESERVE BETTER
When, in December, Sebastian Coe launched his bid to become president of the International Association of Athletics Federations (IAAF) he spoke passionately about the curse of doping in his sport and described it as a "war we cannot lose".
Just as he was outlining his manifesto and speaking of the evils of cheating, the greatest scandal to hit athletics was unfolding around his ears, courtesy of jaw-dropping revelations unearthed by Hajo Seppelt, a journalist with the German television station, ARD.
The documentary, Top Secret Doping: How Russia Makes Its Winners, was the sporting equivalent of a thermonuclear explosion.
Seppelt spent months in Russia gathering testimony on the country's alleged industrial-scale doping culture and systematic covering-up of cheating.
The allegation is that Russia operated a state-sponsored doping programme involving collusion among coaches, administrators and some within the IAAF.
The assertion was that 99% of the Russian Olympic team were involved in doping, with the support of Vladimir Putin's government. This has been denied by the sporting authorities in the country, but people in power in Russian sport have resigned as the scandal rumbles on.

It wasn't just athletics in the frame, it was swimming, cycling, weightlifting, cross-country skiing, biathlon.
The driving force behind Seppelt's programmes were the former Russian Anti-Doping Agency official, Vitaly Stepanov, and his wife, Yulia, a former 800m runner who, as Yulia Rusanova, was herself banned for doping.
Vitaly Stepanov said that representatives from various Russian sports federations would go to the offices of doping control offering money to bury positive tests. He also levelled accusations against the head of the national doping laboratory for falsifying tests and selling banned products.
His wife accused former coaches of giving her doping substances and threatening her, and others, with demotion from athletics programmes unless they participated in doping.
Yulia Stepanova also accused the head of the Russian federation's medical department of supplying doping products in exchange for 5% of an athlete's earnings.
The scale of the alleged corruption and facilitation was extraordinary and is now the subject of an independent commission headed by Dick Pound, former head of the World Anti-Doping Agency.
Last Wednesday, Coe, the IAAF presidential hopeful, spoke about the scandal and, it's sad to say, his tone was far more conciliatory than it had been when talking about the evils of cheating and wars having to be won.

The IAAF, he said, was about "making sure that those federations who do have these challenges are not isolated or banned as some people have suggested".
Yes, many have suggested precisely that. Unprecedented cheating, if it's all proven, requires, you might argue, unprecedented punishment. Coe favours a four-year ban for any athlete who is found guilty of doping.
Should the penalty for an entire federation, if found guilty of doping, not be as great - or even greater?
"People are saying 'we must kick these federations out of sport'," said Coe, currently IAAF vice-president. "No, actually good presidencies make sure that we help them create an environment and systems that do have integrity and do have trust and that is our responsibility as well."
Coe said that Russia has "been through a difficult time".
And the whistleblowers? The people who put themselves at risk and who now live in exile with their one-year old son all in the name of clean sport? What of their difficult time?
You can only imagine how they felt when they heard Coe's words. Coe did not need to prejudice the investigation by condemning the Russian federation to the wilderness, but neither did he need to pledge them his understanding and his support, which is what he did.
Coe is running for election on a ticket of Growing Athletics in a New Age. Surely a new age involves people like Vitaly Stepanov and Yulia Stepanova, whistleblowers who are prepared to go to such courageous lengths to help protect what Coe has held dear his whole life - integrity and trust in what the public are watching.
Having done such service to sport, they deserve a whole lot better than being holed-up in some secret hideaway, afraid to return home for fear of intimidation or worse.

They deserved a whole lot better from the man who would be the guardian of world athletics.
In his speech last week, Coe went on to talk about the importance of Usain Bolt and the void he will leave behind when the sprinter retires.
The argument here is that for all Bolt's vast global appeal and his ability to generate money and mass audiences, it is people like Vitaly and Yulia that are more precious to the sport.
Bolt puts bums on seats, but the whistleblowers put cheats in the dock. If this was a race to determine who was more important to the heart and soul and future of athletics, Bolt would be left for dead.
In the war on doping that he "cannot lose", Coe has two warriors.
The depressing thing is that those who have sought to expose the truth are now imprisoned by it.