Tom English: Dave Mackay the man and golf's perception issue

By Tom English
BBC Scotland
Last updated on .From the section Scotland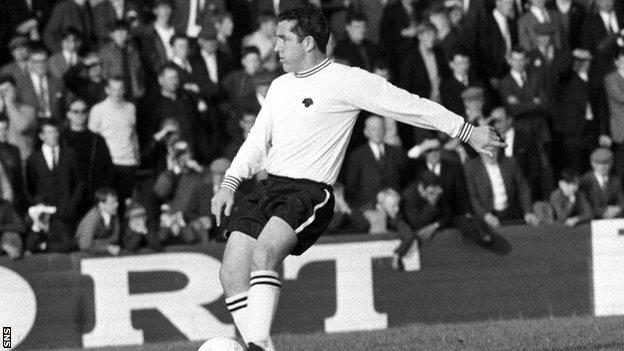 There's a picture of Dave Mackay sitting in a makeshift dugout at a changing Stamford Bridge in the mid-1970s. He is manager of Derby County and his eyes are focused on the game.
If you look to his left you see his assistant, Des Anderson, and along the line, sitting in what looks like a sleeping bag, is Roger Davies, the championship winning striker of 1975.
But the eye isn't drawn to Mackay's left, it is drawn to his right, where a young boy, nine or 10 years old, is leaning over a wall alongside the Derby manager.
Clearly, the boy is with the boss. Earlier he had been in the team hotel with the Derby players. He had travelled to the ground in the team bus. He'd been in the dressing room watching Roy McFarland and Kevin Hector and Archie Gemmill getting ready until five minutes before the off, when he went into the corridor to allow Mackay to say his piece.

Then he took his place alongside the great man. The boy is not a son, a nephew or family member of any kind, but he's connected all the same.
His name is Rob White and he is the son of John White, the Ghost of White Hart Lane.
At this point in his life, the young man knows little of his late father's greatness. He knows that his dad was Scottish and that he was a footballer, but the full scale of his dad's brilliance is still a mystery to him. He remembers nothing else about him. How could he? He was six months old when his father died.
White embodied skill and wit in the most cherished Spurs team of them all - the historic 1960-61 double-winners that went on to become the first British side to win a European trophy, taking the Cup Winners' Cup in 1963. Bill Nicholson's immortals - John White and Dave Mackay among them. Team-mates, friends, Scots together at the Lane.
In 1964, aged just 27, White was killed by lightning when playing golf at Crews Hill in Enfield. The Observer journalist, Peter Corrigan, got through to Mackay in the hours after it happened and recalls one of the game's toughest footballers crying so hard that he had put the phone down.
Years later, when his memory was fading and his health deteriorating, Mackay recounted the day his friend died. He said a man called Tommy Burton broke the news to him first. As soon as he heard, he got in his car and drove to the golf course.
"I got there as fast as I could," Mackay said. "I don't know. I think I just wanted to see him before they took him away. Just to be with him before he went off to the mortuary. I was too late. I sat down by the tree and I was very upset. I looked at it and there were these two burns in a kind of a circle on the bark, about two foot off the ground. It was just unbelievable. It was very, very sad."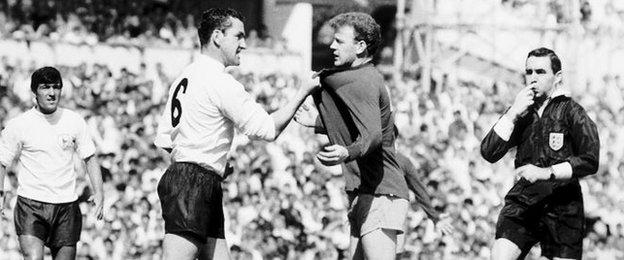 On Monday, the great Mackay left us and as the news came filtering through there were any number of tributes, from big name players of the past to ordinary supporters of his beloved Hearts and his second-love, Spurs, and from Derby fans who will never forget the job he did as their manager in Brian Clough's wake.
Mackay had been a world class player and an unrivalled leader. He was big and strong and had a will to win that took others with him. He was, in every sense, a mighty man.
On Tuesday evening, his former team-mate, Tommy Docherty, was asked where he'd rank Mackay in the list of the greatest Scottish players. "Top five, aye," said The Doc. "And high-up, too."
The image of Mackay that we know and love the most is the one that he himself hated - the one where he's grabbing Billy Bremner by the shirt like a bully in a playground. Mackay was no bully. He was fiendishly hard, but utterly fair. In that moment, he was merely reacting to a bad tackle to a leg that he had already broken twice.
At home on Tuesday, Rob White looked at the picture of the Stamford Bridge dugout and remembered not Mackay the player but Mackay the man. He remembered his kindness. Rob is 51 now and talks of the influence Mackay had on him in his formative years and what he describes as the "great gift" he gave to him.
Dave Mackay factfile
1958:
Captains Hearts to the Scottish league title
1959:
Joins Tottenham from Hearts in a £32,000 deal
1961:
Wins the league and FA Cup double with Tottenham. He won two further FA Cups at Tottenham, in 1962 and 1967
1968:
Sold to Second Division Derby County for £5,000, where he helped Brian Clough's side gain promotion to the First Division in his first season
1969:
Named joint winner of the Football Writers' Association Footballer of the Year award
1971:
Appointed player-manager of Swindon Town
1972:
Becomes manager of Nottingham Forest
1973:
Succeeds Brian Clough as manager of Derby County
1975:
Leads Derby County to the league title
1977-1995:
Manages Walsall, Birmingham City and Doncaster, and a number of clubs in the Middle East
2002:
Made an inaugural inductee of the English Football Hall of Fame
2015:
Dies aged 80
"My dad had been at Alloa and Falkirk, a hard level," he says. "But then he went down to London and it was another world. He arrived at King's Cross and got two buses across to White Hart Lane and it must have been very reassuring for him to know that Dave was there waiting for him.
"There were three Scots - my dad, Dave and Bill Brown. I love the story of Dave arriving at Spurs and being presented with a silver Jaguar and then going and getting it spray-painted maroon. Hearts was his club, always. But Spurs were so lucky to have him as well.
"He thought the world of my dad and that's part of the reason why he completely went out of his way when he was manager of Derby to make sure I got this incredible immersion into the world of football. I was taken to all of the games in the London area. I met all the superstars of the day.
"I was in the hotel, on the team bus, in the dressing room and in the dugout. It was like I'd won a competition in Shoot! magazine to spend a day with a top team, but it wasn't just one day. I'd be right there with him at Chelsea, Arsenal, QPR, Luton, Fulham, Tottenham.
"The players would come out of the dressing room and file past me and there'd be an overpowering sense of liniment. In 1975 I was brought to Wembley for the Charity Shield - Derby against West Ham - and I'm walking up the tunnel on to the pitch after the players and a security guy says 'Excuse me, son, what are you doing?' And Dave notices and turns around and says, 'He's with me' and carried on walking. And you could see the guy thinking 'If Mackay said it, then it's ok'.

"Dave looked after me purely because I was John White's son. What he did for me was a really important part of my development because Dave gave me an unbelievable insight into the world my dad would have inhabited. The stadiums, the dressing rooms, the atmospheres. I saw from an early age what dad's life would have been like. It was a gift."
When he heard the news of Mackay's death, there was a twin sadness for Rob White - the loss of a man that had meant so much to him as a boy, and the emotion about the father he never knew.
"I love looking through old pictures of Dave and my father and all that old crew," he says. "There is a sense of shock that the indestructible Mackay has gone but it's tempered by an overwhelming pride and gratitude for the impact he had on my life. Everybody remembers the great footballer, but he was a great man, too."
GOLF'S PERCEPTION PROBLEM
Dan Olsen, the journeyman American golfer, must be a Lewis Carroll fan because on Monday, on ESPN, he went through the looking glass and set a hare running, a March hare so big it wouldn't have been out of place had it fetched up at the Mad Hatter's tea party.
Olsen claimed in an interview that Tiger Woods is currently serving a one-month ban from the game. He said other strange stuff about Woods using a "cheater ball" instead of a ball approved by the PGA Tour. Clearly, Dan was in the mood to unburden himself.
The player said the information about the ban was reliable. "It's not testosterone, but it's something else," said Olsen. "I think when it's all said and done, he (Woods) is gonna surpass Lance Armstrong with infamy."

If you think there's nothing faster on this earth than the speed of light then you haven't seen how quickly the golf establishment can move when a marquee name, and the sport in general, is being traduced.
Trying to get the PGA Tour - or the European Tour for that matter - to engage on the subject of doping is not an easy business, but in the wake of Olsen's bizarre interview they were on it like a flash. Ty Votaw, executive vice-president of the PGA Tour, responded emphatically. "There is no truth whatsoever to these claims," he said. "We categorically deny these claims."
Olsen made wild allegations with zero evidence and later retracted every sentence in a climb-down that could scarcely have been any more mortifying for him. But there is a related issue here and it's an issue of transparency and secrecy.
A while back we contacted the PGA Tour and asked for some details of their dope-testing regime. Golf is becoming an Olympic sport next summer, after all. The game is entering a new world where testers can bang on the door of an elite player in the middle of the night and carry out a test.
Of course, golf lives by different rules to most sports. A positive test elsewhere can lead to a four-year ban. In golf, it can lead to anything the game's authorities want it to lead to. Golf is one of the few sports that is not bound by the World Anti-Doping code.

We asked the PGA Tour and the European Tour for data that showed how on top of the threat of doping they have become - number of overall tests in the year just gone, number of tests per tournament, number of times the elite guys were tested and the same for the chasing pack.
We were told by the PGA Tour spokesperson that no specific details could be released. Testing is done at "virtually every PGA Tour event," but the numbers are confidential.
In Europe? Same brick wall. No details of any kind. "We don't divulge this sort of information," said the European Tour.
Nobody is saying that golf has a problem with doping, but unquestionably there's a perception problem. The secrecy on both sides of the Atlantic does the game no good.
Golf may have nothing to hide, but sometimes, through its own lack of transparency, it can appear as if it does.