Tom English's weekend column: Scottish rugby and Celtic

By Tom English
BBC Scotland
Last updated on .From the section Scotland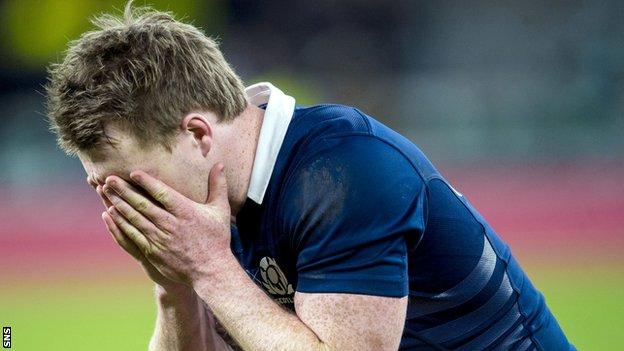 John Cleese will know nothing about Scottish rugby, but he might find that some of his on-screen antics are repeated by angst-ridden fans of Vern Cotter's team.
Those Murrayfield veterans who have witnessed what has been going on with this team these past weeks - or years - could be forgiven if their frustration led them to yanking a branch from a tree and giving their car a right good thrashing in the manner of Basil Fawlty.
And, who among the Scotland support could fail to identify with the hapless soul in Cleese's Clockwise? In that movie, Cleese could have had Murrayfield in mind when he reached his wit's end: "It's not the despair. I can take the despair," he sighed. "It's the hope I can't stand."
Ah, hope.
Hope at half-time in Paris; hope at various points against Wales; hope until the bitter last act against Italy; hope at the break at Twickenham.
Scotland are plum last in the championship, but it doesn't feel like a zero-from-four season. It's actually quite hard to encapsulate precisely what it does feel like.
Things are a little better in one regard because Scotland have done some things in attack that have been streets ahead of anything we've seen from them in years. And things are a little worse because regardless of the improvements, they're still losing matches.
For years, Scotland have been largely rudderless and mostly joyless, but the fans knew where they were with that. They could wallow in the despair and navel-gaze to their heart's content. Hope didn't get in the way and complicate things. It was all quite simple back then.
Now, Scotland are in some kind of rugby no-man's land - improving but still losing, playing some terrific stuff but mixing it with the kind of things that makes winning impossible. Cotter resembles a man trying to fix a hole in his roof. He plugs one leak only for another to open up. And so the cycle continues.
Against Italy, there were problems with discipline, leadership, power and, in particular, the defence of the visitors' lineout maul. At Twickenham those things weren't such an issue any more. Scotland defended England's maul and had their lowest penalty count in years.
It was the first time, in the longest time, that their penalty count was in single digits in a game of this importance.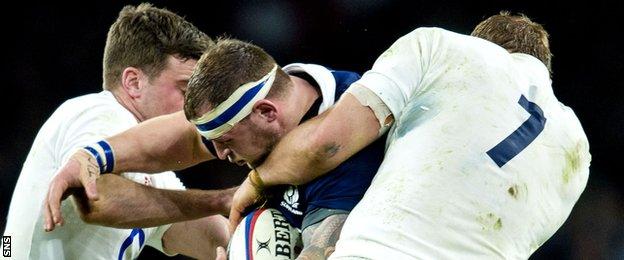 But other problems arose. In that jaw-dropping opening quarter they lost the plot in defence and carried out a kicking strategy that was akin to loading a gun and handing it over to a crazed assassin. In those moments, had England even bore a passing resemblance to a clinical side then the game would have been over and a massacre would have been in train.
Scotland survived and grew and played wonderfully in the second quarter. So many good things and so much hope at half-time. The hope that kills.
Every so often in this Six Nations the sun has broken through the clouds and shone on Cotter's team, but the problem is that it doesn't last.
Scotland were in contention in Paris but didn't score in the second half. In the game against Italy, there was a 40-minute chunk either side of the break when they failed to trouble the scoreboard. And at Twickenham on Saturday there was another entire half where Scotland failed to register a point.
The progression under Cotter is obvious, but the improvements are not sufficient to paper over the weaknesses.
The coach says he's excited about some of the things he has seen in the Championship, but he hasn't reached the tipping point where good outweighs bad. That can't be a surprise to anybody. Scotland have been irrelevant to the business end of the Six Nations for 15 years and turning it around is not a one-season job.
Vast tracts of games go by where Scotland don't score and don't play with accuracy. In rugby at the highest level if all you are doing is playing in fits and starts then it doesn't matter how decent the decent stuff is. If it only exists in fleeting bursts then it's never going to be enough.
Scotland have gone from losers last season to gallant losers this season. It's not exactly a leap forward but, then, this journey was always going to be about baby steps rather than giant bounds.
The hope is tormenting, though. There is quality in this team. Stuart Hogg is a thrilling full-back. Tommy Seymour is a dangerous individual on the wing. Mark Bennett is, very possibly, a superstar in waiting. Until he was struck down, Alex Dunbar had caught the eye of not just Scots but pretty much everybody who's in tune with the Championship. Dunbar is a player of real substance. As good as Matt Scott is - and he can be extremely good - Dunbar's loss has come as a kick to the solar plexus of Scottish rugby.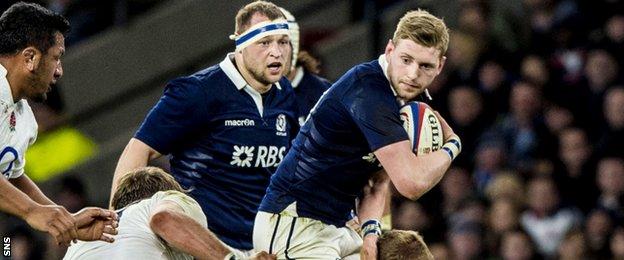 Finn Russell has a way to go and once he removes the major errors from his game and adds consistency to the lovely ambition in his play then he'll be a force to be reckoned with. Greig Laidlaw was excellent on Saturday and needs to be that sniping presence more often.
Up front, there is a shortage of ball carriers and leaders. They have some, but not enough. They have excellence, but only in pockets. One moment, among many, that showed the kind of thing that still stymies Scotland came late in the match at Twickenham. They were, by dint of wasteful English finishing, only a converted try behind and, theoretically, in with a chance of getting a result. Seventy four minutes had been played and it was 20-13 to the home side.
George Ford had what looked like a routine kick that would have made it 23-13. It hit the upright and Scotland failed to deal with the fallout. England scored a few phases later. The memory went back to Italy a fortnight ago when exactly the same thing happened. Scotland were caught out when the ball slapped off the post then and were caught out again on Saturday. Fooled once, they should not have been fooled twice.
Collectively, they have closed the gap on the opposition but the thing was so yawning to begin with that the progress made under Cotter still doesn't equate to points. What we can say is that there are things in the Scotland game that are hugely positive and, at times, uplifting.
There are reasons to believe that at some point down the line - and we're talking years rather than months - they will become relevant again.
England, Ireland and Wales will play for the Championship on Saturday. In the week of the 25th anniversary of winning a Grand Slam, the grim fight to avoid the Wooden Spoon is Scotland's level. That seems a little unjust given some of the pleasing things they have done these past weeks, but that's life in the Six Nations. Growing pains are pretty hurtful.
The forgotten men grab the silver for Celtic
Surveying the scene as the ticker tape fell, two men caught the eye at Hampden.
Not Scott Brown - from slumped by the road-side to looking at the stars in the space of four days. Nor Ronny Deila, who had won his first trophy as Celtic manager. Nor Stefan Johansen, man of the match in a final that was enjoyable but too one-sided to be considered fully absorbing.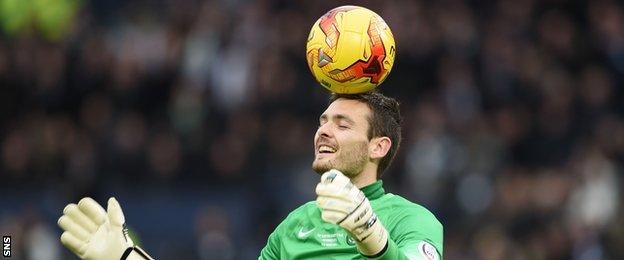 The first guy was Craig Gordon, the day's great Cinderella story. Gordon's comeback from injury and near-retirement has been remarkable, a tale of quality goalkeeping, of course, but also of perseverance.
Gordon has been to some pretty dark places on his journey back. He was a forgotten man. Written-off. Unwanted. A £9m goalkeeper with no goal to keep. It was Celtic's wisdom that made them sign him. It's been Gordon's brilliance that has made the move a success.
The concept of footballers as role models is a hopelessly flawed one, but if you had to pick a character to fit the bill then you wouldn't look beyond Gordon. In the face of such uncertainty, he refused to buckle.
With a medal around his neck and his children at his feet, Gordon represented the most heart-warming image. At one point in the celebrations Gordon was joined by Kris Commons, another of Celtic's true go-to men. You think back now to all the uncertainty about his future in January and you wonder what madness befell the club at the time.
Commons scored the goal that unlocked this Cup final and nobody should have been too surprised about that. Hampden, after all, is his footballing home from home.
He scored there against Rangers in the League Cup semi-final last month, he scored two in the Scottish Cup semi-final in 2013, scored again in the League Cup semi-final of 2011 and scored once more in the Scottish Cup semi-final of the same year.
Commons scores. In all bar one fruitless season, that has been the way of things. He now has 11 goals this campaign to go with the 31 he got last season, the 19 he got the year before and the 14 he got in his first half-season at the club in 2011.
Balance the goals, not to mention the assists, against the price tag - about £300,000 - and you are talking about one of the shrewdest signings in Celtic's modern history.
In all the joy of Deila's first trophy, it was hard to take your eyes off the one who stayed and the one who saved.