Scottish Championship: Hearts have found an image that fits

By Richard Wilson
BBC Scotland
Last updated on .From the section Hearts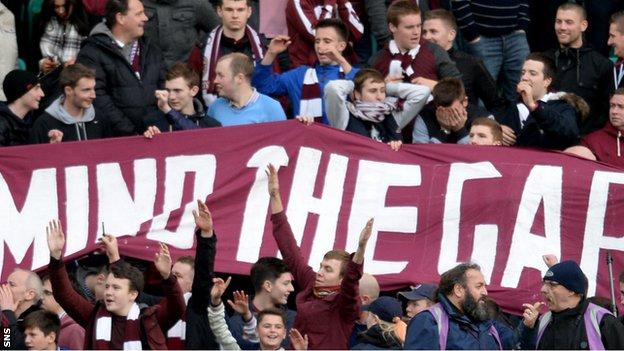 Hearts have gathered armfuls of plaudits as well as the main prize this season. By securing the Championship title, they have confirmed an outcome that has looked certain from early in the season.
The triumph has required recurring qualities from the players: ruthlessness, stamina, commitment and, most crucially, embracing the culture and philosophy demanded of them by their innovative young head coach, Robbie Neilson.
There are still distinctions left to pursue, since Hearts will want to preserve their record of having lost only once in the league all season. They are also on course to win a maximum of 99 points, and could even surpass 100 goals.
The details are not incidental, since Neilson has used them as sources of motivation for his squad. The relentless pursuit of the title is a reflection of the single-minded focus that drives the manager.
"There are targets we can try to get to that we've spoken to the players about," Neilson said. "But also there's the motivation of our own pride. We should be winning games, we shouldn't be letting teams score against us."
Craig Levein lays the foundations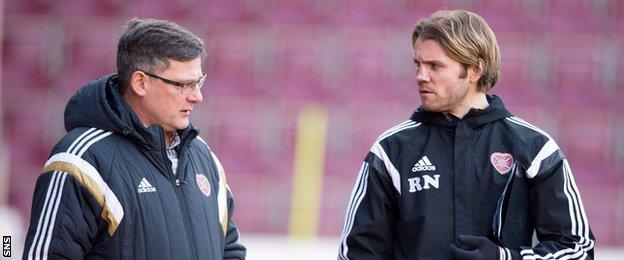 The plans for Hearts' Championship campaign were laid in advance. Craig Levein was granted full control of the club's football resources when Ann Budge took control at Tynecastle once they exited administration last summer.
By that stage, Levein had drawn up a strategy for the next five years and the plan to implement it.
There was a brutality to the way players, such as Jamie Hamill and Ryan Stevenson, and coaching staff were dispensed with so soon into the new regime.
Some still feel that the situation should have been handled with more honesty and compassion, but Levein set out to revamp how the football department operated, the style of play and the approach to training. Old, entrenched ideas would most likely have presented an obstacle.
As director of football, the onus for Levein is to ensure that the club's youth development structure continues to produce players for the first team - overseeing a recruitment policy that represents economic value - and to coach the coaches, so that the team's style is repeated through every age level.
He also took responsibility for the appointment of a new head coach in Neilson.
The continuity that Levein will provide - he sits on the board - and the authority he brings to the role provides long-term assurance to Hearts, but it also created the environment that allowed Neilson to flourish.
Setting standards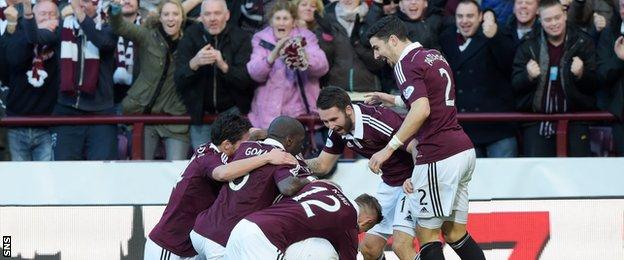 Despite having scant coaching experience, Neilson was unfazed by the challenge of stepping up into management.
There were factors that assisted him, since the Hearts squad contained many young players whose opinions and mindset of how teams should play and train were yet to be set in stone. They willingly accepted a different approach and Neilson was determined to impose an extensive regime.
Scottish football has tended to consider double training sessions so radical as to be outlandish. They are the norm in Europe, though, and Neilson's focus has been on player development and generating a distinct style of play.
The Hearts squad are impressively fit, and it is no coincidence that they have scored 24 of their 87 goals in all competitions in the closing 15 minutes of games. Neilson has tailored their fitness so that the side finishes matches strongly, and substitutes have also often played critical roles.
Founding ideals are evident in the way that Hearts play. There is an emphasis on constructive, passing football, pace and trickery on the wings, all built around a solid core that Morgaro Gomis and Prince Buaben or Miguel Pallardo provide in central midfield.
Levein and Neilson worked to a set of principles in the summer, since the young players who broke through last season were to provide the basis of the side for this campaign.
The recruitment strategy was to bring in experienced players to guide them, so the likes of Neil Alexander, Gomis, Buaben and Adam Eckersley were brought to Tynecastle. The mix has been effective enough for Hearts to combine athleticism, power and strong mentalities, to exuberance, pace, talent and hunger.
Individuals have thrived. James Keatings, Osman Sow, Jamie Walker, Billy King and Genero Zeefuik (who only signed for the club in January) have all scored freely.
Others, such as Callum Paterson, Jordan McGhee, Sam Nicholson, Kevin McHattie, Danny Wilson, Dale Carrick and Brad McKay, have all impressed either as mainstays throughout the campaign or in cameo appearances.
How the title was won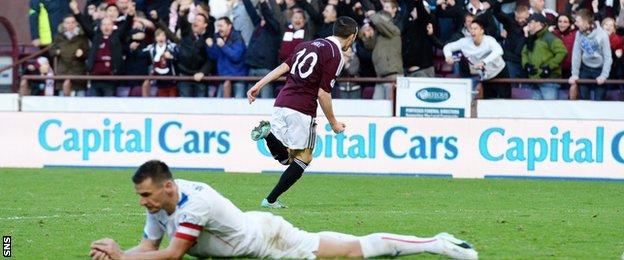 The defining characteristic has been Hearts' relentlessness. Neilson's side won their opening league game of the season, at Ibrox, when the strong and rangy Sow scored in stoppage time. The visitors had led, through Wilson, and although the home side equalised in the final minute, Hearts still pursued the victory.
There has been a strength of purpose to their work in this campaign, and no side has been able to live with their spirit and enterprise. The following week, at an animated Tynecastle, Hearts won the opening Edinburgh derby of the season, overcoming Hibernian 2-1 in a performance full of grit and determination.
There have been free-scoring moments, with Hearts notching four goals or more in 10 league games.
That includes the 10-0 win over Cowdenbeath at Tynecastle, which summed up the best of Hearts' values this season. They were 5-0 up at half-time, but there was no let-up after the interval. Zeefuik scored a three-minute hat-trick, but the other seven goals were scored by six different players.
On average, Hearts score 2.89 goals per game, and the team with the next highest scoring ratio in the UK's senior leagues is Bournemouth with 2.08.
With only one league defeat to their name - a 3-2 loss to Falkirk in January - Hearts have been imperious.
Other pivotal moments included Alim Ozturk's stunning long-range shot that dipped over Hibs goalkeeper Mark Oxley to earn a late draw in the second Edinburgh derby of the season.
That point came during a dip in form, yet Neilson still then guided his side to single-goal victories over Raith and Falkirk before a crunch meeting with Rangers at Tynecastle, which they also won.
The sense has been of a group of players enthusiastically buying into the values of a new regime, where application, work ethic and technical aplomb are developed exhaustively in a training regime that reflects the focus on contemporary values.
The resurgence of Hearts this season has been irrepressible; now, work begins on improving the squad for the step up to the Premiership.