Tom English: Scotland must look back if they are to go forward

By Tom English
BBC Scotland
Last updated on .From the section Scottish Rugby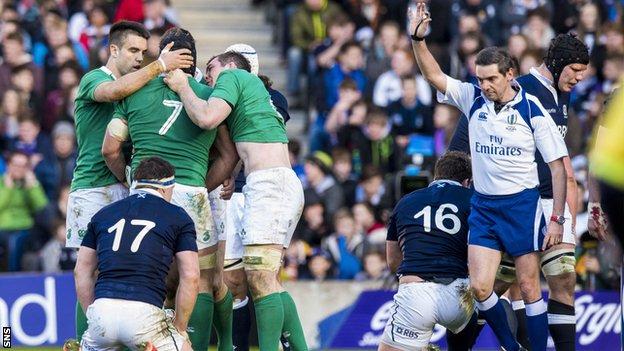 If it's any consolation - and it almost certainly will not be - then the hangdog expression that has become the symbol of the Scottish rugby team, and all who flail in her, was the same hangdog expression worn by Ireland for a decade and more.
The sense of despair and hopelessness was once Ireland's despair and hopelessness. Those of us who lived, and wrote, through the 1990s across the water still remember what it was like. We still carry the scars.
These are the good times in Irish rugby and they are all the sweeter because the memory of the bad times are still fresh and will never, ever go away.
The Scottish team is on its knees and, in Ireland, they can understand the pain. They've been there.
In the last dozen championships, the Scots have won a pitiful total of 12 victories and have finished above the bottom two only twice. Here's the comparison. In the dozen years from 1988 to 1999, Ireland won an even more pitiful total of 10 matches.
They went through the coaches with a wearying brutality. The landscape was impossibly bleak. If you'd suggested that better days lay ahead then you'd have been carted away. Nothing good was going to happen. Ever.
Of course, Scotland's numbers would be worse than Ireland's if it wasn't for Italy providing them with semi-regular victories.
But Ireland played the Azzurri during their own horrific era - albeit not in championship rugby - and failed dismally in that fixture, too. They once lost three consecutive games against them, two of them coming in the same year - 1997.
The Irish wing, Simon Geoghegan, once got so frustrated after losing to Scotland (again) that he spoke of the team's lack of hunger and direction in an interview.
Geoghegan said, sarcastically, that Ireland would be better off playing Zimbabwe every year instead of the Scots, the English, the French and the Welsh. He was disciplined by the Irish Rugby Football Union for speaking his mind. That was the way of it until the clouds broke in 2000 and some light started to peek through the gloom.
How did the Irish change things?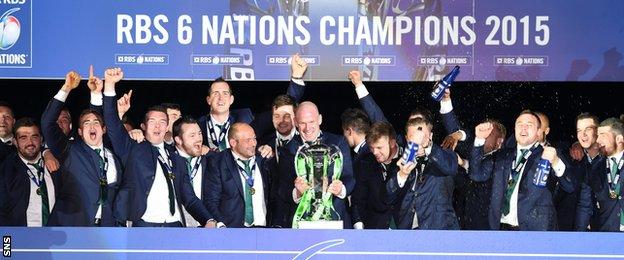 Scotland are now where Ireland were round about 1998. They're 17 years behind the times in one sense, but in another they are an eternity away from matching Ireland's success in Europe (six European Cups) and the Six Nations (a Grand Slam and two championships in the last half-dozen years) and in developing the game beyond the private school system.
In making rugby popular with people who never before cared for it, Ireland has opened up a gap on Scotland that will be nigh on impossible to breach.
When John Hayes, the beloved prop from farming stock in rural Limerick, made his debut against Scotland 15 years ago, he was asked about his background in the sport. He didn't really have one, he said. He only started playing rugby aged 17.
He said that if somebody had showed him a rugby ball when he was 16 years old he would have presumed it was a Gaelic football that had been rolled over by a tractor.
Hayes went on to win 100 caps. In understanding how Irish rugby connected with hurling and football communities that were forever off-limits, then Hayes is the success story in microcosm.
Scottish rugby and professionalism
This is where Scotland have performed abjectly in the professional era. They haven't had a Gaelic Games heartland to target, but even if they had you'd have had no faith in them doing it. The SRU woke up to professionalism years after everybody else. Many years.
Pinning Saturday's humiliation on the current generation of coaches and players is only scratching at the surface. Vern Cotter is a proven coach with a world view and Scotland are lucky to have him, but there are things that can be done in the short-term to make this team better.
Scotland have some fine young players but also a string of bad results. They have pockets of optimism but nothing tangible to show for it. And they are, as Ireland were years ago, still vulnerable to a cricket score when the big boys turn it on, as Paul O'Connell's team did on that tumultuous Saturday.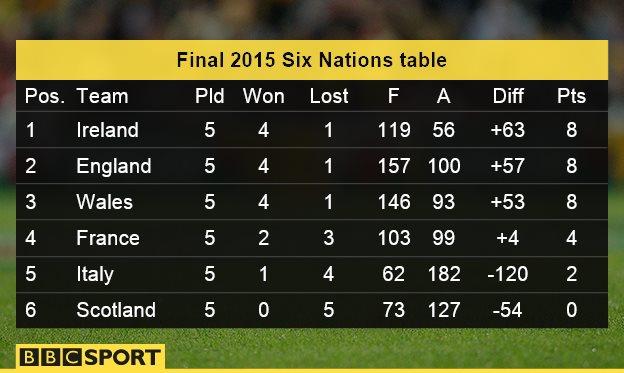 Up until Saturday, Scotland were winning friends with their ambition, typified by Stuart Hogg and Mark Bennett. All of those feelings have gone now. Ireland brutalised the Scots in the second half at Murrayfield.
When the gun was put to their head in terms of chasing the points total that would win them the championship, O'Connell's boys found extra gears that Scotland didn't even know existed.
They systematically took Scotland apart. Most of this happened up front. At least, that's where it began. Every one-on-one battle was won resoundingly by the visitors. The gulf in class in terms of power and game-awareness and cuteness and leadership and decision-making was acute, especially in the back-row.
The lack of leaders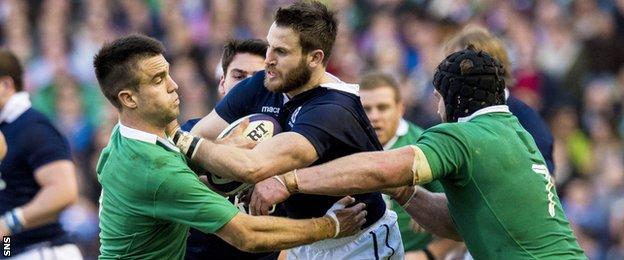 This is where Scotland are at. When Greig Laidlaw and Ross Ford left the field, the captaincy appeared to fall to Jonny Gray, a richly promising player, and potential superstar, but a guy who only turned 21 a week ago. It was a tribute to Gray's excellence, but it was also a preposterous thing to ask the young lock to do.
By comparison, Ireland had O'Connell, a former Lions captain making his 101st appearance for his country, and Jamie Heaslip, a Lion, a former Irish captain and the current Leinster captain, making his 72nd appearance.
They had Rory Best, the Ulster captain winning his 83rd cap, and Peter O'Mahony, a former Munster captain, in there, too. On top of that, they had Rob Kearney, Johnny Sexton and Sean O'Brien, all of whom are terrific leaders in their own way.
Cotter needs to learn a lesson from all of this. His team has played some decent stuff but they are terribly naive and under-powered. They need some gnarled experience in there, some guys who have been around the block in this game and who know what's what.
Josh Strauss will be in the frame come the World Cup and how Scotland needs his ball-carrying aggression. The back-row needs serious attention. Cotter has jettisoned Kelly Brown and John Barclay but it's time to revert. Sometimes in order to go forward you need to go back.
The seminal game in Ireland's emergence from the doldrums in 2000 was against Scotland.
Warren Gatland, then the Irish coach, picked five new caps but he also brought that old warrior, Mick Galwey, back from the wilderness. Galwey hadn't started a game for Ireland in over three years but he was a steadying influence, a cool head amid the young guns who fired the team to victory.
Brown is no has-been. He's 32-years-old, three years younger than O'Connell. And he's playing well for Saracens, one of the pre-eminent teams in England. He was playing blindside on the day Saracens humbled O'Connell's Munster in this season's Champions Cup and soon he'll be playing in the quarter-finals.
Scotland needs leadership and dog and Brown still has much to bring to the table.
The same goes for Barclay - another leader, who is playing well for the Scarlets. Blair Cowan has stolen more ball at the breakdown than anybody else in this tournament, but he lacks the nous Barclay possesses.
What now for Cotter?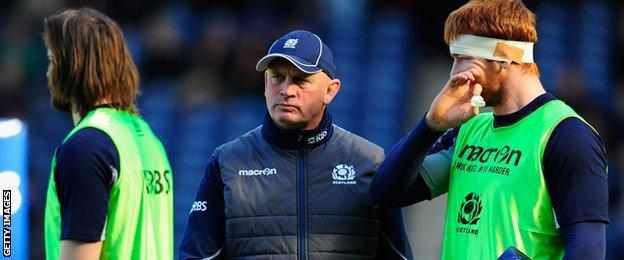 Cotter spoke about changing the mindset of his team. You would hope that he's now thinking of changing the personnel that might help the process.
Saturday was a shock to Scotland's system, a reminder of how far off the pace they are when the best teams produce their best stuff.
Cotter has four warm-up games ahead of the World Cup and these are now vital. Sam Hidalgo-Clyne is a bright attacker but needs more game-time. Cotter shouldn't afford Laidlaw protected status just because he is captain. The Edinburgh scrum-half has got something to offer, no question.
WP Nel will soon qualify for Scotland and demands a chance at tighthead. Cotter is limited in his options, of course, but he was a tough nut as a player and is a tough nut as a coach. Surely the sight of a 21-year-old trying to lead Scotland amid the Irish onslaught will have given him cause to ponder the men he has ignored.
The Kiwi is not responsible for the negligence of the SRU's old guard when the game went professional, but it's his task to try to make it better in the short-term.
The World Cup is his sole focus now. He needs to go there with some heavier artillery than he had on Saturday.