Tom English: John Guidetti; and Scottish rugby's integrity

By Tom English
BBC Scotland
Last updated on .From the section Scotland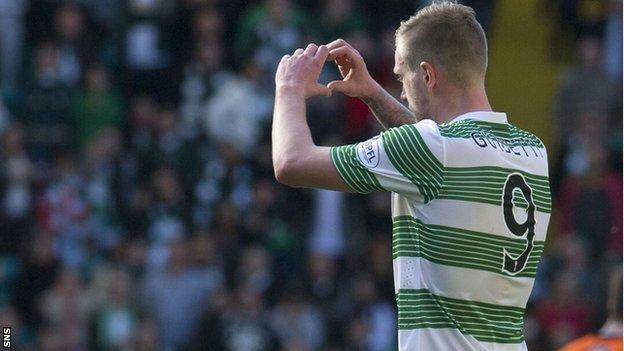 When John Guidetti did his thing on Dutch television the other week, it's hard to imagine that the striker knew precisely what he was getting himself into.
He's a blow-in, after all. A bit of a tourist. On-loan from Manchester City until the end of the season, he might stay on and sign a contract that will keep him at Celtic in the longer-term, but the chances are that he won't. The likelihood is that he's only passing through.
In the interview that has landed him in bother with the Scottish Football Association's compliance officer, Guidetti uses a word, the wearying complexities of which he may know little about. In the same breath he wandered into dangerous terrain about Rangers and its recent past.
He's not the first foreign player to stumble into the powder keg that is Glasgow football and talk, or sing, his way into trouble by dint of ignorance of the twisted environment he's been cast into.
Hopefully it's not naive to think that when using a word that is, even in its tamest interpretation, abusive towards Rangers, Guidetti was out of his depth. If you grant him some understanding because of his fleeting experiences in this country you cannot do the same for the people who pay his wages.
Celtic will, no doubt, argue that Guidetti's actions are not offensive, but without doubt it's ugly and offensive to some and a professional footballer shouldn't be revelling in it on national television, no matter which country he happens to be in at the time.

Fans mouth-off with this stuff, but players? Is it acceptable that footballers adopt the lexicon of the supporters who wish to torment each other? No, it shouldn't be. Surely there has to be a higher standard. And Celtic should have known that and should have put in place some damage limitation. Instead, they sat on their hands and then threw them to the skies when the inevitable charge dropped on their desk.
The charge was always going to happen. This is the way of it now - and has been for years. It's the endless tit-for-tat. When a player of one club does something daft the fans of the other club seize on it. They go on social media; they bombard the SFA; they demand action.
As a club, Celtic know how things are, so for them to act surprised - shocked, even - when the Guidetti thing became an issue was, to put it kindly, disingenuous. They should have acknowledged it as a potential problem right from the start. They should have issued a pre-emptive statement that sought to clarify things. In short, they should have attempted to defuse the situation with a bit of explanation, but didn't.
If Celtic believe that Guidetti genuinely meant no harm, and didn't appreciate how loaded that particular word has become, then they should have said so. If, on the other hand, they believe that there is nothing wrong with one of their players singing it, then that's another story.
Guidetti is up on this charge but his club hasn't done him any favours by failing to publicly tackle an incident that needed tackling.
Murray omits his namesake
Paul Murray didn't name names but, then, he didn't have to. When Rangers' interim chairman took aim at the people who have overseen the dysfunctional goings-on at Ibrox these past years it was pretty obvious who he was talking about.
Murray would have had Craig Whyte, Charles Green, David Somers, Derek Llambias and chums in mind when he issued his statement. That's hardly an exhaustive cataloguing of those involved, of course. The full cast of characters is mind-bogglingly long; from 'A' as in Ashley (Mike) or Ahmad (Imran) to 'Z' as in Zeus (Capital), you'd need to hire the Kelvingrove Art Gallery to find the space to display all the players in this desperate story.

"Many of the people who have occupied the boardroom during that period should be ashamed of themselves for the parts they played in dragging this great institution towards near financial ruin," said Murray.
Quite right. Not many of them will be feeling remorseful but Murray's sentiment was spot-on all the same. One thing jarred, though. In the retelling of how Rangers fell, shouldn't David Murray be at the very top of the list of people who brought about the collapse? Sir David continues to enjoy something resembling protected status.
Of course, Whyte plunged Rangers into unimaginable chaos and those who followed in his slipstream in the years that followed did nothing to help the club beyond blustering about how much they cared for it and shouting down those who asked legitimate questions. But David Murray started the spiral when he sold to Whyte against the advice of his own people at the club - Martin Bain and Alastair Johnston among them. And Paul Murray for that matter.
They presented him with a document that cast serious doubt on Whyte's past record in business and David Murray ignored it and did the deal regardless. The 'Shame On You' headlines of Tuesday were fully justified but in the picturing of the guilty men there was one photograph missing.
England's jibes unjustified
As if life wasn't bad enough for Vern Cotter's Scotland in the wake of their wooden spoon at the weekend, they've had to contend with jibes from England about their final-day battering at the hands of the Irish.
Being out-classed was tough enough for them to take but Mike Brown, the England full-back, and Courtney Lawes, their second-row, took it one step further when suggesting that the Scots didn't try hard enough on Saturday. In the recent history of the Six Nations, it's hard to remember a bigger case of insult being added to injury.

"When they (Scotland) came here (Twickenham), they really fronted-up and threw everything at it," said a disgruntled Lawes. "I was really surprised there was such a discrepancy with the score (in Edinburgh)."
The inference from both players was clear - Scotland downed tools and Ireland won the championship, in part, because of it. Firstly, this is a slight on the Scots, who may not be in Ireland's class, but who tried their damndest regardless. It's just that their damndest was lamentably short of the mark. Secondly, it's a meanness of spirit towards Ireland, who turned in an outstandingly clinical performance.
And there is a third point. Had England showed the same ruthlessness in executing their chances against Scotland as Ireland did then Brown and Lawes wouldn't have any cause to moan, because they'd be Six Nations champions right now. The excellent opportunities England created, and butchered, during the Calcutta Cup numbered half a dozen. Had they taken one of them, and converted it, then the title would have been theirs.
It was good to see Ian Ritchie, the chief executive of the Rugby Football Union, put the whingeing in its place. "We did not do enough over the five matches," he said. "We simply did not take our opportunities."
Exactly. Blaming the Scots was a cheap and lazy way of avoiding the reality.
Get Harper in
Ricky Sbragia is not going to win coach of the year any time soon. Nor is he going to challenge for diplomat of the year and, quite frankly, his chances in the innovator category are not exactly stellar either.
The last time a 'Ricky' caused such consternation was when Bianca Jackson found him up to no good with another woman (in BBC soap Eastenders). The chances are that the lovely Ms Jackson's feistiness might have been played out by some at Hampden when Sbragia, manager of Scotland under-19s, explained exactly why Real Madrid's Jack Harper is deemed surplus to requirements for upcoming games with Greece, Italy and Croatia.

Several newspapers report Sbragia as saying: "We've deliberately got more height in our squad. That's one of the reasons why Jack isn't in." Harper is 6ft tall, so clearly Sbragia's young forward line is made up of human lighthouses.
"I've gone for a physical side and runners," continue those newspaper quotes, not something that you're likely to hear from Zinedine Zidane, one of Harper's coaches at Madrid, where the young Scot is so highly thought of that he's on a five-year deal.
This missive from the dark ages went further, though. "The last time he was with us he did okay," newspapers quoted Sbragia saying of Harper. "But I wanted a little more impact. At Real Madrid he can float about all over the place, which he does. But with us he has to be more disciplined. He's an exceptionally gifted lad, but sometimes we can't carry him. He can be a luxury sometimes."
Somebody needs to tell Sbragia that his gig is all about developing young players and passing them on to the senior squad. How he can so blithely dismiss a boy of obvious talent in preference for runners - God help us - is a question that everybody at Hampden should ask just as soon as they stop beating their head against the wall in disbelief at his comments.
As Bianca might have put it: "Rick-eeee!"