Shinty: Kyles star Roddy Macdonald targets title challenge
Last updated on .From the section Scotland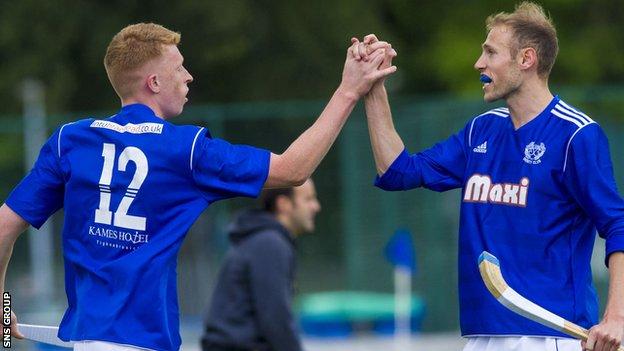 Newtonmore are hot favourites to land a sixth straight shinty Premiership title, but Kyles Athletic have started the season in great form and are the only side with a 100% record at this early stage.
Kyles striker Roddy Macdonald leads the way with six goals in just two league games, a record deserving of first shot at our new regular column, which aims to get real insight across the sport as the season develops.
Kyles Athletic is a big name in the history of shinty. We play in Tighnabruaich, a small village on the west coast, and as a youngster growing up there, shinty was all that mattered.
I've been fortunate enough to have won every senior honour, bar the Premiership title, but that's something I'm looking to change.
What's made our achievements particularly special is that I've been lucky enough to win them playing alongside my dad, Kenny, who played in goals for Kyles.
I don't think many other father and sons have managed this.
Playing alongside my dad has had its ups and downs. He's been a real shinty great so I've a lot to do to try and match what he's done in the game.
When things aren't going well he gets on at me, which can be frustrating but I know he just wants to win and wants me to do my best.
He's injured at the minute and, at the age of 53, these things take longer to get over.
John Whyte is deputising and doing well, so maybe if he keeps it up my dad won't need to come back.
He's helping with the management side just now and seems to really be enjoying it.
We've made a decent start to the season so far with two wins, although it's two games we would probably have expected to win.
I've managed to bag myself a few goals in the process as well, so it's been a good start personally.
A huge factor in our decent early form is we have a full squad to choose from. The return of Andrew King has given us a real boost; for me the most underrated player in the game.
He's got a unique style and really controls games from his half-back position.
Grant Irvine is also back to full fitness after nearly three years out and his engine and clever play is another major plus.
Can we challenge Newtonmore in the league? It's a tough ask since the strength and depth they have is unbelievable. Over the course of a season they can handle losing players, whereas other clubs struggle.
If we can keep everyone fit, we won't be far away but we'll just take it a game at a time and see where we are.
Having said that, I do think it'll be a close run league this year with lots of teams taking points off each other.
The press have it as Newtonmore's title with Lovat challenging, but there are other teams now capable of having a go.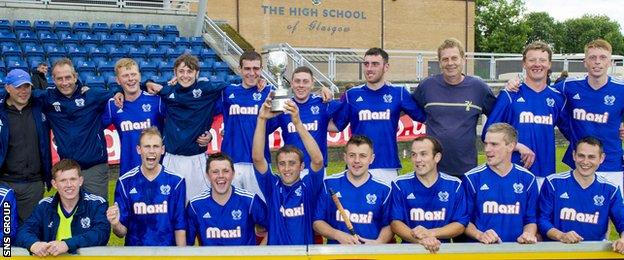 It's hard to look past the 2012 Camanachd Cup final as the best day in my shinty career. It was a wonderful day for the club and for me personally. It's what you dream of growing up.
Winning the Albert Smith medal was a great bonus that day as there are some real greats on there and it's an honour to keep company with them.
That's in the past now though and winning one Camanachd Cup isn't good enough for me.
We certainly have the ability and are still a relatively young squad. It means everything to the village so it would be great to get it back again.
One thing I'd like to see is shinty getting more television coverage nationally. It's a really skilful game and great to watch.
A weekly highlights show of the Premiership games would be brilliant and would really help promote the game. I find when anybody new comes and watches a match, they always seem to really enjoy it.
If I had to change anything it would be the international series. I feel the money spent on it would be better used on improving our sport.
Although I've played in these games, I don't feel it benefits the game in any way and is basically just an end-of-season jolly for the Camanachd Association staff.
It's back to Premiership business on Saturday, with a home match against a good Kinlochshiel side.
Hopefully we can keep up our good start and pick up another two points.