Tom English - Respect for Lee Elder, McCall impact at Rangers

By Tom English
BBC Scotland
Last updated on .From the section Scotland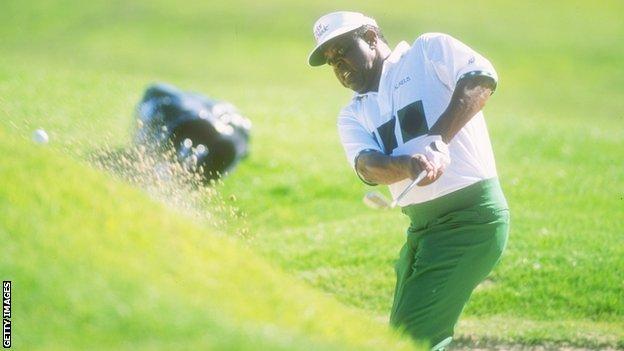 Away from the hubbub surrounding one black golfer at Augusta there will be an altogether more serene celebration of another, a man who never came close to Tiger Woods' greatness at the Masters but one whose story has gone down in the history books all the same.
On the completion of play at Augusta on Thursday there will be a small ceremony at a hospitality centre outside the gates of the golf course.
You might think that the clubhouse would be a more fitting venue to mark the 40th anniversary of Lee Elder breaking down the race barrier by becoming the first black golfer to play at the Masters, but no.
The event will be attended by the mayor of Augusta, Hardie Davis, who will make Thursday 'Lee Elder Day'. Representatives of Nelson Mandela's family will be there as will Senator Tim Scott, the first African-American from the South to be elected to the Senate since 1881.
The actor Chris Tucker is on the guest list. So is NFL legend Marcus Allen.
Nobody knows if Woods will show up, but he has talked before of how much he owes to Elder and Charlie Sifford and Pete Brown - the black pioneers who paved the way in golf in the face of dreadful racism.
Elder's struggle was quite something. He was the youngest of eight children out of Dallas, Texas and had lost both his parents by the age of seven. By the time he'd turned nine he knew that golf was all he wanted out of life.
He started caddying aged 12 and when he wasn't caddying he was collecting golf balls at the local driving range.
"I'd stand there and pick them up as they hit them," he told me a few years ago. "A lot of times you were the target, you know. You had to have good eyes to see that ball coming."
In his late-teens, Elder hit the road and spent three years as a hustler in the company of the greatest golf hustler of them all, Titanic Thompson, a guy who legend had it was as good left-handed as he was right-handed.
Elder ventured out on his own in the hustling game. He went to Indiana and Detroit and Chicago looking for opportunities.
One time in the Windy City he struck a bet with a fella in a nine-hole match. It was 100 degrees and Elder said he'd wear all sorts of layers as a form of handicap. He put on tee-shirts and sweaters and topped it with a rainsuit and still did his opponent in six holes.
"When it was over I jumped out of that rainsuit so quick," he said. "I sweated so fiercely there was a pool of water inside."
His dream was slowly realised. In 1968 he qualified to play on the PGA Tour.
In his early years he came close to winning a couple of times, Jack Nicklaus beating him in a play-off at one event, Lee Trevino edging him out at another. By 1973 he'd won nothing except respect.
Eighteen members of the US House of Representatives wrote to Clifford Roberts, the co-founder of Augusta, and urged him to invite Elder to the Masters.
He wouldn't have accepted the invite - he wanted to qualify like other players - but the invite wasn't extended in any case.
"Being honest, I wasn't that down about it," said Elder. "It was an unpleasant place, Augusta. I heard so many things about the treatment of blacks there."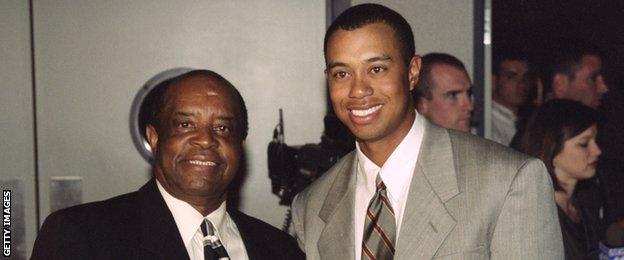 No black player got to play in the Masters. When Sifford won the Greater Hartford Open in 1967 he wasn't invited. When he won the Los Angeles Open in 1970, he still wasn't invited. When Brown won in San Diego in 1970, it made no difference.
"Augusta wasn't the only place where blacks were not welcome," said Elder. "Before 1968 we couldn't change our shoes in places like Pensacola, Florida. We were playing in the tournament, but we had to change our shoes outside."
The delicious irony of his life was that it was in Pensacola, at the Monsanto Open in 1974, where everything changed. Elder won the tournament in a play-off and qualified for the Masters.
He was apprehensive about going. In fact, he was dreading it. Himself and Roberts exchanged some flak in the media in the build-up to the Masters.
"He wasn't the type of man I wanted to talk to and it was really hard for me to meet him," said Elder.
He lived in fear the whole week. He received a letter telling him that he'd better not tee-off on Thursday if he wanted to see daylight on Friday. He rented two houses in Augusta and flitted between the pair of them.
Elder was turned away from a restaurant in Augusta. He wasn't welcome. The kindly president of the local college heard about the story and invited him to dine on campus for the rest of his time in town.
Given the fears he had for his life and the demands on his schedule, which meant that instead of hitting balls on the range he was talking to journalists in the press room, the fact that Elder completed two rounds without caving under the strain was something an achievement.
He shot 74-78 and missed the cut. He went back two years later and finished top-20.
We will obsess about Woods this week but it would be no harm to spare a thought for Elder on Thursday.
We talk about Tiger's challenge and the difficulties he's facing in trying to come back from injury and a chronic lack of form, but his test is as nothing compared to Elder's battle with the bigots 40 years ago.
McCall makes the difference at Rangers
Stuart McCall is proving the truth of the maxim that no matter how grim things are at a football club, no matter how hopeless the future may appear, a good manager can always make life better.
Their victory over Hearts, following on from their recent defeat of Hibs, shows that McCall's Rangers are becoming a different beast to the sorry lot he inherited from Kenny McDowall, a worn-down crew that McDowall, himself, had been handed by Ally McCoist.
That group were going nowhere. Their confidence was shattered, their discipline was poor and too often their basic professionalism was dreadfully lacking.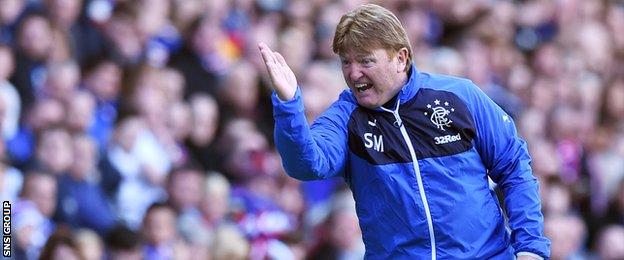 It's early days - and the momentum might well shift again in coming weeks - but there's been a sizeable improvement in the on-field dynamic at Ibrox.
From a place where they looked doubtful to finish second in the Championship, they now look favourites. From a point where they appeared ill-equipped to win through to the Premiership in the play-offs they're now carrying themselves like a side that knows it has a big chance.
McCall has galvanised these players. There's a temptation to ask what on earth took them so long to get going, but they're up and running now and have sufficient time to save themselves before season's end.
Much has been said about the Newcastle Five, but it's not really the Newcastle Five at all, it's the Newcastle One. Many Rangers players - their red-carded captain, Lee McCulloch, being one of the more glaring exceptions - have upped their level and Haris Vuckic, the diamond in the rough of that strange loan deal with Newcastle, has become a real leader for Rangers.
Vuckic has scored six goals in his 10 games for the club. Or, put another way, he has five goals in his last five. He's young, creative and exactly the type of player that Rangers should have been targeting three years ago.
Not him exactly - he would have been out of their league - but young players from unglamorous markets that could be nurtured. Instead they went for older heads. Short-termism at Ibrox hasn't been the exclusive preserve of the boardroom.
This remains a soft recovery for Rangers but it's a whole lot better than before. Robbie Neilson said in the aftermath of his team's defeat that Hearts lacked intensity - and they did.
They're champions. Their work is done. Rangers have still much to do, but it now looks like they have the stomach for it, where before they were just an empty vessel.