Shinty: Newtonmore stretched in chase for more silverware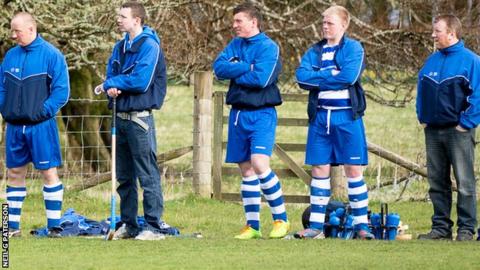 Our latest shinty column comes courtesy of Iain MacKintosh, assistant manager with Premier League champions Newtonmore.
In Newtonmore, shinty has always been a huge part of village life. It's a passion, a religion almost, and a game you were introduced to and encouraged to play at a very young age.
I grew up in an era when Newtonmore were a dominant force through the late 1960s, 70s and 80s; watching some of the greatest players ever to play the game, having aspirations to be like them.
Shinty was so important to our coach Jock Paul MacKintosh and head teacher at that time, Mr Finlayson, that we were not allowed to play football and that included your own time away from school.
For a tiny village like ours, with a population around 1200, the achievements are incredible.
Forty-eight major trophies were won over a 20-year period from the 60s to the 80s, including 11 MacTavish Cups in a row, along with 16 Camanachd Cup final appearances.
That made it easy to get the bug for the game and I was lucky to join some of the greats in some of those victories.
Back in those days the team predominately trained on an undulating fairway on the local golf course, with most of the top players arriving straight from work and going at it hammer and tongs until the light faded.
Once you were old enough, you were allowed to join in practice games but you had to hit the ground running with no quarter asked or given. Basic skills were a priority, clicking, blocking etc. It was a hard school but a good one.
Beyond the halcyon days mentioned, the club really struggled with no major silverware from 1988 to 2002.
It was a really difficult period for the club but committed guys like Big Rob Ritchie, Davy Cheyne, Brick Macarthur and others kept working hard and nurturing emerging talent.
The team arrived back in the big time again 2009 with a MacTavish Cup win, following up a second place by one point in the Premier League in 2008 to the dominant Kingussie team, and runner-up to the same team on goal difference the following season.
League titles followed from 2010-2014. Ably led by Brick Macarthur and then the highly motivated PJ MacKintosh, the team learned how to win ugly and win under pressure with three of the league wins secured on the last day.
Of course, winning brings more pressure and bigger demands on the squad who are all amateur but in name only.
They commit to training and playing like professionals with a lot of the guys having busy jobs, while some of the better looking ones have wives and families to consider.
A few of these guys are seriously good footballers and many are low handicap golfers but shinty comes first.
Our ambitions for this season were, as always, to win every time we play but we're realistic in knowing that's not going to happen.
Some of the press had mentioned us going unbeaten but we honestly know that all the teams in the Premier League can beat each other on any given day.
Kyles Athletic are the obvious favourites for the league title now with a 100% record so far and two fantastic away wins at Oban and Glenurquhart .
As for the cups, any team could come out as winners. All 10 Premier teams along with possibly four National One teams have a shout.
The down side of the game for me is injuries. Defeats you can take on the chin and move on but there is nothing worse than the guys being hurt playing the sport they love, possibly missing work and affecting family life.
We are only one month into the new season and have some top talent missing already, with seven in the sick bay. It's a real heartache for them but offers opportunities for others.
Against Oban on Saturday we had three teenagers playing and only four of the squad over 26, namely Paul Macarthur, Cameron Binnie, Glen MacKintosh and Fraser Mackintosh.
They're all quality but, with the irrepressible Norman Campbell still to come back, we are very much stretched.
We felt last season that injuries to key players at the wrong time possibly cost us the defence of the Camanachd Cup, so hopefully we can get all of the guys fit and raring to go soon.
Some changes I would like to see in the game are having derby games played on Fridays, which may bring a bigger audience. Maybe Lovat v Glenurquhart one month, Fort William v Lochaber another. I'd definitely go and watch.
Kingussie v Newtonmore is on Friday 31 July and I guarantee it will be the biggest crowd outside the major finals.
I'd also like to see better competition in schools and a regionalised youth set-up. Our Under-17s are in the same league as Oban and Glasgow, which is crazy with hundreds of miles travel midweek.
The greats I played with are too many to mention but some deserve to be. Hugh Chisholm is the greatest goalkeeper ever. John Fraser the best player I have ever seen.
Kenny Smith is my favourite player played with and most difficult opponents would have to be Davie Anderson and Chic Jamieson.