Shinty is not just a man's game, so it's time for fair play
Last updated on .From the section Scotland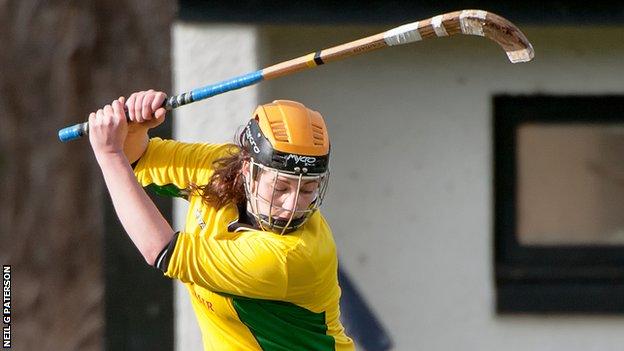 Everyone who has played shinty will have at some point been asked the question, "So, what is shinty?"
Most will have attempted to describe something along the lines of, "it's a bit like hockey, but without the rules", whilst others might have waxed lyrical about some ancient, indefinable tradition.
Having grown up in the Highlands, it's not a question which crosses your mind very often, so when eventually asked by some curious stranger you struggle to find the exact description which can convey the magnitude of the sport.
The legendary Bill Shankly once said, "Some people think football is a matter of life and death. I assure you, it's much more serious than that."
Forget football. If there was ever a quote more appropriate for shinty then this would be it.
I've had the great privilege of being part of this culture from the day I was handed my very first sawn down caman at the age of four. It wasn't long before my brother, Gavin, and I were knocking lumps out of each other by the shores of the iconic Loch Ness, playing for Boleskine.
Down at the old pitch in Foyers, Boleskine was the school of hard knocks. Once you put that helmet on gender went out the window, and rightly so.
At that age, gender was irrelevant. Except, of course it mattered to the occasional dinosaur who insisted that "wee girls" shouldn't be playing "a man's game". Personally I like to think that I, along with the other girls, proved him wrong.
Especially when, through gritted teeth, he couldn't contain it any longer and shouted "Someone mark that girl!"
It's still considered uncommon for women to play with the men at a senior level. However, some of the greatest female players to have graced the game have done just that.
Sarah Corrigall, Katy Smith, Laura Gallacher and Kirsty Delaney, to name just a few, have made their impact on the men's game, with Kirsty scoring her first senior goal on Saturday for Lochaber.
After many years playing alongside the men at Boleskine, I decided it was time to move in to women's shinty. Not 'girls', not 'ladies', but women's.
I joined the infamous Glengarry in 2006 when they were arguably the most dominant team in Scotland.
If you listen closely when wandering through the small village of Invergarry, you can still hear the triumphant cheers of their fariytale-esque victories.
With countless league wins and even more Valerie Fraser Cup (the womens equivalent of the Camanachd cup) medals, Glengarry were unrivalled for years. It still makes my heart swell when I can say I was a part of that.
It was during my time with Glengarry that I was selected to play for Scotland at the annual International against Ireland, which I would consider one of my greatest achievements in the game.
Sadly though my days at "The Garry" came to an end in 2013, when I decided to move to Edinburgh for university and start playing for the 'new kid on the block', Aberdour.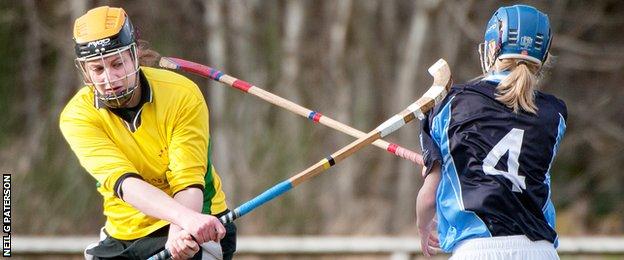 In recent years the women's game has seen a rise in the number of players and teams, with the likes of Skye, Aberdour and Lovat emerging. However, it is incredibly frustrating that the coverage is still so dismal.
I'm not ignorant or oblivious to the fact that in general, all women's sports are marginalised to some extent, but there is barely a whisper of the game in the majority of local or national newspapers, with the exception being The West Highland Free Press.
Not one women's cup final has been broadcast live, and if it is broadcast at all it will be a small five-minute highlights reel.
This is extremely disheartening, particularly when there is such a surge in the popularity of the women's game and teams such as Glasgow Mid-Argyll displaying such top-class ability.
Ideally, I would love to see the coverage of women's shinty on equal terms with the men's in the future, especially when there is a large emerging audience.
There is no doubt that the men's and women's style of playing is slightly different. In a senior men's game, no quarter is given, nor one asked but in the women's game, if a player swings and hits another, there will be a lengthy verbal apology.
That's not to say the quality of the game is lesser. What happens on the pitch remains on the pitch.
Whether women's shinty will continue to expand and evolve is yet to be seen, I would love to see more cup competitions, bigger leagues with more teams and the overall quality of play increase.