Daniel MacIntyre on shinty's challenges
Last updated on .From the section Scotland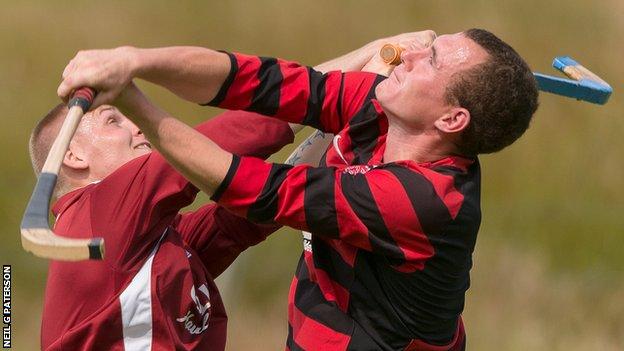 Left wing, right wing or the centre ground - I've played them all.
Off the field, as a former director of the Camanachd Association, I know the politics in shinty don't change dramatically from one year to the next, but it's important that we share our views and make our votes count.
As the season progresses there will be many hot topics debated at pitches and committees across Scotland.
For some, it may seem like Groundhog Day but for those volunteers relatively new to the sport, I'm urging you to be proactive.
I want to reflect upon some of my own experiences and leave you all with some points to debate.
GIVING SOMETHING BACK
Beginning on a positive, it's fantastic to see my former team mates Alex Macvicar and John MacGregor turn their hand to refereeing.
Retired players giving back to our sport will always be important, but I fear the lack of quality referees and out-of-date disciplinary rules will hinder our sport going forward.
Some fresh blood and ideas are urgently required.
I'll be open and honest and say that bitter experience on and off the park forced my decision to retire and, like many others, the Camanachd Association must look at initiatives to re-engage those that have plenty to offer.
We only have to look to recent events in football in the Inverness Caledonian Thistle v Celtic Scottish Cup semi-final as an example.
Josh Meekings had an agonising week and Caley Thistle manager John Hughes threatened to walk away from the sport. Why? The referee and his officials didn't perform to highest standard on the day.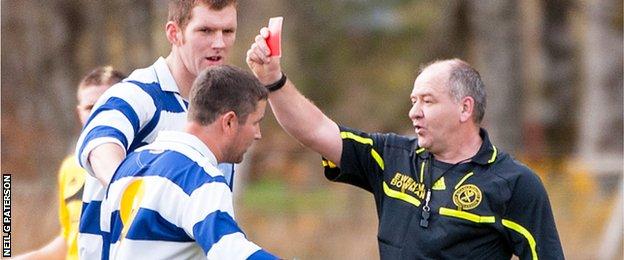 The Scottish Football Association's compliance officer then made matters worse in my view but, thankfully, the independent disciplinary panel saw sense.
As things stand, a shinty player or club cannot appeal against a red card. It's impossible to hold our officials and governing body to account if they under-perform, as happens in all walks of life.
It's about time that changed. I would urge all clubs to review the rules of our game and ensure our governing body upholds disciplinary procedures.
Furthermore, shinty has a Referees Association. They have voting rights and influence the rules of our game.
Is it time we had a Players Association that represented the interests of players at all levels?
I'm sure across the country the club vote will not always represent the lifeblood of our game, its players, but regardless of their position, let's make sure the players' vote is counted.
One of the big decisions in shinty lately has been the positive reintroduction of the National Division. It's been an important stepping stone for my old club Oban Camanachd getting back to where they belong.
It also enabled my home town to up its game. With the addition of Oban Lorn this season, there are now four teams playing most weeks.
Long may it continue, as our senior game continues to be a substitute for youth development in the south of Scotland. More on that later.
NEW INITIATIVES
It's great that our shinty community is supportive of social initiatives such as Memories Shinty Club.
Many of you will have been touched by dementia and Alzheimer's, so I applaud all those involved, especially John MacKenzie who continues to give so much to our game.
Progressive support to the women's game is also positive. As a father of two primary school girls, I want our sport to be inclusive but urge Annie Butterworth and her fellow players not to be distracted by coverage.
Shinty is one of the world's oldest sports and the men's game has taken considerable time to punch above its weight in terms of coverage.
Women's participation has enriched our community but club development and performance should be top priority. Keep up the good work.
GRASSROOTS DEVELOPMENT
The increased sponsorship and media coverage from national and international organisations are worth shouting about.
They showcase the elite, but also provide the necessary profile and funds for grassroots development. Without it, our leagues and youth development would be on a shoogly peg.
Playing for Oban Camanachd at a very young age, I enjoyed many big occasions, and have some fantastic memories.
I won the Sutherland Cup and played in my first Macaulay and Camanachd Cup finals by the age of 16.
Nevertheless, like many ex-players I'll be forever grateful to those that offered a decade of support at a stage when it matters most - school and youth development.
In my case, Ann Cameron, and her husband Duncan, an Oban Celtic legend.
They were responsible for developing generations of Oban's top players and my time with St. Columba's Primary was a very important grounding for a successful playing career.
Sadly, I failed to win the Camanachd Cup on five occasions but without Ann and Duncan's commitment to hours of practice and matches, I wouldn't have got there in the first place.
Unfortunately times have changed. From what I hear and see, youth participation and performance in the south of Scotland is going backwards.
Our sport needs to nurture talent at 12-17 years of age or in certain communities it will not sustain senior clubs.