Shinty and music prevail: Remembering WWI fallen
Last updated on .From the section Scotland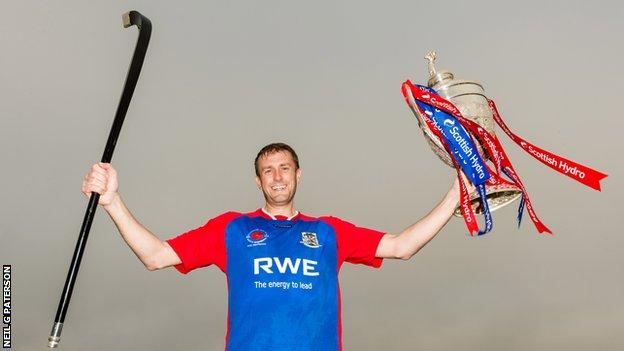 A few hours earlier, Ian Anderson Jnr (Fabby) had lifted the 1990 MacAuley Cup at Mossfield Park, Oban. Now, as the team bus meandered back to Kingussie, Michael Clark treated us all to his rendition of 'The Green Fields of France'.
The song is also known as 'No Man's Land' or 'Willie McBride'. It was written by Eric Bogle after visiting military cemeteries in Flanders with his family.
Resting by the grave of a Scots lad who died in WWI, Bogle reflects movingly on the young soldier's fate.
I was almost 14; five years younger than the fallen soldier, Willie McBride, when he died in 1916. Having heard the song for the first time, and experienced the power of the lyrics and the melody, I needed no introduction or explanation.
Nonetheless, Michael was quick to give the context when he finished singing.
Amid the jubilation of our cup win, he put a firm arm around my shoulders. He explained that William McBride and his like were not much different to many of the players on the team bus that night. Except that those young men went to war with the sad inevitability that not all of them would return.
It is almost impossible these days to comprehend what those men, their families and communities experienced and ultimately sacrificed during and after The Great War.
However, shinty and music prevail.
They have gone a small way to giving me and many of the past and present day Kingussie players a sense of what it was like - and, of course, the importance of remembrance.
Fast forward 25 years, and the Kingussie team and its supporters are driving back in the bus from Portree, Skye, following an event organised as part of the wider WWI commemorations.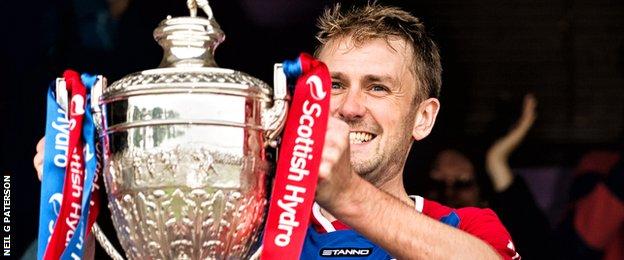 The purpose of the weekend was to remember the Battle of Festubert - a torrid and truly horrific affair.
It was a battle at which Kingussie and Skye Camanachd players who had trained and fought together as members of the 4th Cameron Highlanders territorial regiment, then tragically died alongside each other.
The key events over the weekend were a concert which included music, poetry and accounts from the trenches; men and ladies shinty matches on Saturday, culminating in a remembrance march and sermon on Sunday.
Many moving accounts were captured and presented. Holding the silver mounted caman presented to Kingussie's 1914 Camanachd Cup winning captain, William MacGillivray was a poignant moment personally.
Along with five of his team-mates - John MacPherson, Malcolm McIntosh, John G MacPherson, Alick Tolmie and Lewis MacPherson - the 1914 Camanachd Cup final was the last game of shinty William would ever play. One of those many men killed in the Battle of Festubert less than a year later.
I was fortunate enough to lift the Camanachd Cup for Kingussie in 2014 - a century on.
The black silver mounted caman presented to me as captain was also part of the 'Remembering Festubert' exhibition. Our camans were separated by 100 years and seeing mine placed alongside William's was something very special.
Another significant moment for me was listening to renowned piper Duncan MacGillivray of Calrossie play the 'Paterson Pipes'.
Duncan is a relation of two brothers from Beauly, another shinty community greatly affected by WWI. The two brothers, Alastair and Donald Paterson, helped win the 1913 Camanachd Cup for their home club. Both died in the Battle of Festubert.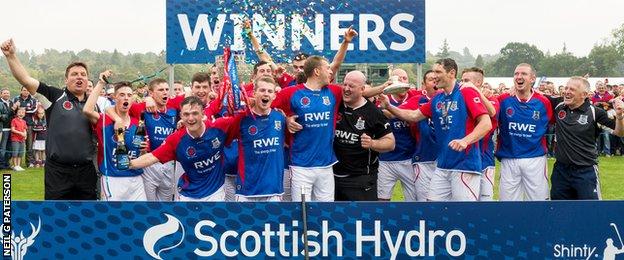 A corporal piper, Donald Paterson was shot by a German sniper during the battle as he went to the aid of fallen comrades.
Incredibly, Duncan played the same pipes owned by Donald Paterson; pipes he had rallied the troops with on the battle ground at Festubert; pipes stained with mud and blood that were eventually returned to Beauly from the battlefield; and those same pipes Duncan played as we marched to the War Memorial in Portree.
The sermon delivered by Army Chaplain Hector Mackenzie from Kilmuir, Skye, was a moving conclusion to the weekend.
He honoured those fallen at Festubert and the important role current and future generations have to play in remembering the ultimate sacrifice they made.
With Kingussie's many young first team shinty players taking part, the next generation becomes acutely aware of what we must be grateful for and the legacy we must carefully preserve and carry forward.
In terms of the Europe we live in and are familiar with now, the men who died in this conflict, and others since; did not, I believe die in vain contrary to the words of 'The Green Fields of France'.
However, his observation of "man's blind indifference to his fellow man" is still all too pertinent, unfortunately.
So on a final note, remember there is always at least one singer on the shinty bus - you know who they are.
If they don't already know it, ask them to learn 'The Green Fields of France' for the next away trip. As you sing it between the inevitable 'stops' on the way home, remind the young boys of how lucky we all are to be training, playing and singing alongside our comrades in shinty. Remind them of those heroes that enabled it. Like it did with me, it may just stick in their minds.
Lest we forget.