Hugh McIlvanney: A life in sport on BBC Radio Scotland

By Geoff Webster
BBC Scotland
Last updated on .From the section Scotland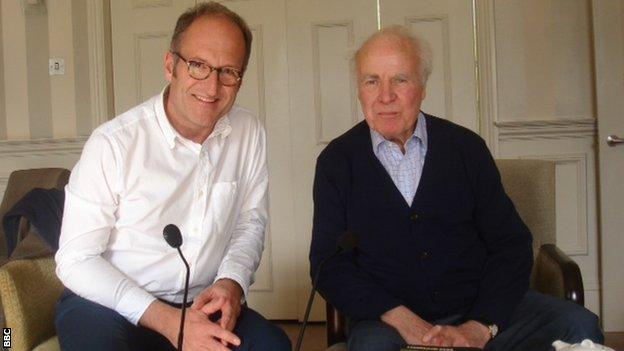 He's been an eye witness to many of sport's greatest moments over the last 50 years and more and has enjoyed the company of such legends as Muhammad Ali, Pele, Jock Stein, Sir Matt Busby, George Best and Lester Piggott.
And now Scottish sportswriter Hugh McIlvanney will be telling the "stories-behind-the-stories" in a new series - The McIlvanney Conversations - on BBC Radio Scotland.
He admits his biggest scoop was finding himself being invited into Muhammad Ali's villa just hours after he'd regained the world heavyweight title from George Foreman in that epic showdown in Zaire, remembered fondly as the 'Rumble In The Jungle' in 1974.
For two-and-a-half hours, McIlvanney filled his notebook, as Ali - unable to sleep after stopping Foreman just before the end of the eighth round - explained how he produced one of the great upsets in boxing history.
"It was by far the greatest privilege I've ever had as a reporter," says McIlvanney.
Covering such events must have seemed a distant dream for the young McIlvanney, one of four children, growing up in Kilmarnock in the 1930s. He admits he enjoyed writing stories and was asked to read them to other classes at school.

For McIlvanney, the route into journalism started on the local paper before spells on The Scotsman and The Daily Express led to The Observer and eventually to The Sunday Times, where he still delivers his thoughts on a wide range of topics.
He went on to forge close working and personal relationships with, perhaps, the four finest football managers to emerge from Scotland - Jock Stein, Sir Matt Busby, Bill Shankly and Sir Alex Ferguson.
Indeed, when Sir Alex was penning his autobiography, 'Managing My Life' and needed someone to help him, he admitted there was only one person he considered - Hugh McIlvanney.
Of all the footballers he's watched, he places four above all others - Pele, Maradona, Di Stefano and Messi - although he admits there are strong cases also for George Best and Johan Cruyff.
And he believes Graeme Souness is the best Scottish midfielder he's seen, although he puts Jim Baxter, Billy Bremner, Dave Mackay and Bobby Murdoch not far behind.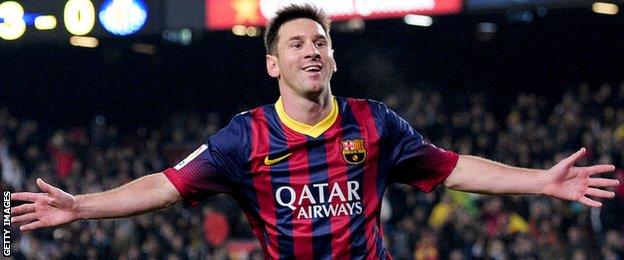 While football and boxing have been lifelong passions for McIlvanney, another great love is horse racing and his articles about the legendary Irish trainer Vincent O'Brien reflect his admiration for a man whose big-race successes included Epsom Derbies, Cheltenham Gold Cups and Grand Nationals.
In 2008, he wrote: "A number of lengthy one-to-one conversations with Vincent over the years left me with the exhilarating, slightly eerie realisation that I had been talking to somebody who was probably better at his job than anyone else who ever lived."
McIlvanney has been described as Britain's greatest-ever sportswriter and, in addition to a long list of awards and honours, he has also been inducted into the International Boxing Hall of Fame.
During the interview, I listened as he rolled back the years with his deep, distinctive voice with an accent that hasn't diminished by being away from Scotland for so many years - to that childhood in Kilmarnock, through his grounding in news reporting before moving on to sport and a career that would involve decades of world travel to witness the big events and meet the great names.

But he has also had to write about tragic events, including the death of his friend Stein, after the World Cup qualifying game in Cardiff and he was in Munich in 1972 to report on the Olympic Games when 11 Israeli athletes were murdered by a terror group.
He was also ringside in Los Angeles in 1980 when the Welsh boxer, Johnny Owen, was knocked out by Lupe Pintor in a world title fight. Owen never regained consciousness and died seven weeks later.
McIlvanney talks movingly about his love for the sport while, at the same time, acknowledging and understanding the case for banning it.
The series of programmes will chronicle a lifetime of sports writing as well as revealing how he managed to get closer than many others to the big names of the sports world.
His appetite and enthusiasm for life, sport and travel have not diminished as we shall hear over the coming weeks.
The McIlvanney Conversations begins on BBC Radio Scotland on Sunday, 14 June, at 13:00 BST.