Laura Muir: Oslo Diamond League 1,500m win is 'biggest' of career
Last updated on .From the section Scotland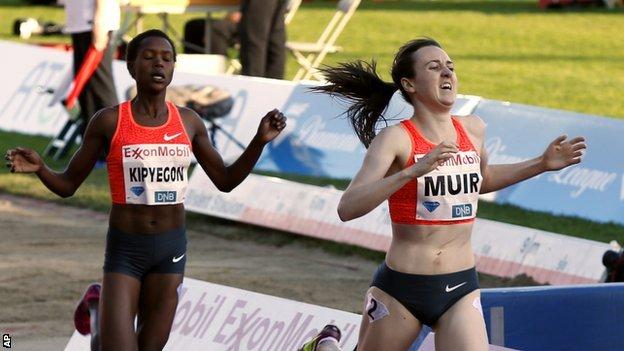 Laura Muir says winning the women's 1,500m at the Diamond League in Oslo was the "biggest" victory of her athletics career.
"I'm just so shocked that I won and it's the biggest thing I've ever won," said Muir.
"I was just so scared they were going to catch me; I just ran as fast as I could."
Former 400m runner Lee McCulloch, who retired in April last year, says Muir got her tactics spot on.
"It was a tough competition and a few of the top girls in the world were in that race," McConnell told BBC Scotland.
"Laura really went for it and, the difference between Laura and the rest, was that she went with the pacemaker.
"This gave her, with about 700m to go, about a 20 to 30m lead. That was a mistake on their part because they underestimated how tough a competitor Laura was.
"She managed to hold onto that lead to win the race. She took some really good scalps, it's fantastic."
Jamaica's Kaliese Spencer maintained her 100% record in this season's women's Diamond League 400m hurdles, the defending champion winning in 54.15, with Scotland's Eilidh Child sixth in 55.97.