Charlie Flynn urges Scots to seize chance in Samoa Youth Games
Last updated on .From the section Scotland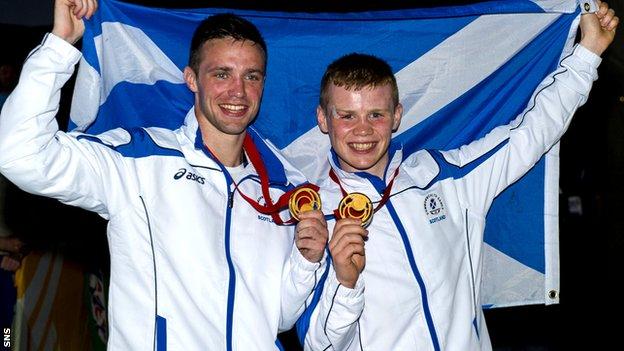 Commonwealth Games gold medallist Charlie Flynn urged Scotland's young athletes to seize their chance in this year's youth games in Samoa.
Team Scotland have named the 27 athletes who will compete in September's event, the first since Isle of Man in 2011.
Flynn, Josh Taylor and Hannah Miley were all former youth games competitors who won medals in Glasgow last year.
"It gave me a lot of confidence," Flynn told BBC Scotland.
"It's good to know once you've done it at youth level you can carry it through to the seniors."
Flynn was one of the stars of Glasgow 2014 when he took home the gold medal in the lightweight boxing class.
He was a finalist in the Isle of Man Commonwealth Youth Games in 2011.
"I'd never been in a multi-sport event until the youth games and it was a great experience to see the other sports, other athletes, how other people train, what they do in preparation before they compete. It's great."
Scotland will field athletes, all aged between 14 and 18, in all sports except the rugby sevens event as they look to add to the 124 medals won since the inaugural games in Edinburgh in 2000.
"It's been something I've been training towards for quite some time, a real goal for a while," said 17-year-old Carrie Hallam, who is one of three Scots competing in the squash.
"All the training and steps towards it, it's such a relief.
"It's a real difference having a multi-sport event. Squash it's quite rare you get that sort of thing. The only opportunity is the Commonwealth Games, it's something very few people will be able to experience.
"We're used to playing indoors. In Samoa it's going to be much hotter, we're going to be playing outside, so it'll be a really different challenge."