The Glen: Making history in the world of shinty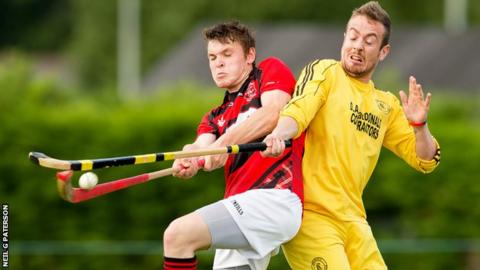 Growing up in Glenurquhart meant being steeped in shinty tradition from a young age.
I had two great grandfathers who played in the 1887 game between Glenurquhart and Strathglass, a match that is generally agreed as having defined the rules for modern shinty.
My grandfather played the first time the Glen reached a senior final, losing in the 1902 MacTavish Cup final to Newtonmore and my uncle, Peter English, was the first editor of the Shinty Year Book.
However, the biggest influence on my early career was my father. He had little interest in shinty and considered it just an excuse to avoid working on the croft. Therefore, once I established that playing shinty meant less graft on the croft, I played at every available opportunity.
I played for the Glen for 25 years and my only senior final appearance was our first appearance in the Camanachd Cup in 1988, when we lost 4-2 to the all-conquering Kingussie team of the 80s and 90s whose dominance somewhat inconveniently coincided with my whole senior career.
I had no plans for a coaching role until being approached in 2007 by my good friend, Davie Menzies, to team up in a coaching role for the Glen. We initially did the job for three seasons before returning in 2014.
We are often asked how can a co-manager role work - surely someone has to make the final call. We have found it works well, we have a very similar outlook on shinty and probably agree on 95% of decisions. The other 5% is usually spent debating whether Lewis MacLennan is better as a defender or a forward.
As in most amateur sports, the time challenges for a coach are considerable. Trying to juggle family, a demanding day job, other interests and shinty is very difficult and if you want players to give commitment then you have to lead from the front with twice-weekly attendance at training and every Saturday.
Throw in committee meetings - and the nightly phoning, texting and e-mailing - and it can feel like you have a second full-time job. There is also no hiding place for the coach in a small community. Whether it is the pub, the shop or church, there are plenty of supporters with a very clear view of exactly where you went wrong.
The greatest coaching frustration for me is poor attendance at training. We operate as far as possible a no-train, no-play policy and the restrictions on our selection due to talented players not committing to train is considerable.
Since returning to coaching last year, we have experienced the full spectrum of emotions. 2014 was statistically the best season Glenurquhart have ever had; we finished in our highest position (third) in the Premier League and reached two senior cup finals. However, poor performances in both finals left a feeling of significant disappointment.
The contrast then with the 2015 MacTavish Cup final could not be starker. To come up against a Newtonmore team who have been the best team in shinty for a number of years was a real challenge.
However, unlike 2014, the boys performed very well to record an historic first MacTavish Cup win for the Glen. My initial reaction at the end of the game was less of joy and more of relief - that we had finally done it for our supporters.
Newtonmore showed their class after the game by being very magnanimous in defeat, although I think Norman "Brick" Macarthur is slightly regretting the pep talk he gave me after the Camanachd loss.
The reaction in the Glen was massive. We were welcomed back to the Loch Ness Inn by a large crowd and piper - and predictably the celebrations for some went on for days. We received congratulations from all over the world and even from the pulpit of the church.
There is a picture taken in the immediate aftermath of the game showing two Glen legends of the past, Ron Fraser and Billy MacLeod, which summed up the feelings of many. They are dressed in red and black, in full embrace, with tears streaming down their faces.
In Glenurquhart, we don't have a football team, a rugby team or a golf course; we have shinty. So it's a key element of the local community.
We have a strong pro-active committee under the leadership of our quiet, shy chairman, Garry MacKintosh, and, although I shouldn't single out individuals, I have to highlight the work done by Helen MacLennan, our youth convenor, who works tirelessly with youngsters of all ages while still having time to make excellent cakes to reward her helpers.
In my opinion, shinty is in reasonable health. I am, of course, biased as he is a Glen man, but I think Jim Barr will do an excellent job as Camanachd president. He is without ego and will listen to the views of others and make logical decisions.
I am impressed with the work being carried out by Matt Mossop and others in England. I attended shinty training while on holiday in Cornwall and, if success can be achieved by huge enthusiasm and hard work, there might yet be an extension of our great game outwith the heartland.