Shinty: Iain Sinclair on his journey into coaching at Lewis Camanachd
Last updated on .From the section Scotland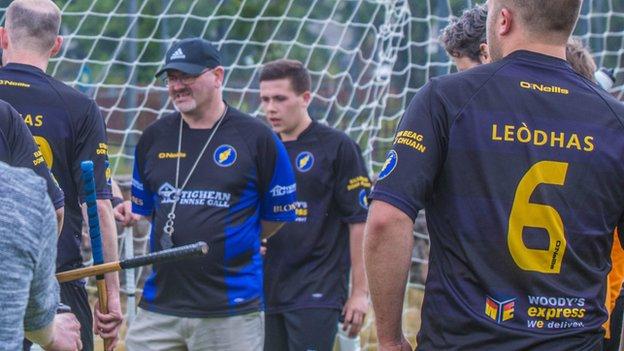 Muinntir Leòdhais agus an spòrs as fheàrr fon ghrein.
"The people of Lewis and the greatest game under the sun."
Brought up on sport since I could walk in Glasgow over 40 years ago, my true discovery of shinty some 30 years later was definitely a case of better late than never.
Sure, I watched the televised Camanachd Cups over the years and when I moved to Skye, I watched the odd game and attended a final or two, but never for a minute did I think I'd end up a shinty coach.
So here I am, managing a shinty team based on the Isle of Lewis; a place where very little shinty, if any, was played in modern times until relatively recently.
I was raised on a diet of Partick Thistle, Kenny Dalglish, the Hampden Roar and constant kickabouts on blaze pitches. Shinty was a sport I knew little about.
Yet, when my two sons took it up in an informal way under the coaching of Boyd MacKenzie from Lochcarron in Stornoway over 10 years ago we all took to it like ducks to water.
They loved it, I loved it and soon my eldest son was turning out for the newly-formed Lewis Camanachd shinty team.
Now, Camanachd Leòdhais (we prefer the Gaelic version of our name) who are in their fifth season in the North Leagues, were runners-up in Marine Harvest North Division Three last season and are currently holding their own in North Division Two.
Local league football dominates in Lewis and Harris, but we have definitely arrived as an integral part of the island sporting scene.
We're proud to represent the island and its traditions and when at home games you hear our loyal supporters such as Fraser MacLennan from Lochs, shouting in Gaelic and English "Come on Na Leòdhasaich (The Lewis boys)", I know we have many passionate supporters and that there is great interest on the island as to how the team are doing.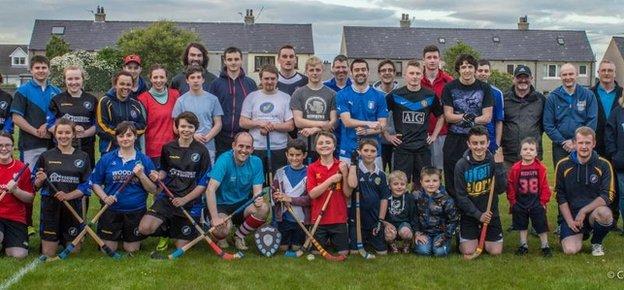 Last season Paul Duke, who has played more games for the club than anyone else, was awarded 'Lewis and Harris Sports Person of the Year'. This shows that the club's wider sporting achievements are also being recognised locally.
I work as a teacher of social subjects (some would say shinty!) in the local secondary, the Nicolson Institute, who are very supportive of the sport.
Eòghan Stewart instigated shinty in the school some years ago when he was a Gaelic teacher there. When Eòghan left for pastures new I continued the training sessions and organised any matches we could get giving me my first taste of management.
Even more youth development can now take place in at both primary and secondary level now that one of our players, Ally Lamont, has just joined the physical education department. Good relations with local schools are vital for any club and I know some clubs are not as lucky as we are.
We are coming on in leaps and bounds and this season has been particularly eventful.
This year we have taken some notable scalps in North Division Two having beaten Boleskine for the first time and also beating Caberfeidh the then league leaders in a tense 1-0 tussle at Castle Leod, Strathpeffer.
We have also formed a ladies team - or rather they formed themselves - great organisers the ladies. They have already played in the Scourie Sixes and recently played their first home games against Skye and Glengarry.
Last week, we triumphed against our friendly island rivals, Uist Camanachd, in the annual Hebridean Celtic Festival Challenge Cup.
As we only compete in the leagues, it was great for us to lift a cup and in front of a big festival crowd. Uist have some brilliant players such as Keith "Trumisgarry" Macdonald but unfortunately cannot compete in National Leagues due to travel issues and player availability.
This is less of a problem for Lewis because of our easier access to mainland shinty teams and our larger population. We also recently lost our closest 'neighbours', Lochbroom from Ullapool when they folded.
However, on the upside, Caithness are joining the leagues next year so we look forward to a jaunt over there and some Far North rivalry!
We have to do a tremendous amount of travelling but time and distance don't faze us, although we look forward to further help from various bodies with travel costs which can at times be prohibitive.
In many ways the essence of developing as a sport is the willingness of people to volunteer to run events, take training, cook meals, fundraise, wash strips and drive minibuses among other things. We have been very fortunate with the number of people who are willing to lend a hand. To them we say a big mìle taing (a thousand thanks).
It's been 20 years since shinty returned to the island and I believe development will continue apace in Lewis and neighbouring Harris as it gains in popularity over the next 20.
Camanachd Leòdhais are now respected members of the wider shinty family and I know in my heart of hearts the day will come when a Lewis player lines up to sing "Flower of Scotland" at the annual shinty-hurling international against Ireland.
I hope to be there.