Shinty: Calum Grant on playing for Kingussie & Scotland Under-17s
Last updated on .From the section Scotland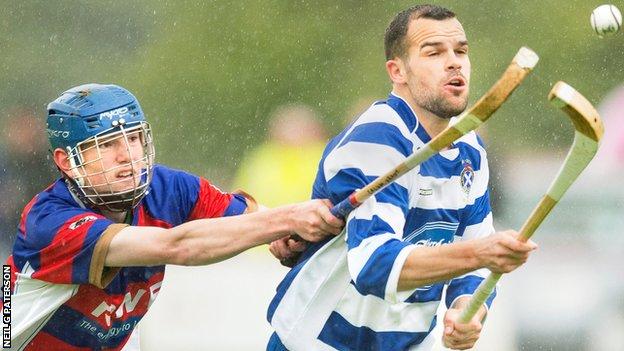 What a busy few weeks. I have travelled a lot since the start of the summer holidays and played so much shinty that I didn't have time to practice at home.
It all began at the annual shinty development camp at Strathallan where many players much the same age as myself (16) come to advance their shinty skills and fitness.
Playing for Kingussie, I was part of the Badenoch squad that were attending the camp that made up 11 of the 63 players. This was my third and final visit to Strathallan. Only a handful of players visiting the camp including Iain Richardson and myself had this experience. Both of us were hoping this year, finally, the fitness might be a little more chilled. We were wrong...
After coach John Alistair oversaw some fun team-building sessions, the next three days followed a pattern of fitness in the morning followed by skill drills, more specific drills followed by a lecture and shinty games in the evening.
A personal highlight was to be awarded the player of the camp award. It was a great feeling to be picked by the coaches and staff.
Another highlight was scoring against the famous Ronald Ross while playing the coaches in a six-a-side game. It's fair to say that probably won't happen again.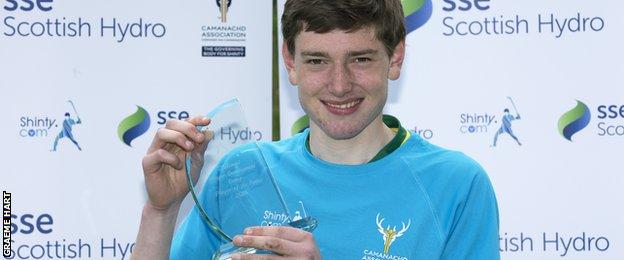 Shinty camp was a blast and gave me great confidence in my game. However, this did not stop me feeling more than slightly nervous about Kingussie's next league match against Fort William. We were needing a win as results had not gone our way the past four or five matches.
Unfortunately for the team, it was another disappointing result which ended 2-0 to Fort William. The team hoped to forget that poor performance in preparation for the derby against Newtonmore.
However, for me and four other Kingussie players we had the Scotland Under-17s' shinty-hurling trip to think about. What a relief it was getting away for a few days and enjoying Ireland with my friends.
As we flew out to Belfast I couldn't help thinking that the weather in Ireland couldn't be any worse than it was in Inverness, surely.
When we arrived it was 10 degrees with rain lashing down and we had to run inside the airport quickly before we got soaked.
However, luckily for me and the Under-17 squad the weather cleared up nicely for the first game against Wexford.
I suppose it wasn't until we were all inside the changing rooms and pulling on our Scotland shirts that I realised how big an occasion this was, and that as a team we could not let down our coaches or our country.
With hard tackling and furious running we did not let them down and achieved a contentious draw against a strong side.
The following match against the Dublin squad started and ended with completely different emotions. The pre-match atmosphere was perfect, everyone was happy and looking forward to a great match.
Again the changing rooms were where the nerves started and as Ronald explained team tactics we thought again how we were going to approach the match. The first half went like a breeze, at least for me.
The ball was up the other end of the park most of the time and by half-time we were up 20-0. We were cruising. We sauntered back into the changing rooms thinking the job was all but done. The first 10 minutes of the second half went much like the first with most of the pressure up the Dublin end of the park.
This dramatically changed, however, and the tables turned. Myself and Rory MacKeachan found ourselves constantly battling for possession and put under pressure. The lightning quick darting runs they were throwing at us were hard to control and by the hour mark they had put multiple balls over the bar of our goals.
It wasn't until they had their first goal that we really started to worry and we had to dig deep and try harder. The last 15 minutes were gripping as we scored a few more points and they were also on the attack.
It finished 24-9 to Scotland, what a feeling of relief and achievement we all felt. A huge thank you to our Irish hosts in Dublin and Wexford and special mention to Seamus Curtis who is such a great guy.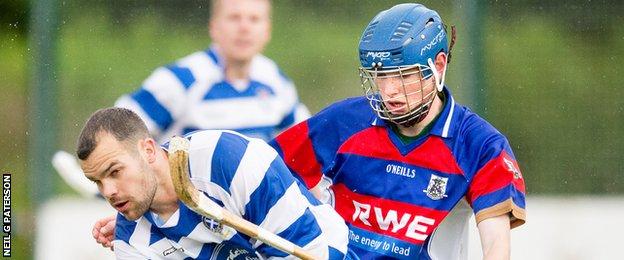 Back home on the Wednesday to face the derby against our old foes Newtonmore on Friday evening. This was very nerve-wracking because of the intense rivalry between the two villages and the television cameras didn't help either.
However, when the whistle blew I was surprisingly calm and collected. I played quite well but had to come off 60 minutes in due to a gash on my shin. The game finished 1-0 to Newtonmore, which was disappointing as we played well against a very strong side and could have taken a point.
Playing for Kingussie at the moment is quite stressful due to the type of squad we have. Very rarely do we line up for a game with the same squad each week.
Hopefully, we can battle out this season and secure a Premier League position for next season.
The future does look bright in Kingussie with a very talented group of youngsters coming up through the under-14 ranks. Hopefully in the future playing for Kingussie will be more enjoyable and we will be fighting to win the league rather than simply stay in it.
I have played shinty since I can remember and have always enjoyed it. School and shinty inevitably would clash on occasions, mainly with training. Coaches Davie Anderson and Russell Jones would always be more than understanding if I sacrificed training for study.
My main ambition is that I play for Kingussie in a Camanachd final and lift the trophy. However, with plans to go to university my main hope is that I can sustain a shinty career while studying. Here's hoping.