Shinty: 'Ronald Ross pressure for Kingussie play-off'
Last updated on .From the section Scotland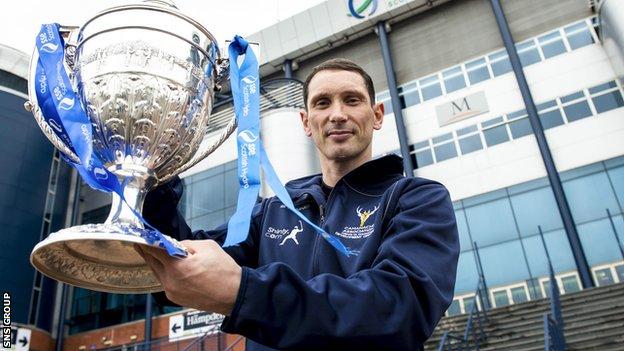 Ronald Ross will be under pressure to come out of retirement as Kingussie bid to stave off relegation, thinks BBC shinty commentator Hugh Dan MacLennan.
The only man to have ever scored more than 1000 goals in the sport has not played since lifting the Camanachd Cup for a 12th time in September 2014.
But the Badenoch side face a play-off this month to avoid relegation.
"He will be feeling an obligation to play because the club means so much to him," said MacLennan.
"He is, after all, their greatest player. Possibly the game's best ever player."
The Scotland manager, who keeps fit through coaching and appearances for the second team, has indicated that he would be willing to get his boots back on in the event of a play-off.
But he declined an interview request from BBC Scotland to discuss the upcoming head-to-head with National Division runners-up Kilmallie.
"The situation for Kingussie is dire and it's something, I think, they have seen coming all season," explained MacLennan.
"It's remarkable to go from being Camanachd Cup winners one year to trying to stave off relegation.
"This is basically a cup final to stay in the Premiership. It's as simple as that for a team that has dominated the modern game."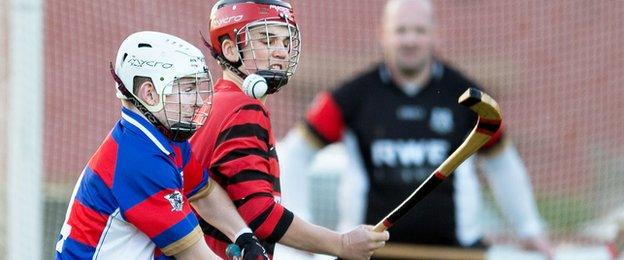 Kingussie, winners of 23 league titles in the 24 seasons up to 2009, needed victory at Oban Camanachd on Saturday to avoid the play-off but could not hold on to a lead, losing two late goals.
"I'd be astonished if Kingussie were not contemplating asking Ronald Ross [to play]," said MacLennan. "Whether asking him or putting pressure on him is the same thing, I don't know.
"He's a very strong willed individual. At the end of the day, it's for him to decide.
"If you wanted an insurance policy for a game like this, there would be no better. Even psychologically for Killmallie to see Ronald Ross coming on to the field would be a very big thing.
"It looks like he might be backtracking on his earlier talk. We'll wait and see. But I don't think anyone will be 100% sure until the referee throws the ball up for the play-off game."