Celtic: Anthony Stokes is wasting his talent, not Ronny Deila

By Tom English
BBC Scotland
Last updated on .From the section Scotland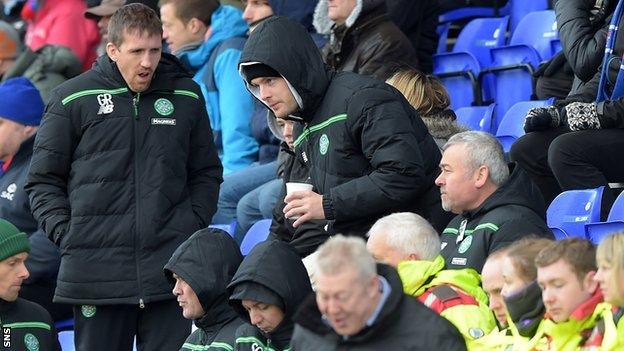 Any cataloguing of Anthony Stokes' career at Celtic can not overlook the contribution he made when his head was in the right place.
He has scored more than 70 goals for his club, some of them coming in hot streaks like the nine in seven in 2010-11, the eight in eight in 2011-12 and the ten in nine in 2013-14.
Celtic are not over-burdened with strikers who are capable of such efficiency.
They have one man, Leigh Griffiths, who knows what it is like to be that lethal. They also have Nadir Ciftci, who doesn't.
The third in line is Carlton Cole, a 32-year-old with 15 goals in his last 100 senior games, albeit all but one of those matches coming in the big league in England.
Cole could turn into a useful asset for Celtic but the fact that he was sent for in the first place brings us back to Stokes and what a peripheral figure he has become this season.
The Dubliner is not of European class - his record is desperately poor - but domestically he's been a weapon. Of those 70-plus goals, two of them sparked the comeback from 3-0 down to a 3-3 draw at Rugby Park on the day Neil Lennon's managerial career flashed before his eyes.
Lennon's time was almost over before it had begun. Stokes was one of the guys holding the defibrillator that jumped his management back into life.
Among his tally there's been more than a dozen winning goals, one of the most important being the decisive strike in a 4-3 win over Dundee United in the Scottish Cup semi-final of 2013.
Stokes used to be a prolific goalscorer, but now trouble is the only thing he accumulates. His two-week suspension from his club was initially portrayed as a punishment for an intemperate tweet on the road to Inverness last weekend, but now it turns out it was down to a build-up of poor discipline.
Stokes is 27 - old enough to know better and young enough to have some decent years ahead of him in the game if he gets his head in the right place. The chances of that happening at Celtic do not look good.
From attending a tribute for a slain Real IRA leader in Dublin and being reprimanded by his club as a consequence, to turning up at Lennoxtown, in Lennon's time, in an unfit state to train, to arriving back to Glasgow a day late and being banned by Ronny Deila for a game with Inter Milan, to getting himself embroiled in an incident with an Elvis impersonator in a nightclub in Dublin - an alleged offence for which he will stand trial next month.
And we now have the number of other disciplinary issues that Deila mentioned on Friday, but didn't go into. Stokes is a player who seems incapable of learning his lesson.
This is not vindictiveness on the Celtic manager's part. The fact that he hasn't played Stoked since August is not part of some plot to demoralise him. Far from it. Deila must look at Stokes' stats in domestic football and lick his lips, particularly since Ciftci hasn't exactly pulled up any trees - not even a sapling - since his £1.4m move from Dundee United.
Deila needs Stokes. At his best, he's capable of filling the back-up role to Griffiths better than anybody else that Deila has at the club. But there's a problem and the problem is the player and his inability to impress his manager. It's not goalscoring prowess he lacks. It's professionalism.
It's hard to know how many people have tried to mentor him. Many, you would guess. John Hughes, the Inverness manager, is the latest. Hughes worked with Stokes at Hibs. He rates him, likes him and wants to help him.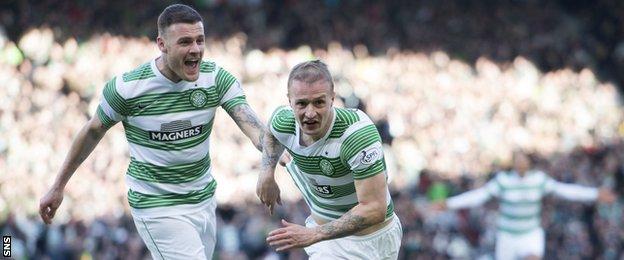 "I had a word with Stokesy on Sunday," said Hughes, speaking of the day that the striker sent that tweet that shot him back into the headlines once more. "I went hunting for him before the match. Stokesy is not a bad lad. He is a loveable rogue. He is a maverick of a footballer, but he's not a bad lad."
Hughes found the player and had some cautionary words for him. "I said to him: 'Stokesy, do me a favour. Don't let the penny drop when it's too late'. Then (I) said to him - and I know this myself - 'When you leave Glasgow Celtic the only way is down, trust me son. Trust me. Do me another favour, son. Go get yourself as fit as you can, get your head down and let your football do the talking'."
The Inverness manager is worth listening to, but then so is Deila and so was Lennon and any number of senior players at the club who, presumably, have tried to get into Stokes' head and sort him out.
It's not worked yet. You couldn't hold out too much hope that it's going to work now.
Stokes is fortunate to still be a Celtic player, but the gratitude doesn't exactly shine through. It's been three years since Lennon, and others within Celtic, spoke of him being on his last warning.
Hughes is right. For a player like Stokes the only way is down once he leaves Celtic Park. He still has time, but he's wasting it.
His daft tweet was a minor, wrist-slapping offence, but it betrayed a boy who seems to be feeling sorry for himself. The question now is what Stokes intends to do about it, if anything.
Cathro's brutal Geordie test
In the summer, Ian Cathro swapped the assistant manager's post at Valencia for the same position at Newcastle, a move that the Scot described as a positive one for his career, a forward step not a retrograde one.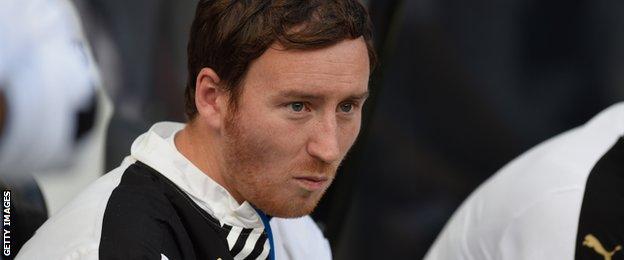 We are, of course, talking about two tough assignments. Valencia is a desperately demanding place and Newcastle, well, they seem to be permanently mired in crisis, railing against Mike Ashley off the field and against the manager - whoever it may be at the time - on the field.
Two games ago, Newcastle lost 3-0 at home to Leicester, a capitulation that cranked up the Toon Army's anger at Steve McClaren, the players, Ashley and the world at large.
McClaren conducted a review. Some honesty sessions were held in which the players' attitudes were questioned, where their lack of commitment and passion were analysed and their stomach for the relegation fight brought into doubt.
Cathro was at the heart of it. Not exactly chief prosecutor, but a key player in the team for the prosecution. Newcastle were second-bottom in the Premier League and had a trip to Crystal Palace to come. A chance to make amends. They lost 5-1.
In recent years some careers have veered madly out of control at St James' Park. You'd hope that Cathro isn't going to be another victim of the Geordie malaise. He's young and should have a big future if he can emerge unscathed from this most brutal test of his coaching mettle.