Scottish budget 'good result for sport', say Sportscotland
Last updated on .From the section Scotland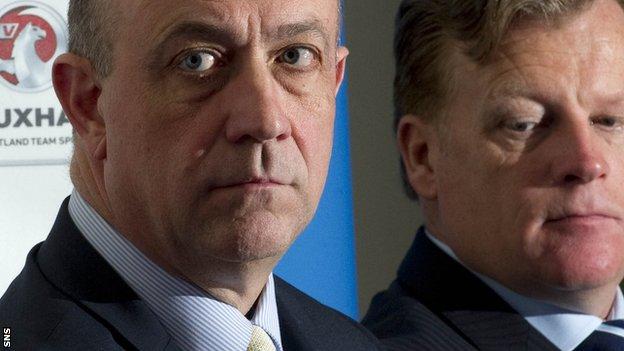 Sportscotland chief executive Stewart Harris insists this week's Scottish budget was "good result for sport" despite a reduction in funding.
Scottish finance minister John Swinney announced that sport would receive £45.8m from the Scottish Government for 2016-2017 - a drop from £71.8m.
But Harris made note of the "difficulties posed by the current financial climate".
He said Sportscotland would continue to back community sport and top athletes.
"Given the difficulties posed by the current financial climate, we see the budget settlement announced by the Scottish Government as a good result for sport," he said.
"With the revenue resources allocated to Sportscotland, we will continue to develop our ambitious plans for creating the right environment for sustainable community sport; along with providing Scotland's talented athletes with the support system they need to win on the world stage."
A Scottish Government spokesperson insisted that the spin-off benefits from last year's Commonwealth Games in Glasgow would not be lost.
"We have maintained cash invested in frontline funding for sport in this year's budget," said a statement.
"The current financial year saw large, non-recurring investments in two major capital projects - the National Performance Centre for Sport and the National Parasports Centre.
"The setting of this budget has taken place against the backdrop of the toughest public expenditure conditions we have yet faced and, as a result, we will continue to work with Sportscotland, along with other bodies, to identify further savings opportunities.
"We remain committed, however, to ensuring the legacy of the Commonwealth Games is delivered as planned."