Gregor Townsend: Beating Saracens would be the best result in Glasgow's history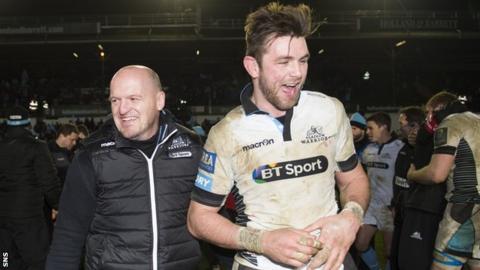 Gregor Townsend comes blinking into the light of an upstairs room at Scotstoun, a respite from what he calls the "Saracens bunker", the place where the Glasgow Warriors coaching team have been holed up for more hours across more weeks and months than any of them are capable of calculating.
This is nirvana for Townsend. A first Champions Cup quarter-final, on Sunday, in his fifth and last season at Glasgow, an away quarter-final against the English and European champions, a team that is so packed with power and class that they've never lost a European match at Allianz Park - 12 games, 12 victories - a side so full of mental and physical strength that they have not lost a game in this competition, home or away, for almost two years.
That's consistency on a mad scale. Of their last 15 Champions Cup games they have won 14 and drawn the other. Last weekend, on the domestic front, they put 53 points on Bath, the fourth best side in England. Saracens put them on the back foot, kept them there and ripped them apart when they buckled under the pressure, which most teams do when faced with this behemoth.
They say coaching rugby isn't like rocket science. That's not true. It is. It's exactly that and more when it's Saracens you're trying to coach against, but that's all part of the buzz for Townsend.
'We believe we can go there and win'
Townsend is giddy at the thought of having 5,000 Warriors fans at the game, the biggest travelling support they've ever had. It's been quite a journey for Glasgow, a lot of years of flattering to deceive in Europe, of coming close to making the last eight, but not close enough.
"I'd have been very disappointed to finish without having done it," he says. "There's been real frustration, but those games you lose just make you stronger. The day after we lost the Pro12 semi-final to Connacht last year all the talk from the players was about Europe and how we wanted to throw everything at it this season.
"The biggest lesson we learned along the way was that our set-piece had to improve. When you play English or French teams that seemed to be the difference. We could play better rugby, we could score more tries, but they had the edge in the line-out drive, the scrum. We've made big improvements."
And now here they are, rank underdogs, but a dog capable of taking a bite out of any team on their day. Are Saracens beatable? "Yeah, of course," answers Townsend. "We know what a good team they are, but we do believe we can go there and win. It would be the best result in the club's history."
There's been a couple of contenders for that prize already in this campaign. The deconstruction of Leicester at Scotstoun was a pearler, the away win at Racing was outstanding and then there was the one that sent them rocketing into the quarter-finals, that 43-0 drubbing at Welford Road, a place where Leicester had lost just one European match in 10 years.
"Saracens have the right to be huge favourites, they've got a home game, have been European quarter-finalists a lot more than we have [six years in a row] and have won a lot more than we have," Townsend says. "We know the challenge that faces us. We'll have the belief that the way we can play in defence and attack can be good enough to beat any team in Europe. This is as close to Test match level as you'll get. We'll have a team full of international players and so will Saracens - it's knock-out rugby. There's no tomorrow if you lose."
There will be knocking on for 800 caps on that pitch on Sunday, probably four Test Lions in the Saracens ranks - Owen Farrell, Maro Itoje and the Vunipola brothers - and maybe more in the Glasgow side - Stuart Hogg and Tommy Seymour.
"The last two months have been about learning how to beat Saracens, but also about learning from Saracens," Townsend explains. "As a team and a coaching group we've improved just from the fact that we have drawn them, we've learned what they do well and learned what things we can improve on. Win or lose we will be a better team for that.
"I see two clubs that are role models for us in how they're run and how they get success and that's Leinster and Saracens. Leinster was a big driver for me as a coach, they were the team that everybody talked about, the standards they set and how they played, how people came into the team when international players were away and just fitted in. They were great to learn from and compete against and still are.
"Saracens are different, but they've learned from a lot of their experiences. They've had some defeats [two losing European semi-finals and a losing final before finally winning it last season] but they became stronger. They've a fantastic culture. They work really hard for each other."
In the last eight, Glasgow are the wee guy amid giants, the only team that have never been in the knock-outs before. Saracens have one European Cup to their name; Munster and Wasps have two; Toulon and Leinster have three and Toulouse have four. Even Clermont, who have never won it, have been to two finals as well as winning the second tier Challenge Cup last season.
The other seven quarter-finalists have a combined major trophy haul of 38 in the professional era: 19 domestic league titles, 15 European Cups and four Challenge Cups. All of this is grist to Townsend's mill. The task of pitting his coaching and his players against the established elite is what he's all about.
"Our players really care about each other, " says Townsend. "They're very proud of what the club has done off the field as well as on it. They're selfless. Glasgow is a football city but we now have a number of supporters who come from a football background who love watching the games and speaking to players afterwards and maybe having a drink during the game. They've really bought into it.
"A big part of it is that they're proud of their city's team, proud of being Glaswegian and getting behind a side that represents where they come from or where they've settled down. I remember a few years ago when we won our first home Pro12 semi-final against Munster we went for a few drinks in the city.
"Later on, I jumped in a taxi to go home and the driver was saying, 'did you hear about the Warriors tonight, they won!' I thought that was great. He wasn't a rugby fan, and he didn't know who I was, but he was proud of a Glasgow team doing well. And you see little snapshots like that all the time. The first year I was here nobody would have stopped to say hello in Glasgow, but now a lot of people would stop and talk and it feels like you're back in a small town in the Borders."
Will the Scotland-bound coach miss it now that he's in the final stretch of his time at Scotstoun? "Yeah, I'll miss it hugely," he responds. "This has been a big part of my life, this is five years of coming in and working with the staff and the players and I'll miss their banter, I'll miss the week-to-week and I'll miss being here for the kind of nights we've had. I'll still be watching, but as a very interested spectator as opposed to the coach."
The summer, and the Scotland job, can wait. For now, nothing else matters bar Saracens, the giant that Glasgow have to slay.