Team Scotland send 41 athletes to Commonwealth Youth Games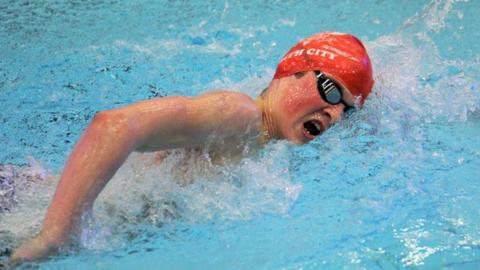 Team Scotland will send a squad of 41 athletes to this summer's Commonwealth Youth Games in the Bahamas.
The Scottish athletes aged between 15 and 18 years old will compete in seven out of the nine sports.
Athletics, beach volleyball, boxing, cycling, judo, swimming and tennis are all represented.
The concept of the event is simple: to develop young athletes, giving them an early experience of an overseas multi-sport tournament.
Former Scotland Rugby Sevens captain Colin Gregor, Team Scotland's general manager for this event, believes that aim is hugely beneficial.
"This is a fantastic opportunity for these young athletes to experience what the Commonwealth Games is all about and the start of an exciting journey, which I hope will see many of these athletes going on to represent Team Scotland at senior level," he said.
Since the youth games were founded in 2000, they have unearthed many athletes who have gone on to represent Scotland at senior level and some who have won Commonwealth medals.
Swimmer Hannah Miley is one of the 66 Scottish athletes who, after competing in the Commonwealth Youth Games, has progressed to the senior version.
The Inverurie swimmer took part in the Youth Games in Bendigo, Australia, in 2004, winning three medals. Two years later, she was part of the senior team that competed in the Commonwealth Games in Melbourne.
The following two Commonwealth Games produced three medals, including a gold in Glasgow in 2014.
Eight swimmers will take to the pool for Team Scotland at Bahamas 2017, with five also preparing to compete for Great Britain at the European Junior Championships in Israel at the end of June.
Scott McLay is among them and the 18-year-old Strathallan School pupil is excited about what this event could lead to.
"I'm hoping to get into the Commonwealth Games in 2018. That's my main goal at the minute," the Perthshire swimmer told BBC Scotland.
McLay's favoured distances are the 50m and 100m backstroke and freestyle as well as the 100m fly and he is hoping to "bring home a medal".
"Hopefully I can get some personal bests and I don't see why I can't be in a position to win medals," he said. "I've just got to make sure that everything falls into place for particular races."
The swimming team also includes Team Scotland's youngest athlete for these Games, 15-year-old Roisin Ramsay from Edinburgh.
The Bahamas 2017 Youth Games will see a number of firsts, with judo, Team Scotland's most successful sport at Glasgow 2014, making its Commonwealth Youth Games debut. Six Scottish judoka will step up to the challenge.
Beach volleyball is also included for the first time ahead of its Commonwealth Games debut at Gold Coast 2018.
Megan Gordon, from Moray, becomes the first female boxer to compete for Scotland at any Commonwealth Games event, with European Junior Championship medallists Sam Hickey and Lewis Johnstone also included in the Team Scotland boxing squad.
Eleven athletes make up the track and field squad, including European Youth Championships bronze medallist Erin Wallace, who set a new British and Scottish Under-17 indoor record over 800m in 2016.
Also part of the athletics squad is 17-year-old Olivia Vareille, daughter of former Kilmarnock footballer Jerome.
Team Scotland 2017 will depart for the Bahamas on 14 July.
Team Scotland
Athletics
Calum Henderson, 17, Edinburgh
Alessandro Schenini, 17, Glasgow
Erin Wallace, 17, Glasgow
Adam Clayton, 16, Glasgow
Fraser Angus, 17, Prestwick
Lauren Greig, 16, Galston, East Ayrshire
Olivia Vareille, 17, Falkirk
Adam Scott, 17, Kirkcaldy
Bethany McAndrew, 17, Kirkcaldy
Naomi Lang, 17, Aberdeen
Maddy Silcock, 16, Banchory
Boxing
Faraz Ahmed, 17, Glasgow
Taylor Hamilton, 17, Wishaw
Lewis Johnstone, 17, Airdrie
John Casey, 17, Stirling
Craig Morgan, 17, Kelty, Fife
Ryan Reekie, 17, Cowdenbeath
Sam Hickey, 17, Dundee
Megan Gordon, 17, Rothes, Moray
Tyler Jolly, 17, Whithorn, Dumfries
Beach volleyball
Emma Waldie, 16, Edinburgh
Jennifer Lee, 17, Livingston
Cycling
Dylan Hughes, 17, North Berwick
Rhona Callander, 18, Stirling
Stephen Dent, 18, Fort William
Judo
Emily Ritchie, 16, Livingston
Louis Saez, 17, Paisley
Connor Wilson, 17, Bishopton
Ryan Quigley, 16, Wishaw
Emma Forrest, 16, Dunfermline
Fiona Todman, 17, Kirkcaldy
Swimming
Roisin Ramsay, 15, Edinburgh
Isabel Jones, 17, Livingston/Gilmorton, Leicestershire
Anna Fleming, 16, Glasgow
Luke Robins, 18, Glasgow/ Street, Somerset
Scott McLay, 18, Perth
Sophie Smith, 16, Arbroath
Thomas Beeley, 18, Banchory
Emma Harvey, 15, Street, Somerset
Tennis
Alexandra Hunter, 17, Edinburgh
Hamish Stewart, 17, Glasgow