French Open: Andy Murray in good form but Rafa Nadal is favourite, says Pat Cash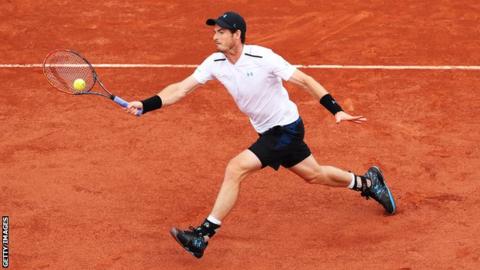 Former Wimbledon champion Pat Cash believes it will be a "big ask" for Andy Murray to win the French Open but says the Scot remains a contender.
Cash considers Rafa Nadal to be the "obvious favourite", although he feels Murray is rediscovering the best of his form at Roland Garros.
"Anything's possible. He's playing well," Cash said of the world number one's chances of winning the title.
"Andy's such an amazing competitor. He's fresh and coming into good form."
Murray progressed to his seventh French Open quarter-final with a 6-3 6-4 6-4 win over Russia's Karen Khachanov, and the Scot will face the eighth seed Kei Nishikori of Japan.
The 30-year-old Scot reached the final last year, only to lose to Novak Djokovic, and Cash believes he is playing well enough to reach the same stage this year.
"Andy's done really well. He's had a couple of little challenges along the way, but on paper he should be winning these matches," Cash said.
"There are no foregone conclusions on clay. Andy works hard on the court, so it's not an easy ride for him, it's not like he can serve 20 aces and cruise through a match. He's worked his way into form really nicely and he's had enough match-play.
"You don't know what's going to unfold, you need to take one step at a time and Nishikori has had a patchy tournament but seems to be knocking himself into form.
"It looks like everybody's coming into form at the right time, so anything could happen, it's so even. That's exciting. Anybody can be beaten.
"It's playing well on the day, and the guys with the big power have got the chance to beat Rafa.
"The obvious one would be Stan Wawrinka, he's the danger to anybody because once he gets rolling he can just hit winner after winner, and nobody can stop him, including Rafa. Whoever plays Rafa has to play the best match of their life."