Is tennis guilty of double standards over prize money?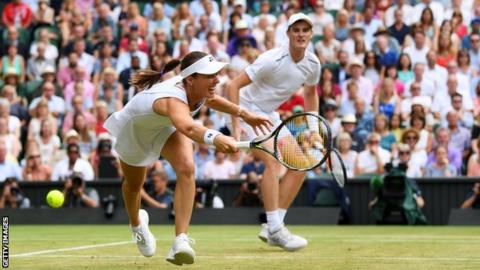 It is, according to US tennis legend Pam Shriver, a "confusing" yet reasonable part of the sport.
The disparity between the prize money paid to tennis' top singles stars and their doubles equivalents is not a new phenomenon, but it made the news again when Jamie Murray commented on the issue following his Wimbledon mixed doubles victory with Swiss partner Martina Hingis last month.
It was the Scot's fourth Grand Slam doubles title and earned him a share of the £100,000 prize money - a figure which has increased by 11% over the past decade.
Meanwhile, Wimbledon singles winners Roger Federer and Garbine Muguruza earned £2.2m each in prize money.
Shortly after the final, Murray tweeted: "Doubles winner receives less than 10% of singles winner at Wimbledon. Similar across all Slams, while ATP is split 80-20."
He continued: "Mixed doubles cheque is same as 2007 so it's actually less valuable than 10 years ago."
Tennis Scotland performance coach Toby Smith echoed the player's sentiments. He told BBC Scotland: "In terms of prize money and funding, I think it should be representative of the number of people watching and the TV numbers.
"I think, Jamie certainly at Wimbledon, had pretty much a full crowd so it should be representative of that. With the number of people watching and the support he had at Wimbledon, I think he should be getting more."
Although the 2017 US Open will become the first tennis tournament to top $50m (approximately £39m) in prize money, the singles winners will earn about £2.3m more than the winners of the doubles.
So is the huge gap in prize money fair?
Former doubles player Shriver is perhaps best known for her historic partnership with Martina Navratilova. Together they won 20 Grand Slam doubles titles and set the record of 109 consecutive match wins from April 1983 through to July 1985.
Despite her doubles fame, she admits it doesn't "pay off for a singles player to sacrifice maybe winning even a match in Montreal for their doubles".
For her, the prize money discrepancy is "a part of our sport that's a little confusing".
But she added: "I feel like the top doubles players actually do earn a fair bit of money.
"How many people buy tickets to see the top doubles players? Who moves the ratings? Who do people go to their television to watch? Well, it's Federer, Nadal, Serena and Venus.
"It's when Jo Konta is playing Simona Halep in a great quarter-final match at Wimbledon. I'm not sure it's when Jamie Murray is playing a doubles final."
According to Shriver, the sport is all about marketing, and doubles isn't always an easy sell.
"Generally, the doubles at Wimbledon has a big emphasis and you get a beautiful crowd, but I can't say the same for the rest of the majors where sometimes it's played before 20% of a filled stadium," said the American.
"When tennis became professional, doubles got a small percentage of the overall prize money so that started the course towards where we are today.
"If they made a commitment over time to change it then I'm sure doubles would be able to sell itself better. But it can't do it in its current environment of how it's marketed."
On the opposite side of the court stands another doubles great, Gigi Fernandez of Puerto Rico, winner of 17 Slams across a decade from 1988.
She hopes for greater equality between doubles and singles players.
"Winning a Grand Slam is very prestigious and I think people who win Grand Slams should be compensated fairly," said the four-time Wimbledon doubles winner.
"If the singles are getting a raise, I think the doubles should too. I don't think the singles winner needs to make any more money.
"It's not just the singles players who provide the entertainment."
John McEnroe was one of the last men's world number ones to consistently play singles and doubles. In addition to winning seven Slams in singles, he won five Wimbledon and four US Open doubles titles from the late 1970s to the early '90s.
However, in an interview with The Times in 2013, he questioned the value of doubles in modern-day tennis.
"Doubles - why are we even playing it?" he said.
"I don't know what doubles is bringing to the table. The doubles are the slow guys who aren't quick enough to play singles."
Shriver suggested an overhaul of the Wimbledon doubles format to play best-of-three sets in the men's events with hope of eliminating early retirements and lengthy games.
"You've got to shorten it up," she said. "You've got to make doubles distinctive from singles in order to have it stand alone."
The prize money split remains a contested area but both Fernandez and Shriver agreed that it is in the singles that the sport's stars are made.
"We create superstars and people like to go watch the superstars play," said Fernandez.
"They would rather go watch Federer win 6-0 6-0 6-0 in the first round of a Grand Slam than a five-set doubles match played by two unknowns."
For Shriver, the lesser prize money, lack of superstars, and the difficulty in marketing doubles tennis all point to one thing.
"When you put it all together, doubles comes way distant second to singles," she said.