SFA: chief executive Stewart Regan says Celtic are only club to call for review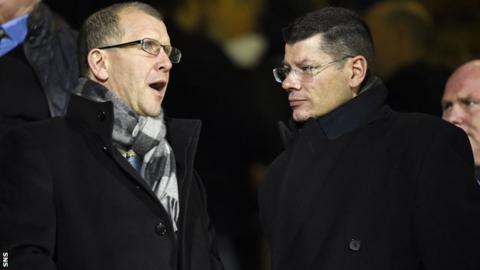 The head of the Scottish FA says only one club has indicated to them they want a review of Scottish football's handling of Rangers' EBT use.
SFA chief executive Stewart Regan says the organisation wrote to its 108 members explaining why they rejected the SPFL's review proposal.
Regan also said he is "happy to publish any information" relating to the issue.
"Apart from one [club] I haven't had a single phone call, email or letter on this subject," Regan said.
"The Scottish FA board considered the request from the SPFL and also from Celtic, and we looked at the various issues that have taken place since 2011 and at every step of the way we've had independent legal advice.
"We've put in place two independent directors on the Scottish FA board, we've had four QCs and three law lords advising the Scottish FA board all the way throughout the journey.
"We've also put in a place a myriad of improvements to processes and procedures, and we felt that there has been significant learning from all the various events. So for the good of Scottish football, it was our view that we had to stop looking in the rearview mirror and now look at the road ahead and all the positives in the game.
"We have 108 members, of which 42 are part of the SPFL. We wrote to every single member last week and offered an opportunity to speak to myself and the Scottish FA about the decision we'd made. Our board believe that we've made the right decision for Scottish football and it's time to move on.
"We're talking about the wishes of the Scottish FA members. We've had one letter from one club - Celtic - and I fully understand that. Peter Lawwell [Celtic CEO] has a fiduciary duty on behalf of his club."
After the SFA wrote to its members last week, Celtic released a statement saying that failing to conduct a review would be a "failure in transparency, accountability and leadership".
At the SFA's request, Celtic also published the correspondence on the matter between Lawwell and Regan.
The SFA chief executive says that the governing body has acted on new information raised in recent court cases, with the compliance officer now looking at the granting of a Uefa licence to Rangers in 2011.
Once that case is concluded, Regan is prepared to publish any documents relating to the SFA's handling of Rangers' financial collapse, and he insists there is no personal enmity with Lawwell.
"Peter is doing what is in the best interests of Celtic. He's asked for a review, that has been rejected by the SFA board," Regan said.
"He's challenging the decision. He's making comments about transparency, accountability and leadership; I report to our board, our board reports to 108 members and those 108 members are fully aware of the decision that the SFA board made.
"Peter and I attended the Champions League draw together a couple of weeks ago. We sat and had a drink while all of this correspondence was being exchanged. We have a very good relationship, and I have a very good relationship with the SPFL. I don't think it's a personal issue.
"When we wrote to our members we offered to share any information with them and have any discussions with them about any of the decisions that have been made.
"If anybody has any requirement to see any documentation within our membership, they have the ability to do that. We're more than happy to publish any information that anybody feels would be helpful.
"There is a live case currently in play, which the Compliance Officer is reviewing, which relates to information shared at the Craig Whyte hearing, information which makes reference to the fact that Rangers may have misled the licensing committee of the Scottish FA when a [licence] was awarded back in 2011.
"When you have an independent review - and let's not forget we've done a lot of them - you normally have a specific issue or a specific incident that you review. We've got the events of five years, so there is no reference to what specifically would be reviewed. Is it everything single decision?
"We've identified that the wee tax case hasn't been closed down appropriately and there's new information. It's being dealt with. The big tax case we had senior legal counsel, came to our board, gave us very thorough information of his advice and our board took the decision there was nowhere further for us to go on that."