No quick fix for sports that lost funding, but Katherine Grainger offers hope

By Jane Lewis
BBC Scotland
Last updated on .From the section Scotland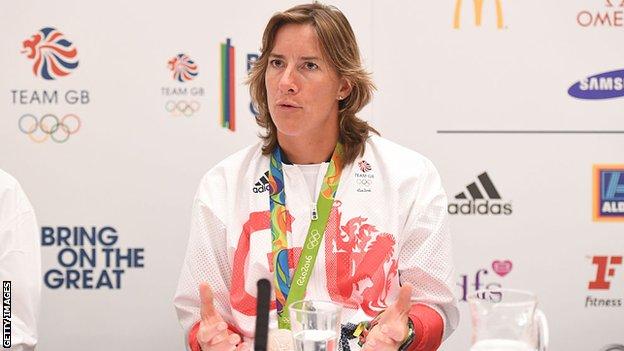 Chair of UK Sport Katherine Grainger admits there is "no quick fix" for sports that have recently lost funding.
But the five-time Olympic medallist has stressed the "best possible intentions" are in place to help.
Eleven sports had all investment cut when UK Sport announced its £345m four-year plan in December.
And former rower Grainger recently held "really positive discussions" with each sport and says: "They understand the situation."
Badminton, archery, fencing, table tennis and weightlifting are among the disciplines to have lost appeals against the cuts.
Speaking to BBC Scotland, Grainger explained: "I wanted to hear from them individually and about the current situation within their sport and where the challenges are and where the opportunities might be."
But, despite having sympathy with their plight, the former rowing champion says UK Sport cannot please everyone.
"I know what it takes to be successful," she said. "I know you need a system and funding and the budget and all the rest but I've been in sport before there was any funding.
"I knew a world when nobody got any money. There can never be the assumption that there will always be money."
Grainger, who won silver in rowing's double sculls at the Rio 2016 Olympic Games, was speaking at the West Boat House on the River Clyde in Glasgow on one of her many trips back to Scotland since retiring from the sport.
She admitted to "missing the river in a boat and missing the competition" but explained her new role at, which she has held since April, is "keeping her busy".
Dealing with sports that have had their funding cut or reduced has taken up much of her time.
Funding for elite sport is determined in four-year cycles, which typically run between summer Olympic and Paralympic Games.
"There will be no quick fix," she said. "No one is going to walk out the room with a cheque in their hands, and the sports are realistic as well.
"The policies have been set for the lead up to the next Olympics in Tokyo, so things are already in play."
However, Grainger said there is sometimes room for manoeuvre and the sports that are suffering now could see things change.
"Within that [cycle] there are annual reviews every year, sports change year-to-year so results might be better or worse than expected and there's constant adjustments made so there is some room," she added.
"But it's not suddenly finding a pot that we hadn't looked at before that's going to change things. It's about trying to balance that optimism with realism at the same time."