Catriona Matthew deserves Solheim Cup captaincy - Judy Murray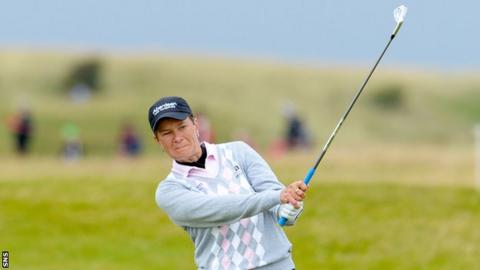 Judy Murray says fellow Scot Catriona Matthew's appointment as Solheim Cup captain is "wonderful" news that benefits Scottish and women's sport.
Matthew will lead Europe against the United States at Gleneagles in 2019.
Tennis coach Murray, mother of Andy and Jamie Murray, says Matthew does not get the credit she deserves.
"Her record is exemplary and I think it's absolutely deserved that she becomes the next captain," Murray told BBC Scotland.
"I think it's wonderful. I love all the team stuff. It was a huge thing for me when I was given the Fed Cup captaincy - not something I ever thought I'd get the chance to do.
"I love all the team building, I love the tactical side of tennis so those two things come totally into play in a team event.
"I love watching Catriona. She just sort of embodies the Scottish understated hard worker, gets on with it, has achieved enormous things, doesn't get the credit I think that she deserves for everything that she has achieved.
"You see her come to life in the Solheim Cup. It's wonderful. It's great for Scottish sport and it's great for golf and it's great for women's sport as well."
Matthew has 11 professional golf wins, including the Women's British Open in 2009.
Asked if she would go to watch the Solheim Cup at Gleneagles, Murray replied: "No question.
"I went up when the Ryder Cup was on there as well and I always watched Solheim Cup on the TV."
Murray, whose sons have won seven Grand Slam titles between them across singles and doubles and the Davis Cup, was speaking after receiving a Team Scotland award for her work coaching girls' tennis.
"We have this massive opportunity in Scotland to grow tennis right now," she said. "We've had it for about 10 years, it won't last for ever.
"If something needs to be done, get out and do it yourself and I've always been like that.
"I think it's good for [Andy and Jamie] to see that I'm trying to grow the game off the back of their success, because they work so incredibly hard at what they do and I think it's good for them to see that I still work hard within the game as well."