Scotland's women seal beach volleyball spot for Gold Coast Games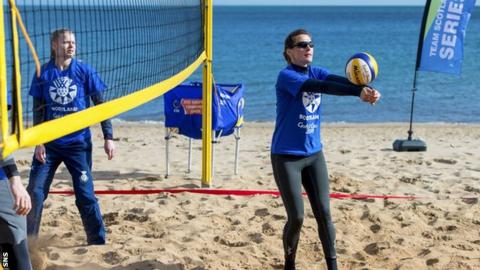 Scotland's women's beach volleyball pair Lynne Beattie and Melissa Coutts have secured a place at the Gold Coast 2018 Commonwealth Games.
The team were told on Thursday that they were awarded a wild-card spot after failing to qualify for the event.
"We have had a long wait, but we trusted in the hard work we had put in, on and off the court," Beattie said.
"It has been worth it to be confirmed as the first ever women's team to be selected to represent Team Scotland."
Beattie and Coutts were indoor volleyballers, with the former having captained Great Britain at the London 2012 Olympic Games.
The pair turned to the beach when it was announced the sport would make its Commonwealth Games debut in Australia in April.
"Myself, Lynne, and the rest of our amazing team will do everything we can to make Scotland proud in the Gold Coast," Coutts said.
The Edinburgh-based duo will take their place in the squad alongside fellow Scots Seain Cook and Robin Miedzybrodzki, who qualified for the men's event following an impressive win in Cyprus earlier this year.