Charlie Guest: Scottish skier targets 2018 Olympic spot after injury woes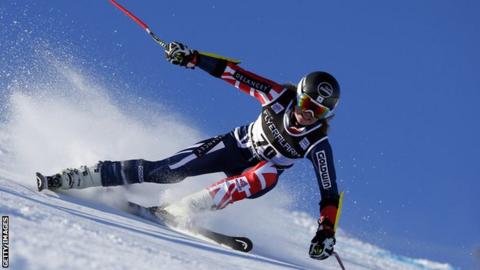 Charlie Guest says Team GB selection for the 2018 Olympic Winter Games would make her years of struggle worthwhile.
The Scottish skier has achieved the slalom qualifying standards and hopes to be confirmed when the team is announced next week.
It would mark a major milestone for Guest, who broke four vertebrae in a training accident in 2014.
"It would make so many sacrifices worth it, getting over hurdle after hurdle with injuries and funding," she said.
The former British champion recovered quickly from her broken back but has had other injuries to deal with in recent years.
The focus now for Guest is to prove her fitness and avoid any setbacks ahead of the team announcement for the Games in Pyeongchang, South Korea.
"Inclusion in the team would be huge," Guest, from Perth, told BBC Scotland's Sportsound. "I have achieved all the results I need to achieve, so that's all ticked off.
"I just need to concentrate on being healthy and then it's up to the selectors.
"I am hopeful - it's been my Plan A from the beginning of the season that I will be on the plane to Korea, but you never want to count your chickens before they've hatched.
"For any athlete to be included in Team GB, that's what you work towards. Team GB is such an iconic team to be part of that you'd just be immensely proud to be part of that.
"They've had massive success in the summer Games and we all want to go to the Winter Games and do the same thing.
"When you get to the Olympic Games, that's when you can really say 'Here I am - I can do anything', then just try to get as close as you can to a medal."
Guest was named in Britain's world championships team just 11 weeks after her accident in 2014 in Sweden, where she lost control, veered off course and landed on a boulder.
"Recovery from that actually went really well and, since then, I've been back into the top 100 in the world," she added.
"Unfortunately, with a back injury, things never go smoothly, but I've had great support from the Scottish Institute of Sport and everyone to get me back to the top of the game.
"The biggest problem for me at the moment is managing it and making sure I don't push my back too far past the limit, which unfortunately I did before Christmas.
"Now it's a matter of keeping everything calm and getting back on the hill."
For Guest, reaching PyeongChang 2018 would be a fitting reward and a culmination of years of hard work after starting in the sport at the age of three, albeit at a slightly odd venue.
"I don't know if you would call it the slopes - I started on the golf course," she said. "My dad would hike us up the hill and then push us down on our skis."