Scotland players to meet PFA union amid concerns over summer tour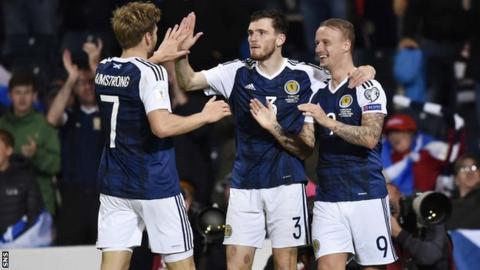 Concerns over Scotland's summer friendly schedule are growing with some players to meet their union to discuss the issue.
Brendan Rodgers has already voiced his opposition to the end-of-season trip to face Mexico and Peru - arguing it does not give players ample time for rest.
PFA Scotland are aware of concerns and say they will meet their members.
"We need to consult the players likely to be involved in the squad," said PFA Scotland's Fraser Wishart.
Scotland travel to play Peru on 29 May and Mexico on 2 June.
Scott Brown, Craig Gordon, Kieran Tierney, Stuart Armstrong, James Forrest and Leigh Griffiths all featured regularly for Scotland last year, while Callum McGregor has been included in recent squads. Ryan Christie, on loan at Aberdeen, also made his Scotland debut in their friendly against the Netherlands in November.
'It's not just an issue for the Celtic players'
BBC Scotland understands Celtic are writing to the Scottish FA for an explanation as to why matches have been scheduled at the end of the season.
Rodgers is calling for a "sensible decision" on Celtic players' involvement in Scotland's summer friendlies.
If Celtic win the Premiership again, Rodgers anticipates starting an extended Champions League qualification campaign on 10 or 11 July.
"Footballers are not machines, they are human beings and need that mental and physical recovery at times," he said.
Wishart said it was important to speak to the players likely to be involved in the double header.
"It's not just an issue for the Celtic players," he added. "There are players from other Scottish clubs who will be affected.
"We as a trade union regard annual leave as a health and safety issue. It's a directive from the European Union which is mandatory. People must be given a break from work. We all need it. We all need to recover mentally and physically.
"There is an issue here that these players who are called up might not get that break and that needs to be discussed."
Aberdeen, who have four Scotland caps in their current squad, have had Europa League qualifiers in July over the past four seasons.
And Dons boss Derek McInnes said: "If they are involved in the early rounds of European qualifying it starts to become a real concern that the players haven't had a switch off or a break and that then I think ultimately plays a part further down the line."
Hibernian head coach and former Celtic manager Neil Lennon has sympathy for Rodgers, saying: "The timing's not great.
"I understand Brendan's feelings on it completely. Do the Celtic players need to go and play in those games? I don't think they do. I think they're in their 40th game of the season. Eventually they do suffer from burnout so you have to be wary of that.
"On the flipside of that, in terms of the national team it's important to play games."
The SFA have yet to comment.