Scotland: Alex McLeish has 'right credentials' to succeed as manager - Gordon Smith
Last updated on .From the section Scotland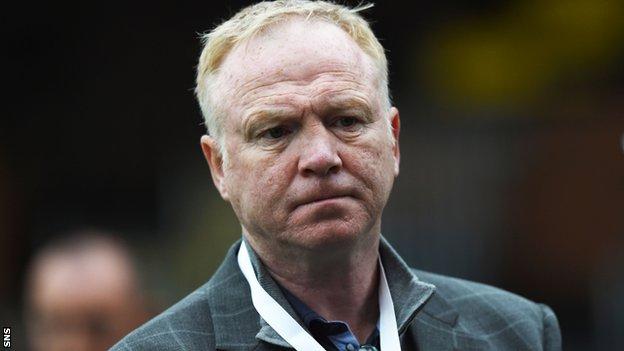 Alex McLeish has the "right credentials" to succeed as Scotland manager, says former Scottish FA chief executive Gordon Smith.
McLeish has agreed a deal to become Scotland boss for the second time, with a contract to 2020.
"He's a dedicated person, he wants to always do his best," said Smith, who became SFA chief executive in 2007 while McLeish was national team boss.
"He's committed to performance and being the best he can be."
McLeish was in charge of Scotland for 10 matches including six games of the Euro 2008 qualifying campaign, but left for Birmingham City after missing out on reaching the finals in Austria and Switzerland.
The governing body are currently searching for a new chief executive to succeed Stewart Regan, but Smith does not believe that will be an issue for McLeish.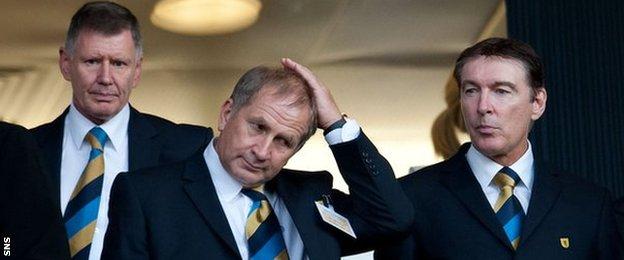 "I'm not surprised that he got the job because he was the main candidate for it," Smith said of McLeish.
"He has the right credentials because he was an Old Firm manager as well and that takes a bit of doing. That's a tough gig to have in Scottish football.
"Scotland were in their highest position ever in the Fifa rankings in 2007 when he left job.
"What is success now is qualification for a major tournament. If he does that, he'll get a new contract and Scotland will feel the same way about him as Northern Ireland did about Michael O'Neill. I don't think he'll move out of the international management scene.
"When I came into the job, Alex was in the job anyway, so the circumstances are the same. The chief executive will come in and work with someone who's already there. So I don't see a problem with that."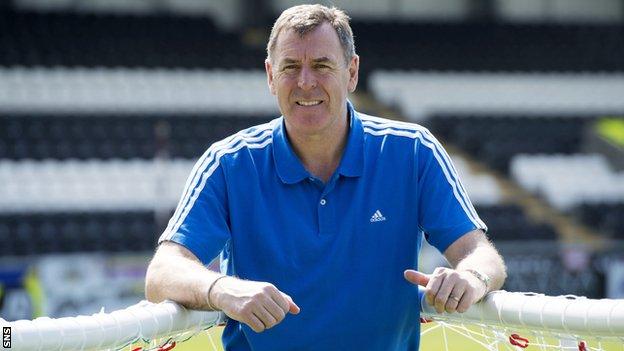 Former Celtic and Republic of Ireland goalkeeper Pat Bonner says that McLeish's first spell in charge of Scotland will provide valuable experience.
He told BBC Radio Scotland: "Everybody will be pleased that the decision has been made once and for all and will stop all our speculation.
"He's got experience, he's got international experience [having] been in the job before. He nearly qualified and so he'll be looking back on that. Yes, he left after that and went down south, but look at all the experience he's had since then.
"He knows the big-time players, he'll be able to deal with them. He's a good guy, I know Alex quite well, everyone gets on with Alex. The next [SFA chief executive] will have that relationship with them."
'It's very important he puts the right staff around him'
Scotland, who have friendly matches with Costa Rica and Hungary next month, will play Uefa Nations League matches against Albania and Israel in the autumn before starting their Euro 2020 qualifiers in March 2019.
"The big task for him is to get them qualified, create the environment, get the players onside," added Bonner.
"He knows every inch about Scottish football, he knows every player.
"It's very important that he puts the right team around him, his staff. Before it was Roy Aitken and Andy Watson. Peter Grant was down at Birmingham and Aston Villa with him and he's working with the under-21s, so he could be a possibility.
"It's a great job, the only way is up now. He's the perfect age for it, he'll be 60 next year and that's a great age for international management because you've got all the experience behind you, you want a life where you're not day-to-day, you've done all of that.
"The money won't be the big issue, it will be about getting success for your country and giving something back to the country."