Scottish triathlete Marc Austin wants to back up Gold Coast success at Euros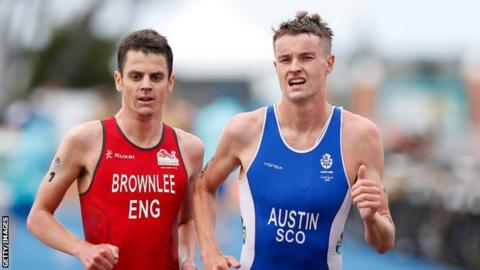 Triathlete Marc Austin is targeting European Championship success to "back up" the Commonwealth Games bronze medal he won last month.
The 24-year-old Scot finished ahead of Olympic gold and silver medallists Alistair and Johnny Brownlee at the Gold Coast Games to reach the podium.
And he is keen to maintain momentum when the Euros come to Glasgow in August.
"The European Championships are a massive, massive aim for me," Austin told BBC Scotland.
"Glasgow 2014 [Commonwealth Games] will always be the biggest experience of my life in sport, that was just amazing and to get a chance to try and replicate that, is up there."
Having established himself further by reaching the podium at the Gold Coast, Austin admits he has had a rethink over his chances at the Euros.
"I had top five, that was my aim at the start of the winter but hopefully I'll re-adjust that and aim for the podium or even win it," he said. "It depends on the field but it's another race where I'm going to try and be on the front foot for as long as I can and hopefully hold on the whole way."
Austin will certainly be familiar with the course. The triathlon, part of the European Championships taking place in Glasgow, is being held at Strathclyde Country Park in Lanarkshire - the same venue that hosted the event during Glasgow 2014.
Austin, then 20, was in the mix after the swim and the bike in 2014, but he fell away during the run and ended up finishing up 22nd, with the aforementioned Brownlee brothers taking gold and silver.
"Last time I got everything out of myself and I raced really aggressively, so I'll just try and race with the same aggression and use the crowd the way I did then - hopefully now I have the physical strength to actually do the job," he said.
"Last time I was actually really happy with what I did because I got to experience that home crowd at the front of the race for a good hour, before I got dropped, but I knew I'd absolutely emptied the tank."
Austin is also keen to impress during the World Triathlon Series, with the Scot racing in Japan this weekend four years after taking part in his first series event.
"It didn't go to plan," he said. "I hadn't had the ideal prep, I just got offered a world series start and I jumped at it because I thought I might not get one again. It wasn't the best race in my career but I certainly learned a lot and came away from that knowing what I needed do to step up again.
"I'd like to be constant in the World Series. I don't think I should be outside the top 10s any more really, knowing the kind of athlete I am, certainly over this past winter. Even on a bad day I should be in and around the top 10."
Austin has taken a huge confidence boost from his display at the Commonwealth Games and believes it will stand him in good stead going forward.
"It just proves to yourself that you are as good as you think you are," he said. "I've always backed myself and thought that I'm capable of doing theses things. It gets to a time when you are 22 - 23 - 24 years old and you think this is the time it should be happening.
"That was certainly my thought going into Gold Coast - this is the time to stop being the potential and actually be a medal winner."