Ross County & Inverness Caley Thistle 'will rise again' - Barry Wilson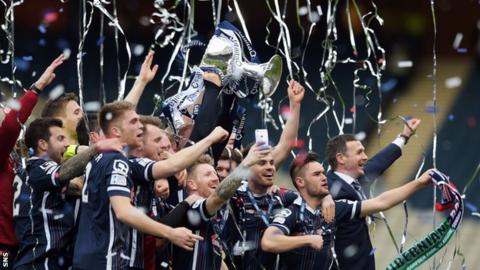 From the Highland League to the dizzy heights of Scottish football in a quarter of a century, the rapid rise of both Inverness Caledonian Thistle and northern neighbours Ross County was in many ways a fairytale ascent.
But the Dingwall side's relegation at the weekend suggests a serious reversal in fortunes.
With only six league wins in a season which also saw three managerial changes, County finished bottom of the Premiership, with automatic relegation the ultimate cost.
Caley Thistle meanwhile rallied in the final months of the season with eight wins and a draw in their last nine Championship games but missed out on the play-offs, consigning them to another spell in the second tier.
'It's been 12-18 months of doom really'
"It's so sad," said former player Barry Wilson, who had two spells with Caley, after a stint at County early in his career.
"It's really, really disappointing, the fact that both teams have worked so hard to get all the way up, both teams have been in the top six and won national competitions.
"Just a couple of years ago they were parading the Scottish and League Cups and now County has followed Inverness back to the Championship."
The 46-year-old added: "The football spotlight is off Inverness and Ross County - as competitive as the Championship is, it's not the top level and obviously both sides will have knock-ons from that.
"Unfortunately it's what they probably deserved; County didn't win enough games and it's the old cliché, but the league table doesn't lie.
"You can look at the sacking of Jim [McIntyre] and Billy [Dodds], the appointment of Owen Coyle, and now you've got Stuart [Kettlewell] and Stevie [Ferguson] who did what they could, but at the end of the day it does come down to the players, who haven't been good enough and got enough points on the board.
"Now it's a case of trying to get them back up as soon as possible and bring some joy back to the Highlands, as it's been 12-18 months of doom really.
"I definitely think they can rise again - both sides could."
Glory days
In the last 14 years the clubs have notched up some notable pieces of silverware - between them they have celebrated a Scottish Cup victory [Caley Thistle in 2015], a League Cup win [County in 2016] and four Challenge Cups.
Inverness earned a brief sojourn in Europe on the back of their Scottish Cup victory, where they faced Romanian outfit Astra Giurgiu in the Europa League's second qualifying round, in the same season manager John Hughes led his team to a top-three finish.
"I do think that they definitely brought something to the Scottish game, a new interest and good level of professionalism," said Wilson, a Staggie early in his career before returning to the other side of Kessock Bridge - after a two-year spell at Raith Rovers - to play for rivals Caley Thistle from 1996 to 2000 and again from 2003 to 2005.
The former midfielder scored the opening goal in the 3-1 victory at Celtic Park back in February 2000 that led to the famous "SuperCaleyGoBallisticCelticAreAtrocious" headline - a shock result that began an era of giant-killing by the northern teams.
As Inverness gained city status in 2000, its football team became a Scottish top-flight club for the first time.
They were followed in 2012 by local rivals County, who have remained a constant, until now.
"A lot of people are using this phrase 'natural order' nowadays, now Rangers, Hearts and Hibernian are back with Celtic and Aberdeen," said Wilson."
"That is great as they're the biggest teams, but I do feel there is a place for Inverness and County.
"Ross County in particular have the finances to mount a serious challenge to go straight back up again.
"I don't think relegation will have such an effect as it did on Inverness last year, but that's reliant on [chairman] Roy MacGregor."
While Wilson sees strides being made at Caley Thistle following Richie Foran's unsuccessful season in charge, he believes the club have much to sort out off the pitch.
"Inverness need to get behind the scenes sorted out, it's been lingering on for too long," he said. "There's been power struggles and financial issues - that needs dealt with before they can mount a proper challenge."
Thistle shared in the spoils of Celtic's Champions League return to the tune of £1.07m, and this year Ross County will have their Premiership parachute payment to help bridge the gap.
But the effect of losing the travelling supports of Aberdeen, Hibernian and the Old Firm has been felt at Caledonian Stadium, and Wilson does not doubt their counterparts will be impacted too.
"The real problem up here is you have to pay over the odds to get players; it's always been the problem and still is. You have to pay that little bit extra to get players to either relocate or travel and sometimes that's not easy.
"Ross County will have to regroup - they have a squad of about 30 players and that will need to be cut by about 10 I would say to play in the Championship, as you just can't hold a squad of that side.
"Wage-wise, those left at the club are going to have to take cuts - the repercussions of relegation are just horrible.
"Right after relegation it is hard to be positive, but I don't fear for the future of either club."
One small consolation for fans of both clubs is the return of the Highland derby, with the two sides based 13 miles apart.
And next season's 'Cold Firm' or 'El Kessocko' clashes could have an extra layer of spice, with both clubs eying a return to Scotland's top table.