Junior football in Scotland will 'definitely' continue - SJFA

By Phil Goodlad
BBC Scotland
Last updated on .From the section Scotland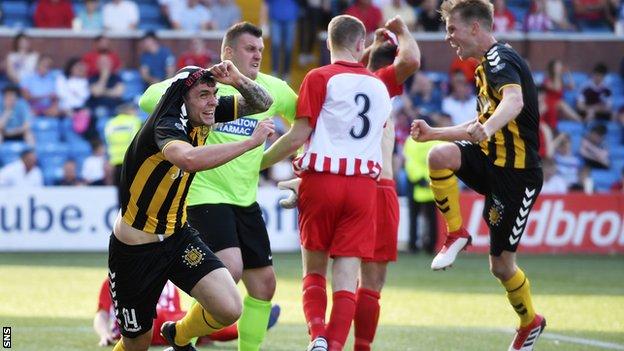 The Scottish Junior Football Association says there will "definitely" be junior football across the country next season.
Out of 158 clubs, 99 voted earlier this year to leave for a pyramid league set-up which offers promotion to the Scottish Professional Football League.
The SJFA will meet on Thursday to discuss the situation.
"It's disappointing to potentially lose so many clubs but we will definitely continue," said the SJFA's Tom Johnson.
Johnson, the association's secretary, added: "Clubs must give a period of 12 months to leave and we have reminded them of this.
"In the East we have around 36 clubs still committed to the juniors, even if those who have intimated they want to leave do so."
In March, the secretary of Auchinleck Talbot, who recently won their 12th Scottish Junior Cup, told BBC Scotland the club has "no ambition" to play senior football.
Talbot secretary Henry Dumigan believes the proposals would harm his side's identity.
"We certainly didn't vote for it," said Dumigan.
"We see ourselves as a junior football team, we've no ambition to play senior football. It's fine participating in the Scottish Cup, where we've done reasonably well and competed well with the senior clubs, but we see ourselves as a junior club and that's it.
"We feel there's a strong possibility that it will damage, not the reputation, but the identity [of the club]. We're very proud to be a junior club."