BBC Sport - Brown hoping Celtic hit top form ahead of Champions League qualifiers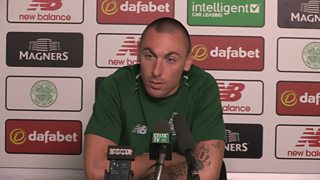 Brown hoping Celtic hit top form ahead of Champions League qualifiers
Scott Brown says Celtic are prioritising reaching top form ahead of next month's Champions League qualifiers.
Brendan Rodgers' side, group stage participants in the past two seasons, will be drawn in the Champions League first qualifying round on Tuesday.
Their potential second qualifying round opponents will also be drawn.
"Our aim is, at this moment, just to make sure that we win every game going into the qualifiers," said Brown, 32.
"We've done well in it, the last two years to get into it."
Top videos