Mark Bennett: Scotland centre on long road back after struggles with injury and motivation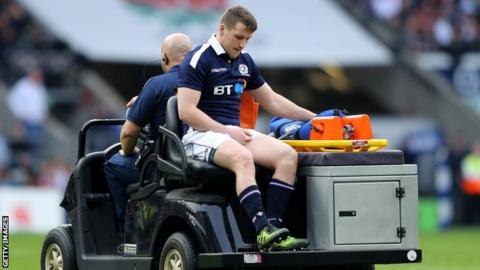 It's weird the things that trouble sportspeople when they're injured. Simple things. Earlier this month, Scotland captain John Barclay spoke about the challenges of getting a cup of coffee from the kitchen to the couch while on crutches as if it should be an Olympic sport.
On Tuesday here in Resistencia in northern Argentina, Mark Bennett sang a similar tune. From March 2017 to January 2018 he was out injured with a torn ACL and a torn bicep sustained in a brief cameo on a dark day at Twickenham.
"A week before my operation I got a pup from Fraser Brown's dad's farm on Arran," he said. "We called him Skye. That's two we have now. Jura is the other. We decided to go with the islands theme. I was sitting in the flat one day and Skye needed the toilet. I could only use one crutch because of my bicep, so taking him outside was an ordeal. I just hopped."
He smiles at the memory of this black comedy moment from a difficult year in his career. What else can he do but smile? It was the second time he did his ACL, so he knew from experience that part of his recovery was about finding distractions to take his mind off the rugby he was missing out on.
Bennett bought a house in Edinburgh. That was another distraction. He did some of the renovations himself. He tried to remove a window and part of the wall collapsed. He sent a picture of the wreckage to his joiner.
"Put down your hammer, I'll fix it," was the reply.
The centre is on this tour trying to rebuild his international career. Appearances off the bench against Canada and USA gave him his 21st and 22nd caps and just when he might have been expecting number 23 to come against the Pumas on Saturday, rugby's harsh reality hit him over the head. Again. Bennett didn't make the match-day squad.
We tend to focus on the feel-good stories at times like this. We don't dwell on those who are left to pick up the pieces from the shadows. Bennett is a class rugby player but he has got a long road to travel to get back to what he once was.
Remember him at the World Cup back in 2015? A go-to guy in the midfield, a brilliant attacker, a physical defender, a poacher, a candidate (one of only three) for world breakthrough player of the year, a title eventually won by New Zealand's Nehe Milner-Skudder.
Bennett wasn't out of place on the list. The 2015 Six Nations had been a personal triumph and the World Cup had gone even better. Two tries against Japan and one against Australia that looked like putting Scotland into the semi-final until the horror-show unfolded. Bennett left the Twickenham pitch that evening as a hot property.
Everything went cold after that. He's had one torn ACL, one torn bicep, any amount of niggles and just four starts for his country in the two-and-a-half years since that quarter-final.
When Gregor Townsend didn't include him in the original squad for the tour to Canada, USA and Argentina he wasn't surprised. "Just hadn't played well enough," he said.
'I'd definitely lost something. Maybe it was complacency'
Listening to him talk about what happened to him post-World Cup is a lesson in the reality of life as a professional rugby player. We see the highs, but we don't often see, or understand, the lows.
"After the World Cup was tough for me," he admitted. "The World Cup was everything that I was aiming for and it took me a long time to get myself going again after it.
"I just wasn't that bothered. I know that sounds really bad, but I was waking up and I couldn't be bothered doing weights. I just had no interest. Normally I'd be a guy who'd be very big on weights, but I lost the hunger for it.
"As I was growing up the first thing I wanted to do was play for Glasgow and when I achieved that the next thing I wanted to do was play for Scotland and the next goal was to play for Scotland in a Six Nations and the ultimate was to play for Scotland at the World Cup.
"Afterwards, I thought, 'Cool. Done it. What now? All I needed to do was to sit down, sort myself out and get myself a new set of goals, but I didn't do it. It sounds such a simple solution but I couldn't see it at the time.
"I mean, I was playing OK. I wasn't terrible. I was starting games. But I'd definitely lost something. Maybe it was complacency. Yeah, it probably was. Looking back on it, I would have handled it so differently, but I didn't know any better."
Come the summer of 2016 he was needing a change and the Olympics provided it. He was part of Team GB in Rio and came home with a silver medal and a new appetite for the game. He'd lost ground on other centres, though. Whereas before everything felt easy, now everything was harder.
"I thought I was getting somewhere around the end of 2016 and early 2017 but then the Six Nations wasn't great for me," he said. "I played 20 minutes off the bench against Ireland, came on for a HIA against France, didn't get on against Wales and was on the pitch for a minute-and-a-half against England I and did my ACL.
"Ten months out. It was rubbish. The big thing was trying to stay focused on other things. It's just trying to keep yourself occupied. When rugby takes up so much of your time and then it's not there, you have to find something else."
All he wants now is a run of games with Edinburgh. Because he was on the scene as a teenager some might think him older than 25, but that's all he is. His last start for Scotland was against Georgia in November 2016. "It feels like a very long time ago," he said.
The competition for places in the Scottish midfield is ferocious, but he thinks he's got a lot more to give, especially since he's now part of an Edinburgh side that looks to be on the up under Richard Cockerill.
"I'm excited because I'm out the back of what I've been through," he explains. "I've played two games off the bench on this tour and that's probably the best I've played since the injury."
For Bennett, there won't be a third game. The focus for him now is Edinburgh. That's his launch pad.
Cockerill's coaching has done wonders for the international careers of Blair Kinghorn, Simon Berghan, Grant Gilchrist and Magnus Bradbury. In the coming year, as the countdown to the World Cup gets serious, Bennett will be hoping to join the ranks of the rejuvenated.