Scots 'absolutely' up for T20 cricket at 2022 games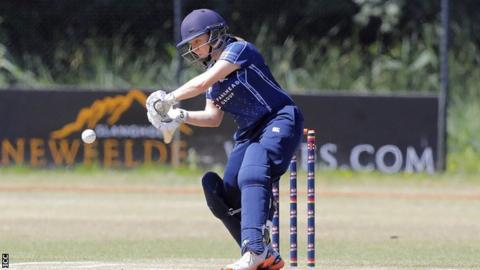 The inclusion of women's T20 cricket in the 2022 Commonwealth Games would see the game "flourish" in Scotland, says the governing body.
A bid has been submitted by the International Cricket Council to add the sport to the programme for the next Games in Birmingham.
"Any opportunity to get more cricket for our women's team and grow the profile is fantastic," Cricket Scotland commercial manager Paul Macari told BBC Scotland.
"Absolutely we'll be up for it."
Scotland narrowly missed out on qualification for the recent missed out on qualification for the recent World Twenty20, where only 10 teams competed in the finals.
Macari hopes more international competition can steer the Wildcats closer to global finals.
"Women's cricket in Scotland has grown dramatically over five years," he explained. "Not just at high performance level but participation where different formats are helping to grow the profile.
"We're trying to encourage clubs who don't have a women's section to start one because at the moment there's still a fairly small percentage who do.
"Obviously women and girls have been able to play in the men's, but a women's section can help the game flourish."